by Derek Rampulla
1) Melvin Gordon, Wisconsin Badgers
Height: 6'1 Weight: 215
40 Yard Dash: 4.52 Seconds
Bench Press: 19 Reps
Career Rushing Stats: 4915 Yards, 7.8 Yards Per Carry, 45 TDs
Career Receiving Stats: 22 Catches, 228 Yards, 4 TDs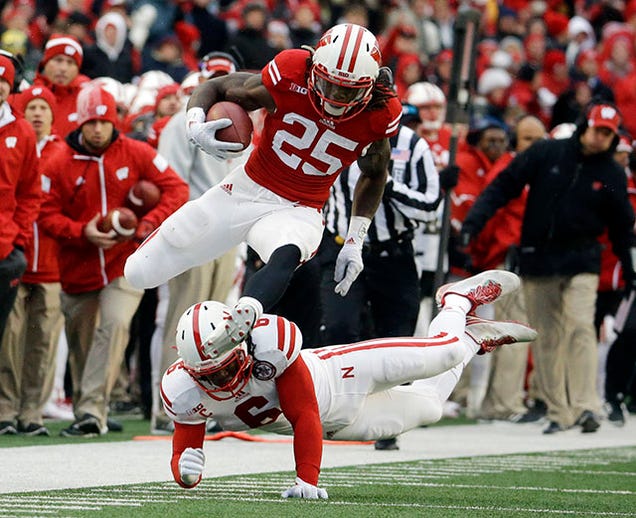 Gordon is a terrific running back who should break the streak of backs not being taken in the first round. He is pushed ahead of Gurley primarily because he has managed to stay healthy throughout his career which will count for a lot moving forward. He boasts an impressive skill set starting with his elite acceleration. Gordon is able to reach his top speed almost as soon as he finds a hole. He is able to fly past linebackers and can take angles away from safeties and corners with his acceleration. He doesn't have the greatest top end speed as evidenced by his 40 time, but with how quickly he moves he routinely picks up huge chunks of yards. In his record breaking performance against Nebraska, he had eight runs of longer than twenty five yards. Gordon compliments his speed well with a strong balance of power that allows him to pick up tough, short yards. He can bounce off of tacklers or push the pile. This also allows him to break through arm tackles when he hits the hole. While Gordon certainly has the speed to turn the corner, he prefers to run between the tackles which gives him a lot of success when combined with his great vision. He often shows a great understanding of where his blocks are and can find holes right as they begin to emerge. This is usually one of the most underrated attributes for a running back and is a big breaking point with a lot of young backs. Overall, Gordon is a great prospect who can be a starter from day one. His only real negatives are his top end speed and abilities in pass protection. Since Wisconsin almost never passed the ball, Gordon doesn't have a lot of experience in pass protection or catching out of the backfield. He will have to learn a lot in terms of blitzing concepts and running proper routes. His potential is through the roof and he can be a feature, three down back in a few years time.
2) Todd Gurley, Georgia Bulldogs
Height: 6'1 Weight: 221
40 Yard Dash: Did Not Participate
Bench Press: 17 Reps
Career Rushing Stats: 3285 Yards, 6.4 Yards Per Carry, 36 TDs
Career Receiving Stats: 65 Catches, 615 Yards, 6 TDs
If it weren't for an ACL injury that ended his junior season, Gurley would be ahead of Gordon by a solid margin. Gurley is thought to be the best running back to enter the NFL since Adrian Peterson due to his rare blend of power and speed. The best way to describe him is as a violent runner. He has a very good burst and a great frame that allows him to take on a lot of contact and come out on top. What I really like about Gurley is how many tackles he can break at the line of scrimmage. He has an immensely powerful lower body that can drive forward and break arm tackles which makes him very valuable in short yardage situations. Although he might not have the same level of acceleration that Gordon has, he has a better top end speed. He wasn't able to participate in the 40 because of his ACL injury, but he was clocked in the low 4.4s while at Georgia. If he can get back to his pre-injury abilities, he can easily be a game changing running back. When he gets to the second and third level, he can pick up extra yards with a brutal stiff arm. It is tough to stop such a dangerous combination like his power and speed. He has shown the ability to go around defenders or drag them in his wake. It is a nightmare to defend him when he has a full head of steam and is coming right at a defensive back. Another area that he excels in is in a receiving role. Gurley runs a good route and has very good hands. He finds the soft spot in the zone underneath and bailed out his quarterback a lot during his three seasons. More agile than expected, Gurley can also make a man miss when he gets the ball out in space out wide. The only negative the really surrounds him is his ACL injury. He is expected to be ready for preseason activities, so it wasn't as severe as most knee injuries. If he is able to return to form, he will be a tremendous pickup for any team.
3) Duke Johnson, Miami Hurricanes
Height: 5'9 Weight: 207
40 Yard Dash: 4.54 Seconds
Bench Press: Did Not Participate
Career Rushing Stats: 2599 Yards, 6.8 Yards Per Carry, 20 TDs
Career Receiving Stats: 65 Catches, 642 Yards, 4 TDs
There is a bit of a drop off after the top two running backs, but that doesn't mean you can't find talented players. There is no consensus as to who the next best running back is, but I think that Duke Johnson has a case for that position. Statistically, Johnson was one of the most productive backs in Miami's history which is a tremendous accomplishment considering their success at the position for years. As you can see from above, he isn't the biggest running back, and surprisingly not the fastest, but is a very good back and who can everything that is asked from him from the running back position. While he isn't very big, he has great agility and has very impressive footwork when running through traffic. He keeps his feet moving and is able to make tough cuts and maneuver between much larger bodies. He combines that with solid vision and very good decisiveness to get to the second level before the defense can really see him behind his offensive line. Once he decides where he wants to go, he is able to accelerate and get behind the defense. More impressively, Duke is a guy who is willing to go between the tackles and pick up the tough yards that most smaller backs struggle to get. He doesn't always feel the need to use his athleticism to bounce outside which is another trait you tend to see in smaller running backs. Strangely, Johnson is more of a straight line runner than a shiftier back. I had pictured him being much more like LeSean McCoy, but he tends to go a lot more north/south than laterally. It isn't necessarily a bad thing, but I think it is something he might want to work on at the next level in order to avoid taking more direct hits. His size makes him a liability in pass protection, but other than that he is a very capable back. He could very well be a steal if he is available in the middle of the second round or later.
4) Jay Ajayi, Boise State Broncos
Height: 6'0 Weight: 220
40 Yard Dash: 4.57 Seconds
Bench Press: 19 Reps
Career Rushing Stats: 3796 Yards, 5.6 Yards Per Carry, 50 TDs
Career Receiving Stats: 73 Catches, 771 Yards, 5 TDs


Ajayi has been a name that is rising of some teams' draft boards after an incredibly successful season that showcases his ability to be a total three down back. I would say that out of all of the quarterbacks, he is one of the most polished in terms of blitz recognition which is usually one of the most difficult challenge to overcome for younger running backs. This will allow him to stay on the field for all three downs, making him a valuable commodity. As a runner, Ajayi shows very good vision by consistently picking the right hole and finding good cut-back opportunities. He accelerates quickly and has been able to beat out defenses to the endzone more frequently than his 40 time would indicate. He is very quick to get his shoulders squared upfield, plant his foot, and drive forward to get to the next level. Despite being as big as he is, Ajayi has very good lateral quickness and is a shifty runner. He makes a lot of guys miss with his sudden movements and can be very difficult to tackle. However, he really isn't as physical as you would like for someone as big as he is. He doesn't always fight through tackles despite his big frame. There is a good amount of upside to Ajayi however, and his case is helped by his receiving abilities. As you can see from above, he is a reliable target out of the backfield that can pick up first downs and break long runs with ease. More than other backs in this draft, he also protected his quarterback well and is already pretty good at picking up the blitzes. I've read multiple scouts who have stated that Ajayi legitimately deserves to be in the conversation as top backs alongside Gordon and Gurley which should give you an indication of his potential.
5) Tevin Coleman, Indiana Hoosiers
Height: 5'11 Weight: 206
40 Yard Dash: Did Not Participate
Bench Press: 22 Reps
Career Rushing Stats: 3219 Yards, 7.1 Yards Per Carry, 28 TDs
Career Receiving Stats: 54 Catches, 383 Yards, 0 TDs
There were a couple of running backs who competed for the fifth spot here, but Coleman is a slightly better prospect than guys like TJ Yeldon in my opinion. He was almost the entire offense for the Hoosiers this past season and consistently performed at a high level despite defenses stacking the box to stop him. There are definitely some areas to him to improve in, but he is a fantastic prospect who could become a feature back in his first season. As was shown during his two premier seasons at Indiana, he can shoulder the load and is more than willing to have the offense run through him. He will take a lot of hits as a result of this, but he is built well and was relatively injury free during his career. Coleman is built very well and as such has a good amount of strength. He isn't going to run over guys that often, but he has enough strength to bounce of linebackers and run through some arm tackles. One area that I see the need for improvement is at picking his gaps. Coleman doesn't always find the right hole that his offensive line is opening and can lose yards. This is definitely an area that he will need to work hard at for the NFL as gaps can be even rarer at the next level. Despite not always seeing the best hole, Coleman has great cutback vision. He can make a lot of players miss with his sudden movements and lateral quickness. When he sees that opportunity, he wastes no time or movement planting his foot and driving up field. Once he has that alley, he accelerates and reaches his top speed fairly quickly. He doesn't have All-World acceleration, but his top end speed is great and he has the ability to reach the endzone on any carry. He demonstrated this against a lot of tough competition, including a ninety yard burner against the staunch Ohio State defense. Other than vision, his primary weakness is in the passing game. He did have some catches, but did not have to have a lot of versatility in his route tree. He also hasn't had a lot of experience in pass protection as Indiana barely threw the ball last year. If he wants to be a three down back, those are both areas he must improve on.