by Justin Rasile
1)
Amari Cooper, Alabama Crimson Tide
Height: 6'1 Weight: 210
40 Yard Dash: 4.42 Seconds
Vertical: 33 Inches
Career Stats: 228 Catches, 3463 Yards, 31 TDs
Stud. Cooper was an absolute stud in college but what matters now is how will he transition to the NFL. This kid did everything his coaches asked of him; he worked his ass off and that helped lead to him being a Heisman finalist and a BCS National Title ring. He starts off with very good burst off the line and maneuvers his body in a way to get off of press coverage. He is a fast straight-line runner but it is his shiftiness that will translate very well to the next level. He jukes and head shakes and has a great arm swipe. He doesn't know what the sound is when the ball hits his pads because every catch he makes is with his arms extended. Once he has the ball in his hand, Cooper has the ability to take it to the house every time. While the ceiling for Cooper is pretty high, he may not be an elite wide receiver but he fits onto every team because of his versatility. I loved watching him catch a screen pass, make one defender miss and weave his way through traffic into the endzone. Lane Kiffin even gave him the ball on a few end arounds. From everything that I have heard about this kid is that he is an extremely hard worker and goes out and does his job everyday.
2)
Kevin White, West Virginia Mountaineers
Height: 6'3 Weight: 215
40 Yard Dash: 4.35 Seconds
Vertical: 36.5 Inches
Career Stats: 144 Catches, 1954 Yards, 15 TDs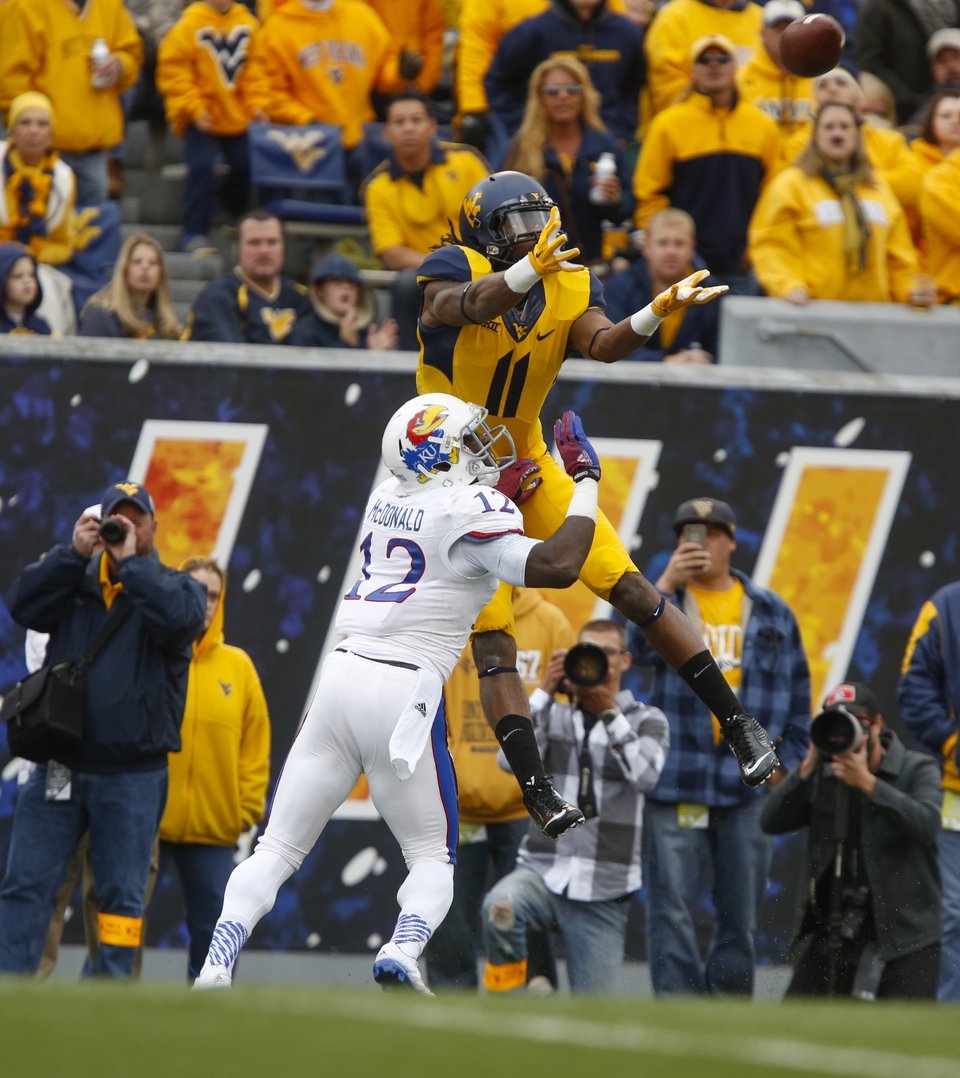 I think when all is said and done, Kevin White could be the best receiver in this loaded draft class. He is going to need some polishing on some things, mainly his route running. Some experts are saying he is a mix between Larry Fitzgerald and Randy Moss. I don't know if I can say that just yet but the potential to be great is definitely there. He has amazing straight line speed like Moss and besides similar hair, Fitz and White both are amazing at jump balls. He very rarely goes up for the ball and not come down with it. Even when White is contacted before the football gets to him he manages to find a way to make a play on the ball and usually catch it. The Mountaineer adjusts his body in the air very well when the ball is thrown his way and has incredibly strong but soft hands. I have two issues on White though. One is his route running because on nearly every single play he does one of two routes; either a go or a screen. He proved that he has top end, which explains why he separated with such ease. Very rarely did I see him attempt a 3 or 10-yard slant route, a dig route, 15 to 12 yard curl. Nothing. But those can be taught at the next level so I am not too worried on that. The other issue that concerns me is his ability to play against tougher competition. White was born in New Jersey and started his collegiate career at a two-year school in Pennsylvania. He then transferred to West Virginia and was a little slow to adjust to big boy college ball. Within seven months, he will be going up against the best of the best. It will be a wake up call for this man but I think he is up for the challenge.
3) Devante Parker, Louisville Cardinals
Height: 6'3 Weight: 209
40 Yard Dash: 4.45 Seconds
Vertical: 36.5 Inches
Career Stats: 156 Catches, 2775 Yards, 33 TDs
Don't let Parker's 2014 numbers fool you. He was injured for a bunch of games in the beginning of the season but in the six games he did play he hauled in 43 catches for 855 yards and 5 touchdowns. Insane numbers for a guy adjusting to losing his quarterback from last year in Teddy Bridgewater. He showed no signs of that broken foot slowing him down so that should not be an issue and he established a very good relationship with a quarterback he did not have a lot of practice and game time experience with. Just like Cooper and White, Parker high points the ball extremely well and with his strong hands, he comes down with the ball. One thing I absolutely loved about Parker was his sideline awareness. He dances along that sideline and tiptoes and toe taps his feet to stay in bounds to complete the catch. This works in his favor as he does a very good job of winning fade routes in the end zone. In the battle against Florida State, Parker put on a show. He caught 8 balls for 214 yards, which is an average of 26.8! What makes that so great is he played against two Florida State corners who will each be drafted in either the first or second round of this years draft. If the Vikings have any sense in them, they will take Parker with their 11th overall pick and get him back with his quarterback to establish a great tandem.
4) Jaelen Strong, Arizona State Sundevils
Height: 6'2 Weight: 217
40 Yard Dash: 4.44 Seconds
Vertical: 42 Inches
Career Stats: 157 Catches, 2287 Yards, 17 TDs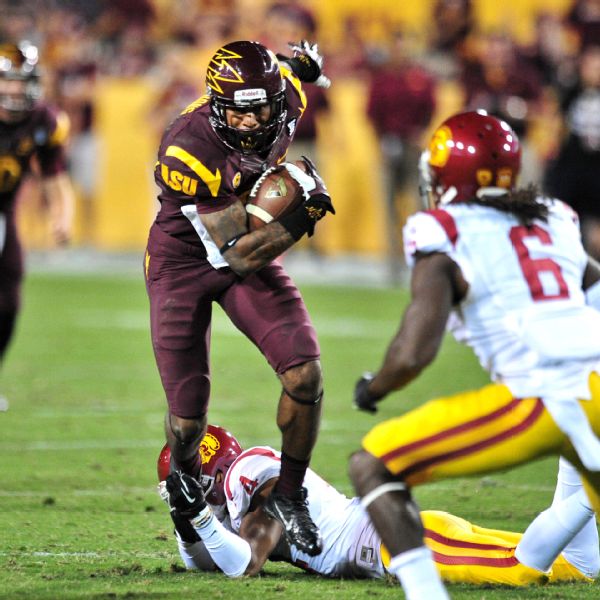 Strong blew the ceiling off the combine when he jumped an incredible 42 inches, the highest of all the top receivers, and also turned in an impressive 4.44 forty yard dash. He jumped 3 and a half feet standing still which is incredible. The former Sun Devil is still a very raw receiver but the upside is clearly there. He posted back-to-back 1,100 yard seasons and 17 total touchdowns in his two season at Arizona State. He has very similar build to my other top 3 receivers (6'2" and 210 pounds). Strong, not ironically, is also very strong. He is a tough guy to bring down and gets low to the ground while protecting the ball. Occasionally, he lets the ball hit his body but once he catches it he drives his feet on first contact and usually makes it hard for the defender to bring him down. The back shoulder throw is a hot route that is nearly impossible to cover and Strong has done a pretty damn good job at running it. His route running could use some fine-tuning but I could see Strong being a very good number two receiver.
5) Dorial Green-Beckham, Missouri Tigers/Oklahoma Sooners
Height: 6'5 Weight: 237
40 Yard Dash: 4.49 Seconds
Vertical: 33.5 Inches
Career Stats: 87 Catches, 1278 Yards, 17 TDs Pull your head out of your ass DGB! The former Missouri Tiger is such an animal on the gridiron and if not for all of his off the field baggage (selling and smoking pot) he could be a top 10 pick. Now it is not certain where he goes but all you need is that one team to take a chance on you. Ideally, if he goes to Seattle or New England I believe Belichick and Carroll will be able to reach the young man and make sure he put all of his off the field mishaps behind him. Green- Beckham is one of my favorite players to watch and I hope to watch him play for a long time on Sundays. He is a tower at 6'5" and 235 pounds and still ran an impressive 4.49 forty-yard dash. He is a long strider but accelerates very quickly and gets in and out of his breaks well. He still manages to get behind the secondary with his deceptive speed and take one to the house. His game tape against Kentucky in 2013 is my favorite tape to watch as he shows he is a man among little tiny infants (7 catches for 100 yards and 4 incredible touchdowns). He is one of those guys that even though he is covered, he's still open. With all of the off the field issues that has followed this kid, I hope he gets as far away from his "friends" as possible. Any team would love to have him but there are already General Managers that have taken him off of their draft boards. Wake up man. You could be great.
6) Breshad Perriman, Central Florida Knights
Height: 6'2 Weight: 212
Career Stats: 115 Catches, 2243 Yards, 16 TDs
There seems to be a trend of these receivers in the works. All of them are over 6'2 and 210 pounds; Perriman is no different. He is that big and physical receiver that can go up and get the ball. He finds a way to create separation, whether through his deceptive quickness or illusive route running, and gets down the field to make an insane circus catch. Perriman looks NFL ready even though he has been involved in a spread offense in his collegiate career, he runs all of the routes asked of him and runs them pretty fluidly. Slants, digs, deep posts, comebacks, and go routes. Having a father who was a former NFL receiver doesn't hurt either. His blocking capability is above average so at least he isn't an issue in that area and believe it or not but offensive coordinators do appreciate a good run blocking receiver. I have noticed two major flaws for the receiver from Central Florida. First, although he makes some outstanding and insane circus catches, he tends to have that easy drop that infuriates coaches and quarterbacks. He will have created the separation and comes back to a wide-open throw then straight up drop the ball. Frustrating as hell. The other issue is his mistiming on jumps. Somewhat of a weird problem to have but it is something that can be fixed. Maybe he is still adjusting to his body but the more work he gets in with a professional wide receiver coach, the less likely this will be an issue. Perriman looks the part to be a legit wide receiver, it's up to him to fix his flaws and catch the fricken ball!
7) Sammie Coates, Auburn Tigers
Height: 6'1 Weight: 210
40 Yard Dash: 4.43 Seconds
Vertical: 41 Inches
Career Stats: 82 Catches, 1757 Yards, 13 TDs
Often times watching this kid, I felt bad for him. Coates has the ability to be a damn good receiver at the next level but his production was skewed by horrible quarterback play and terrible inaccuracy by Nick Marshall. He is big, fast, and strong when he wants to be. He gets pushed around a bit while run blocking but that is because he stands way too tall when engaged with a defender. But when it comes to using a strong stiff arm, he has no problem throwing around his weight. Playing with Marshall as his quarterback was an issue more times than naught but Coates did have a great chance to get open while his QB was scrambling around trying to stay off the ground. This extra time allowed Coates to move around and find an open area on the field. He is more than a one trick pony. Even though he can be a big time burner with great deep speed, Coates can shake one defender and take the ball to the house. When the ball is in the air, the Auburn Tiger always has a good shot at coming down with it because he is great at positioning himself to make the best play on the ball. Coates definitely needs more polish on his route running as he ran the same few routes all game long; mainly deep posts and go routes. He also tends to get lazy when the ball is not going his way. Whether it be a quick throw to the other side of the field or a running play, Coates may take the play off. As far as his hands go, he makes great catches all over the field but has that occasional mind fart and lets the ball slip through his hands. With better quarterback play, Coates has the ability to be a very good NFL receiver.