by Derek Rampulla
For these write ups, I'm not going to separate by offensive tackle, guard, and center. Due to time constraints, I have ranked the top players along the line and will explore the positions that they could play in the NFL.
1) Brandon Scherff, Iowa Hawkeyes
Height: 6'5 Weight: 317
Arm Length: 33 and 3/8 Inches
Bench Press: 23 Reps
Although his bench total isn't that high, one of the foremost things that you can see in Scherff is his strength. There was a video of him that came out during the season that showed him power cleaning over four hundred pounds. His tremendous upper body strength has helped make him the most dominant run blocker in this class. He has good quickness off of the snap and often hits his man first to drive them back. When he has engaged his man, he just continues to drive them back until they end up on the ground. He loves to completely take them out of the play and was a big reason for a lot of Iowa's success running the ball last year. Scherff has also shown the ability to get to the second level of the defense and take on linebackers and safeties. Scherff wasn't asked to do it too often, but he is also pretty solid at pulling like a guard typically would. His strength also allows him to hold up well against power rushers when playing the pass. This would serve him well no matter which position along the line he is playing at the next level. However, against the more athletic pass rushers that he sees, he has a tendency to struggle with the speed and burst of faster defensive ends. He just doesn't have the same quickness to move laterally and mirror guys who can bend around the edge. He does have incredibly strong hands, so if he is able to get a hand on a guy there is a chance he can at least deflect him from his path. But to combat the faster, more athletic guys that he will face in the NFL, he needs to improve his agility to be able to consistently keep up with them. Because he doesn't have the best speed, I think that Scherff will likely be a dominant left guard at the next level. He may eventually work into the left tackle position or fill in for injuries, but his skill set just makes him such a perfect guard. His ability to hold up against more powerful rushers makes him better to handle defensive tackles instead of ends.
2) Andrus Peat, Stanford Cardinal
Height: 6'7 Weight: 313
Arm Length: 34 and 3/8 Inches
Bench Press: DNP
I think that out of the top five lineman, Peat has the best chance of being a franchise left tackle. That isn't to say he can step in and do that right away, but he certainly has the foundation to make this happen. Like Scherff, he has a very quick release off of the line and gets into his position before most defensive ends. He has shown the ability to be a dominant run blocker from stretches, but doesn't always use his natural abilities. I've seen a few too many times where on a run play he will just dive at his man to get them off of their feet. Compared to the other top offensive lineman in his class, he does it significantly more often which leads to him not always getting the best block. I'm not sure if that is a sign that he feels like he struggles to sustain his blocks, but it is something that he will have to work on for the NFL. I think that this could be indicative of his relative lack of strength. He didn't participate in the bench press at the Combine, but watching his tape shows that he doesn't always use his massive frame to his advantage in the run and against bull rushes. As you can see from his height and weight, he is a massive human being and I think that once he gets into an NFL weight training program, he should be able to improve those two facets of his game. But while Peat can struggle in those areas, he certainly has the athleticism and agility to go up against the faster defensive ends that he saw. His quick release off the of the line puts him in a good position from the start, but it is how he slides to mirror his man that will separate him from his peers. He moves his feet well enough that he doesn't have to give up ground against his man. Rather, he moves along the desired arc to keep his man in front of him. In my opinion, this is the hardest thing to teach to a left tackle. He stays with his man despite the pass rushing moves that are put on him, including the quicker ones to the inside after initially going to the outside. He can have a tendency to overextend on some plays, but it seems like most of his weaknesses can be worked out with good coaching. His ceiling his pretty high, but if worst comes to worst Peat seems like he can be an absolutely stellar right tackle.
3) La'el Collins, LSU Tigers
Height: 6'4 Weight: 305
Arm Length: 33 and 1/4 Inches
Bench Press: 21 Reps
A five star prospect coming out of high school, La'el lived up to the hype and has developed into a consensus first round draft pick. I see Collins a bit more like Scherff in that I think that he is a great fit as a left guard but does have some left tackle to potential. He has played left tackle all of his life, but his skill set would be maximized by sliding him inside to take advantage of his powerful body and run blocking ability. He is the true definition of a road grading blocker, but Scherff he doesn't always handle the faster, more athletic defensive ends as well as other left tackles. He is incredibly athletic, but developing the agility to handle speed rushes where the end can really bend their hips is a rare trait. His strong hands allow him to push around a fair amount of defensive ends, but sometimes that isn't enough. He does handle bull rushes very well however. He plays with good leverage and balance and uses his upper body strength to give his quarterback time to throw. But as I mentioned, he is a tremendous run blocker who can win battles consistently against ends, linebackers, or defensive tackles. He has a nice burst off of the line and really drives into his man. His strong hands allow him to completely control the fight and push his man out of lanes. He is a great combination of power and explosion that gives him an instant advantage over any defensive player. Collins gets under his mans chest pads and takes them completely out of plays. This is really the biggest reason why he will likely have to start out at guard while working on his technique to move over to left tackle. The ability to mirror rushers is an absolute must in the NFL, so Collins will have to work on that before he gets his chance at a blind side protector. But inside, he could be a starter from day one.
4) DJ Humphries, Florida Gators
Height: 6'5 Weight: 307
Arm Length: 33 and 5/8 Inches
Bench Press: 26 Reps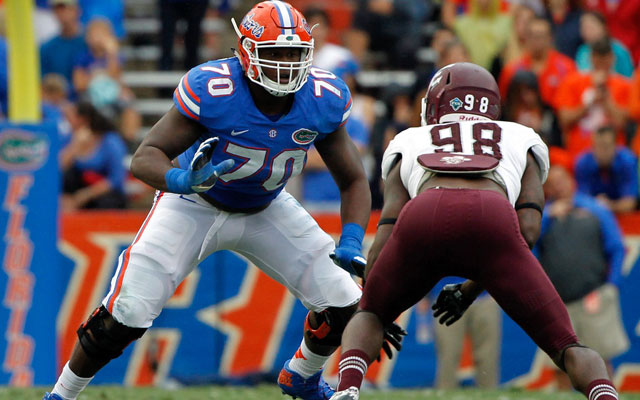 One of the most athletic tackles in the class, Humphries also has the ominous title of most injury riddled. He has been a starter for a few years, but has missed numerous starts over that time with various ailments. This has contributed to him still being a bit raw in his technique, but having superior athleticism can help in the adjustment to the next level. Humphries is a good blocker to generate movement in the ground game. He might not be as good as Collins or Scherff, but he is still able to consistently beat his man and open running lanes for the back. His initial burst is very impressive, but it is his quickness to get to the second level that impresses me the most as a run blocker. Humphries blasts past the first level of defenders and hits linebackers and safeties to allow the running back to pick up huge chunks of yards. He is still scratching the surface of his potential in the run game, but he already has a good understanding of it and can be counted on early in his career. And despite his limited reps, he is a very talented at taking on pass rushes. As mentioned, he has very good athleticism for someone his size which allows him to keep up with quicker defensive ends. He slides very well into position and has the strength to hold up against his man. Humphries does seem to have lapses in play against bull rushes that get him off balance, but that should come with more experience and weight training in the NFL. He shows a very natural ability to stay with the rush and keep a clean pocket. Just as impressive, Humphries has shown multiple times that he can handle multiple rushers at once. He has the balance and strength to fight through two rushers and do just enough for his quarterback to have the time to make a play. Another sign of his inexperience that should be worked out with a lot of reps is his hand placement. He has the potential to be able to dominate any rush if he can learn to use his hands in the best way possible. Humphries athleticism, power, and potential makes him seem like a candidate for tackle in the NFL. I think that if he can continue to improve the more technical aspect of his game, he could be a bookend left tackle. My guess would be that he starts at right tackle his rookie year to adjust to the game before moving to the blindside.
5) Ereck Flowers, Miami Hurricanes
Height: 6'6 Weight: 329
Arm Length: 34 and 1/2 Inches
Bench Press: 37 Reps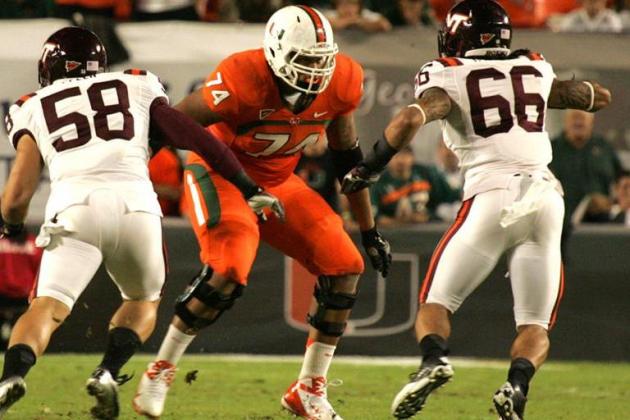 Flowers beats out TJ Clemmings and Cam Erving for the last spot in the top five for offensive linemen. Flowers was the starting left tackle for Miami last season and was asked to do a bit of everything opening lanes for Duke Johnson and keeping Brad Kaaya upright. His enormous stature and strength has made him a sought after prospect to anchor one of the edges. For the NFL, I think that he is more likely to start as a right tackle while continuing to work on his technique to take over at left tackle. He was very effective at generating movement as a run blocker with his powerful upper body. There have been a couple of times where he has immediately dove at his lineman's legs instead of sustaining a block, but his strength and long arms really helps to get his man off his spot. He also has the ability to get to the second level of the defense and make a block. Flowers has a good burst, but isn't as fast as some of the lighter linemen in his class. His power and his long arms really helps him out in pass protection as well. That combination allows him to handle bull rushes very well. He maintains good leverage and uses his massive from to soak up the rush and push his man back. There haven't been many times where I have seen him get pushed back more than a step or two. His hand placement is good as well which is necessary for fully controlling the rusher. The main drawback to Flowers is that his massive frame is hard to carry and makes him susceptible to speed rushes. The best pass rusher he saw this year was Randy Gregory, against whom he had some mixed results. Flowers won a lot of the straight up brawls, but on Gregory's quick rushes both outside and inside caught Flowers off guard a bit. He might not have the quickest feet to be able to play left tackle, but he could definitely be a beast at right tackle and work on his quickness. Other than his quickness, the only other weakness I've seen is his ability to recognize and pick up guys in blitzes. Flowers could end up being a great pick towards the end of the first round if he develops and plays to his potential.