by Justin Rasile
1) Leonard Williams, USC Trojans
Height: 6' 5 Weight: 302 pounds
Career Stats: 218 tackles, 36.5 TFL, 21 sacks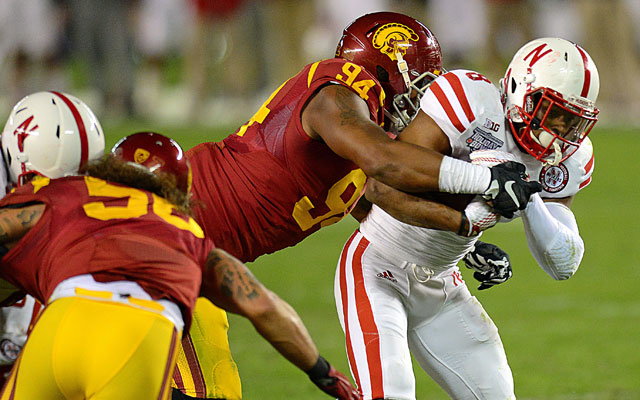 Best player in the draft. Hands down. Normally I don't agree with all the talking heads on who they believe is the best player but Williams blew me out of the water. He has it all: production, measureables, intangibles. Relentless inside the trenches and a monster outside of it. He is strong at the point of attack and explosive when engaging in contact with an offensive lineman, running back, or quarterback. Watching him on the field is a thing of beauty as he carries his weight incredibly well establishing his supreme athleticism. The former USC Trojan wraps up well and eats up space while playing with a great deal of energy and enthusiasm. He has a knack for standing up offensive linemen and using his strength to push them around like ragdolls. Williams is used to fighting off multiple defenders as offensive coordinators have had to gameplan for him for three years now. One thing I noticed while watching him is that he almost always lines up against the right side of the offensive line, usually against the right tackle. Maybe it's a comfort thing but I'm sure he will be able to move around the defensive line in the NFL as he appears to be extremely versatile. Speaking of versatility, Williams will be able to play in a 4-3 scheme as a defensive end or defensive tackle or even in a 3-4 as a 5 technique. He is that special of a player. One of the few knocks on Williams is that he has a tendency to fire slow once the ball is hiked. It was actually quite noticeable. I am not sure why that was because he was explosive once he did move. It may be that he doesn't want to be offsides but if he can learn to master that timing, he will become a perennial pro bowler. Oh yeah, HE IS ONLY 20 YEARS OLD!
2) Danny Shelton, Washington Huskies
Height: 6' 2 Weight: 339 pounds
Career Stats: 208 tackles, 24 TFL, 11.5 sacks
If it weren't for Leonard Williams, we would be talking about Danny Shelton being the best defensive tackle in the 2015 draft. He is a BIG man weighing close to 340 pounds but don't let that weight and forty time fool you as he moves very well for a man that size. Watching him chase down a bubble screen is fun to watch but probably a horrifying sight for running backs because he will find a way to at least get close to the ball carrier. While pass rushing may not be his forte, he is much more than a run stuffer. I think he is only scratching the surface of his pass rushing ability but his power will definitely help lead him to a number of sacks in his career. He moves offensive linemen at will with his freakish strength and quick hands. I can't wait to see how much stronger Shelton gets once he is in an NFL weight room. When engaged with an offensive lineman, he has enough awareness to read the quarterbacks eyes and swat down the ball if he knows he can't make another play. I definitely see the Haloti Ngata comparisons as both players are versatile, move well for their size, and are strong like ox. He can play the nose tackle in a 3-4 defense or as a defensive tackle in a 4-3 scheme. Some team is going to be very happy with Shelton as he will play a long time in this league.
3) Carl Davis, Iowa Hawkeyes
Height: 6' 5 Weight: 320 pounds
Career Stats: 94 tackles, 14.5 TFL, 3.5 sacks I love nasty and violent defensive players and Carl Davis epitomizes that. He plays with a chip on his shoulder and will fight and claw each person in his way for that extra inch. But in order to survive in the trenches you need a combination of instincts and toughness and this guy moves around the defensive line better than anybody in the draft. He has such a good feel for avoiding moving bodies and finding a way to get to the ball carrier to make a play. He may end up being the second best defensive tackle in this draft behind Leonard Williams. Davis gets a good push up front while holding his ground against double teams and is great at disrupting offensive linemen with a violent punch. I love when Davis gets a clean shot at a running back or quarterback because he launches himself into them, completely crushing whoever is in his path. Watching a 320-pound man leave his feet will instill fear into anybody in the way. Because he wasn't a high sack guy, it may force Davis to go later in the draft but if he is on a defensive line with one player that commands attention, the sky is the limit for Davis. He is that talented of a player. Even if that isn't the case, I truly believe this player can be an extremely impactful player from day one.
4) Malcolm Brown, Texas Longhorns
Height: 6' 2 Weight: 319 pounds
Career Stats: 156 tackles, 25 TFL, 8.5 sacks
Dancing bear is a great term of endearment for big men that move well and Malcolm Brown is just that. A big man that needs to be blocked by at least two defenders every time he fires off the ball. He fires out of his stance low and fast and tackles even lower. Brown sheds his blocker quickly and has great closing speed when he approaches a ball carrier. His versatility is great as he has the ability to line up all over the line and hold his own at every spot fighting through each offensive lineman in his path. Even when there is a play away from Brown, he makes sure to be close to the end of the play hoping to make something happen if needed. This is part of the reason why he was a finalist for the Bronco Nagurski Award (nation's top interior defensive linemen). Durability should not be a worry in the minds of general managers as Brown never missed a game in his collegiate career. Although, it is pretty easy to tell when the former Texan Longhorn is fatigued as he doesn't get nearly as a good of a push as he does earlier in the game. He still fires off the ball hard and fast but he stands upright and this poor technique can get him in trouble late in games when the game is down to the wire. Not that it is a bad thing but Brown is married and the father of two daughters so he has been juggling football, school, marriage, and fatherhood for a few years now and has done a very good job in doing so. Maturity should not be an issue on his part. Hopefully he will be able to balance everything just as well when he is in the NFL but I'm sure being guaranteed at least a few million dollars will help.
5) Arik Armstead, Oregon Ducks
Height: 6' 7 Weight: 292 pounds
Career Stats: 87 tackles, 10 TFL, 4 sacks
Sometimes you see a player and go, DAMN. That is the word I think of when I see Arik Armstead. He is a large man standing at 6'7 and weighing over 290 pounds. Size is something you cannot teach and this Oregon Duck definitely has that. Although for as much as I love his size, his game tape is a bit of another story. He is a raw player. That much is apparent but he clearly improved from 2013. A long and strong player looking very much like Calais Campbell and like Campbell, it may take a while for Armstead to harness all of his skill and develop into an impact player. Coming from a basketball background, he is obviously a perfect 3-4 end with his length and athleticism. Something that is apparent on Armstead's gametape is his lack of energy. I wish he would spend more time around the ball but he looks to be more concerned with dominating whoever is blocking him than making an impact play to help out his team. If he is not the one making the play, it's very rare that he is around the ball, which is a cause for concern. I wouldn't say taking plays off is a constant for this Duck but it is pretty obvious when his heart isn't in it. But when he is fired up and really into the game, Armstead can be an unstoppable force. Armstead needs to land on the right team with the right coaches to help tap his potential and if he does, he could be an absolute beast.