by Justin Rasile
1) Dante Fowler Jr., Florida Gators
40 Yard Dash: 4.60 seconds
Career Stats: 14.5 sacks, 33.5 TFL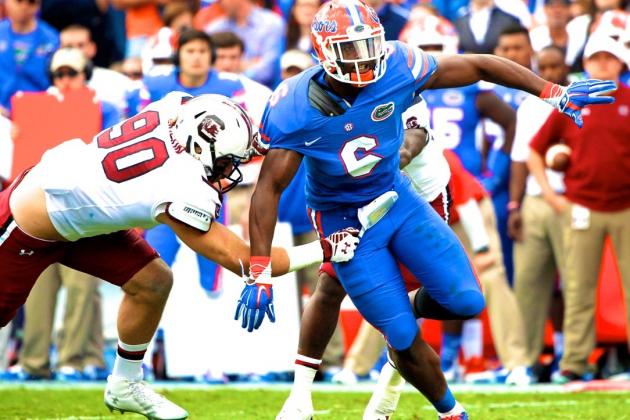 Play because you love the game. Dante Fowler epitomizes that statement. Of all the players I have watched in this years draft, I have yet to see somebody play as hard as this guy who never takes a play off. Time and time again, Fowler will be near the end of the play because he either makes a play or finishes the play off. Coaches and teammates have raved about his work ethic and I have yet to hear a bad thing about the former Gator. He seems like the real deal and a potential perennial pro bowler at the next level. While at the University of Florida, he racked up 14.5 sacks in his three years of play. That number seems pretty low for somebody considered one of the premier pass rushers in this year's class. Numbers can be deceiving and certainly are in his case. Fowler gave up the statistics part of his game to help the team in anyway that he could. This included lining up all over the field in order to generate pressure but also give his teammates the best chance to make a play. Even with his teammates
benefiting
from him lining up all over the field, he was able to generate 37 pressures in 2014 (that number led the SEC). Fowler jumps off the screen with his great first step and he then follows that up with an arsenal of pass rushing moves (bull rush, spin move, swim move, speed rush) that converts well to the NFL as he is already pretty technically sound. One issue that I noticed was that he occasionally gets caught mid spin move and has his back to the play. This lets the offensive lineman drive him away from the ball, but that will happen every once in a while when he gets tired. When he has fresh legs, his spin move is fast and compact. Fowler is an absolute stud and will be a stud at the next level.
2) Vic Beasley, Clemson Tigers
40 Yard Dash: 4.53 seconds
Career Stats: 33 sacks, 52.5 TFL
To be perfectly honest, I was not a huge fan of Beasley's game tape. Too many times I saw him get manhandled by good offensive linemen because he would constantly bull rush or try an outside speed rush. Time and time again the offensive linemen would let him go outside because they knew he wasn't going to cut back in. Even if he did try a spin move to catch the tackle off guard, the move was slow so it allowed the tackle time to regain his composure and maintain his block on Beasley. But now I see the hype around the former Clemson Tiger. He has great speed and good hands but I feel he will be a pure pass rushing specialist in his first year as he is not the greatest in run support. The one play that sticks out in my mind is the overtime game against Florida State when the Seminoles had the ball and were about to punch it in. Beasley was supposed to have contain on the outside to watch the cutback and he did a good job of that until he got his nose too far inside and got clogged by the offensive line. This allowed the running back to cut back and walk into the endzone untouched. It was a very poor play at such a pivotal moment in the game. His physical traits are unmatched as well as his combine numbers (4.53 forty, 35 reps of 225 lbs, and a 41 inch vertical). He is an insane workout warrior but with the combination of playing with a very good defensive line, I would have expected more from Beasley.
3) Randy Gregory, Nebraska Cornhuskers
40 Yard Dash: 4.64 seconds
Career Stats: 17.5 sacks, 25.5 TFL
The former Nebraska Cornhusker is one of the supreme athletes in this year's draft. A rare combination of size, speed, athletic ability, and nastiness that have teams drooling over him. There is one issue. He's a moron. I've never talked to him so I don't know how intelligent the kid is but he cannot be entirely there. He failed a drug test at the combine. Every single combine attendee knows they will be drug tested when they arrive in Indianapolis. You have your biggest interview of your life and you can't stop smoking pot. I am baffled but I digress. He has a chance to be the best pass rusher to come out of this draft. The first step quickness is phenomenal and he can speed rush offensive tackles like their feet are stuck in quicksand. The closing speed he possesses is outstanding. I love a player that will not stop on contact. They see an opening to take a shot on the ball carrier, an extra gear is found, and they drive their feet and hips through the man, thus delivering an explosive hit. Obviously his weight is going to be an issue. Gregory needs to bulk up, especially in the lower body, because I have serious doubts about him handling life in the trenches week in and week out. Hopefully this kid puts it together because he can be a stud. There's an old saying, "the best ability is availability". So to those teams thinking of drafting Randy Gregory remember two words, Josh Gordon.
4) Shane Ray, Missouri Tigers
Career Stats: 19 sacks, 34 TFL
I must be one of the few that have doubts about Shane Ray. I am not as enamored by him as everyone else. He wins by utilizing his speed but if he cannot get by offensive tackles with his quickness then it's very rare that he can make or disrupt a play. I don't see that plethora of pass rushing skills and flawless techniques to get to the ball carrier. He does have good closing speed when he approaches the ball but he has trouble bringing down the ball carrier, unlike say Randy Gregory. I am not sure if it is because he is undersized, lacks football strength, or doesn't have the nastiness needed but this is another thing that worries me about him. Ray has spent a lot of time in the trenches the past few years, but I still have my reservations about him spending all his time there. He approaches the line very high and tries to muscle his way through. That may have worked in college, but it definitely will not in the pros. He allows offensive linemen to get into his body because he likes to drive his shoulder into them. Using your hands is a must for defensive ends so that is something Ray must improve on. I do love the emotion and enjoyment that he appears to have while playing the game though. That quality goes such a long way so hopefully he works his ass off to be great and prove to be better than his deadbeat father, Wendell Ray, ever was. I will be pulling for this kid considering all of the mishappenings that have been a constant in his life. He has the characteristics to be a great pass rusher in this league. But I do see him being utilized more as a pass rushing specialist for the first year or so while he gets acclimated to the NFL being much bigger and faster.
5) Alvin Dupree, Kentucky Wildcats
40 Yard Dash: 4.56 seconds
Career Stats: 23.5 sacks, 37 TFL
Taking into account "Bud" Dupree's measurables, 6'4" and 270 pounds, you would be pleasantly surprised at how athletic he is. And he then ran his 40 yard dash at 4.57 seconds. The kid is a freak but he badly needs to refine his technique. He needs to become a student of the game and work on getting better because he can become an absolute force off the edge while being an every down defensive end. Bud constantly got the best that offensive coordinators could plan for him and he always found a way to make plays. Something that stood out to me that I really love about the former Kentucky Wildcat's game is how often he dropped into coverage. He did it more frequently than I thought he would have, especially at the size he was playing at. Bud would benefit greatly from having a good veteran defensive end taking him under his wing and showing him the ropes. Despite his size, Dupree still needs to get stronger. I watched him get pushed around way more than anybody his size should in the college game. He also needs to stop over pursuing by learning to chatter his feet and keep his feet underneath him. Slipping and sliding all over the field is the fastest way to be put on the bench. At times, I feel as though Bud shies away from contact. This would explain why his tackles are either broken or he flat out misses. One would assume that with his size in the college game that he would throw around his weight more. This could become a serious issue in the pros. All in all, what teams will be banking on with Bud Dupree is the potential that he has. He could become a phenomenal player but that will lie squarely on his shoulders.