1) Mississippi State Bulldogs
Week 7 Result: Beat No. 2 Auburn Tigers 38-23 at home
Last Week's Ranking: 4
Mississippi State running back
Josh Robinson
The Bulldogs deserve to be number one. In the last three weeks, they have beaten three top ten opponents within their own conference. Realistically, two of them aren't quite as impressive now given that LSU was vastly overrated and A&M has been trending down ever since their huge win over South Carolina to start the season. But beating Auburn was a huge victory that has jumped the Bulldogs over Florida State in the AP Poll. Before Auburn could blink, they were down 21 points thanks to some aggressive plays by the Bulldogs defense. As I had mentioned, head coach Dan Mullen forced Nick Marshall to beat them from the pocket and the results were in their favor. Marshall did pass for two touchdowns, but also threw two picks that helped give Mississippi State an early lead. Marshall still ran for 100 yards, but he didn't accrue many of them until the game was beyond reach. Mississippi State's defense has some tremendous athletes at all levels, but plays more of a bend but don't break style. It was the prettiest game offensively as they still turned the ball over three times and had a fourth turnover on a terrible fake punt. Dak Prescott had two picks himself that were the more the result of some under thrown or poorly thrown balls as opposed to good plays by Auburn's defense. However, he did make some great throws early before the downpour started, and tacked on another 121 yards and two touchdowns on the ground. Josh Robinson is their go to running back who ran for 97 yards and two touchdowns himself for the day. This team has the offensive weapons and the athletic defense to make a serious run for a championship.
2) Ole Miss Rebels
Week 7 Result: Beat No. 14 Texas A&M Aggies 35-20 in College Station
Last Week's Ranking: 3
Ole Miss safety Cody Prewitt
When was the last time the state of Mississippi was this relevant? Ole Miss continues to impress and climb in the polls while running over their conference foes. They seem to know exactly how to beat any team that they come up against with their offense. Last week against Alabama, they threw the ball to test the inexperienced secondary with great results. This week, they ran the ball down the Aggies throats in methodical fashion. They only gained 338 total yards of offense, but everything was so precise that that was all it took for them to pull out the impressive victory. Bo Wallace has really taken care of the football after throwing four pick in the opener against Boise State. It helps that he has a stud receiver in Laquon Treadwell and has good secondary and tertiary options if Treadwell is doubled. Wallace also punched in a few touchdowns on the ground from the one yard line. He doesn't have top end elusiveness or speed, but he is just very effective at hitting the hole and getting the yards he needs to without coughing it up. The defense was tested in this game and the secondary gave up a ton of yards, but they also forced Kenny Hill into a few costly mistakes. All-American safety Cody Prewitt returned one pick to the house to give the Rebels a three touchdown lead at one point. But the front seven played fantastically in this game, limiting A&M to only 54 yards on a stunning 1.5 yards per carry. No run went for more than six yards. They weren't quite as stout against Alabama, but they have continued to show improvement and can look dominant at times. This was a good victory on the road which should give them the confidence when they go into Death Valley to play LSU in two weeks.
3) Florida State Seminoles
Week 7 Result: Beat Syracuse Orange 38-20 in Syracuse
Last Week's Ranking: 1
Florida State tight end Nick O'Leary
This has been a long time coming. This is just not the same team that won the championship last year. I do have to give credit to Jameis who played a great game after learning Florida State would be bringing some action against him for his misconducts recently. He completed 30 of his 36 passes for 317 yards and three touchdowns. Syracuse has a terrible defense, and all around team really, but he made some great throws when his receivers didn't have optimal separation. In a season in which he hasn't looked like the Heisman winner that he is, this was a good, mistake free game to get on the right track again. He distributed the ball well, completing passes to seven different receivers and all touchdowns going to three separate players. Tight end Nick O'leary has again become a safety valve while he is developing a great rapport with true freshman Jesus Wilson who continues to improve as he learns the offense. The Seminoles were without Karlos Williams this week, but leaned on freshman Dalvin Cook who turned 23 carries into 122 yards and a touchdown. Its amazing the kind of depth that this team has and how they can use freshman to make an instant impact. The defense still gave up quite a few more yards than you want to see, but overall played pretty well. They forced Orange quarterback tandem into three interceptions and only 250 yards. Syracuse had some success running the ball, but ultimately they could not put up more points because of the costly interceptions. The Seminole's secondary is athletic and likes to play the ball in the air rather than the man which is can be effective but also costly. Next week's game against Notre Dame will have a huge impact on the playoffs. Whoever wins that game will likely make it while the other will be on the outside looking in.
4) Baylor Bears
Week 7 Result: Beat No. 9 TCU Horned Frogs 61-58 at home
Last Week's Ranking: 5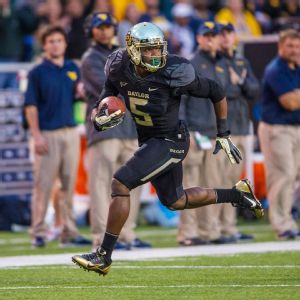 Baylor wide receiver Antwan Goodley
This game was absolutely insane. TCU had Baylor dead to rights with ten minutes left in the game and lost on a last second field goal. After having some stellar defensive performances to start off the year, Baylor gave up 485 total yards and put themselves in a terrible position to win this game. While they held TCU's quarterback Trevone Boykin to less than 21 of 47, he gained 287 yards and continued to put the Horned Frogs in a position to get touchdowns. They were gashed on the ground to the tune of 137 yards and four touchdowns as well. Their offense was another story entirely as they put up an astonishing 782 total yards, 510 of them coming from Bryce Petty as he lead the ferocious comeback. Petty also threw six touchdown passes, but also had two costly interceptions that put his team in a hole with one being returned for a touchdown by TCU. Baylor continues to recruit and immediately utilize some pretty incredible receivers. Three receivers had at least 120 yards and they each averaged over 18 yards per reception. Those are staggering numbers. They are lead by senior wide out Antwan Goodley who has had a bit of a slow start to the season but has really come on strong as of late. Freshman KD Cannon might be the most impressive of the group however as he brings both speed and height to the equation. Baylor also ran for 272 yards and were paced again by Shock Linwood, who averaged 6.2 yards per carry against what has proven to be a tough front seven from TCU. If Baylor can make it passed Oklahoma, they should be a lock for the playoffs.
5) Michigan State Spartans
Week 7 Result: Beat Purdue Boilermakers 45-31 in West Lafayette
Last Week's Ranking: 6
Michigan State wide receiver Tony Lippett
Consistency is the only thing holding this team back from being a top tier contender is consistency. For whatever reason, they cannot put together four quarters of dominant football. Despite retaining a good number of players from the top ranked defense last season, the unit still has lapses that kept this game a bit too close for comfort. Purdue was able to score a touchdown in the last two minutes of the second quarter to cut the lead to seven and looked like they were primed for the upset. After going up by 21 points in the third quarter, they then gave up two touchdowns in a three minute span in the fourth quarter that made it 38-31. A pick six in the last few minutes gave them the two touchdown lead that was ultimately the final score. The good news for this team is that the offense continues to click and rack up yards on the ground and through the air. Michigan State dominated with their rush, with their committee of backs rushing for 294 yards at 6.8 yards per carry. Their three top rushers each averaged at least eight yards a carry and had runs of thirty or more yards. Connor Cook, was solid, but unspectacular. He is completing just over 50% of his passes in recent games and while he threw for three touchdowns, he also tossed a pick. The good news is that senior wide out Tony Lippett continues to abuse defenses with his height and speed. The 6'3 senior doesn't have a huge frame, but he's caught 32 passes and eight touchdowns this year and is clearly the safety valve of the team. I'd never thought I would say this before the season, but this defense could be tested next week against a powerful Indiana offense. They cannot afford any slip ups before playing Ohio State.
6) Auburn Tigers
Week 7 Result: Lost to No. 3 Mississippi State Bulldogs 23-38 in Starksville
Last Week's Ranking: 2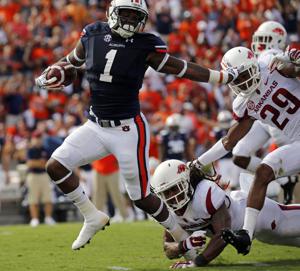 Auburn receiver Duke Williams
Its hard to drop Auburn that far considering they lost to a team ranked directly behind them, but the case could be made. This game was very sloppy from start to finish from them. Early turnovers lead to them being down by three touchdowns before the first quarter was even over. Nick Marshall threw the ball 35 times, very uncharacteristic in Malzahn's offense. The results were mixed. He completed only 17 of those passes while throwing two interceptions, but also made some key throws and added on two touchdown passes. The first interceptions was tipped at the line of scrimmage and an easy play was made on the ball, but the second was just a straight up bad decision. Auburn had some success on the ground, but a lot of it came later in the game when the Bulldogs were trying to prevent big plays down the field. They didn't always get the best play out of their receivers either. Duke Williams had a great game, catching six passes and both touchdowns by Marshall, but standout Sammie Coates really struggled in this game. He had numerous drops, including one in the endzone that would have put Auburn right back into this game. Defensively, it was an average game for the Tigers. They limited Dak Prescott through the air and picked him off twice on some poorly thrown balls, but they gave up too many yards and big plays. It doesn't help that they were put in a bad spot because of four turnovers, two of which happened right in their own redzone. But there wasn't always consistent pressure on Prescott who was able to turn loose on a few big runs and had time to set up his delivery. Auburn has a brutal schedule ahead of them, but they first need to take care of business against a desperate South Carolina squad.
7) Notre Dame Fighting Irish
Week 7 Result: Beat North Carolina Tar Heels 50-43 at home
Last Week's Ranking: 7
Notre Dame receiver William Fuller
The Irish may have moved up in the AP Poll, but I'm not so convinced after this performance against a vastly inferior opponent. If Notre Dame puts on this kind of performance against Florida State, they will have no chance at all. Everrett Golson has looked stellar in some games while being very mediocre in others. He threw for 300 yards and three touchdowns this game, but also committed three turnovers that turned into UNC points. Regardless of that fact, this is still one of the better offensive performances that I have seen out of Notre Dame since Brian Kelly became their head coach. William Fuller continues to develop as Golson's favorite target, as evidenced by his seven catches and two touchdowns. Tarean Folston has also picked up his game, becoming a reliable number two receiver coming out of the backfield to Fuller. Folson was also the leading rusher in this game, turning 18 carries into 98 yards and another two touchdowns on the day. The biggest disappointment outside of Golson's numerous turnovers was the defense which has been great until this point. As mentioned, three turnovers is going to put your defense in a bad position no matter what, but UNC was still able to rack up 510 total yards of offense. UNC's leading rusher averaged 7.3 yards per carry against them, almost unheard of for this team over the last several season. They got good pressure on the quarterback, but their secondary looked weak as they surrendered 303 yards and two touchdowns. Notre Dame has to prepare their asses off for Florida State this week or else they can kiss their playoff hopes goodbye.
8) Georgia Bulldogs
Week 7 Result: Beat No. 23 Missouri Tigers 34-0 in Columbia
Last Week's Ranking: 8
Georgia linebacker Leonard Floyd
This had to be the biggest shocker of the day. I never would have expected this team to respond to the suspension of Todd Gurley with an absolute beat down of a solid Missouri squad. On the road, no less. Freshman running back Nick Chubb bore the brunt of the carries in this game, and while he isn't quite Gurley, he still had a good day. He was fed the ball a grueling 38 times and turned that into 143 yards and a touchdown. His yards per carry isn't tremendously impressive, but he grinded out yards when he had to and was really the catalyst on offense. My only real complaint about the offense is their quarterback, Huston Mason. He was incredibly efficient in this game, completing 22 of his 28 passes and totaling two touchdowns, but he has absolutely zero ability to get the ball downfield. Those 22 completions only yielded the Bulldogs 156 yards through the air, which is just over seven yards per completion. I didn't watch the full game, but every pass that I saw was just a small pass out into the flat or dump offs. His game is going to have to improve dramatically if they want to be a real contender in the SEC. The most impressive part of this game was how the defense played. They were simply lights out. They have been streaky on defense all year, but they showed up this game and held Missouri to only 147 TOTAL yards while forcing five turnovers, four of them being interceptions. Consistent pressure, especially off the edges, forced Maty Mauk into an atrocious showing where he completed only 9 of 21 passes. The defensive backs were ball hawks in this game and never allowed much separation from their receivers. Georgia doesn't play a ranked opponent until Auburn in a month, but they can't afford to overlook Kentucky and Florida in the meantime.
9) Alabama Crimson Tide
Week 7 Result: Beat Arkansas Razorbacks 14-13 in Fayetteville
Last Week's Ranking: 9
Alabama defensive lineman A'Shawn Robinson
Again, this was a thoroughly unimpressive display on offense for a team that has enjoyed so much success in that area recently. Saban has always prided himself on his ability to create a stifling game plan defensively, but with the running backs he's recruited and the success he got out of AJ McCarron, this is a tremendous step backwards. Arkansas is not known for having a crippling defense, so the fact that Alabama could only muster 227 total yards of offense is pretty appalling. The ground game was completely shut down to the tune of 66 yards with an average carry of 2.5 yards. The backs simply had no room to run as the offensive line was handled pretty easily by the Arkansas front seven. Blake Sims had another poor outing as well, completing only 11 of 21 for 161 yards, albeit with two touchdowns. After getting off to a fast start, star receiver Amari Cooper only caught two passes for 22 yards in this game. It isn't his fault entirely, however, as his quarterback has been wildly inconsistent. The defense did have a much better day than what they experienced against Ole Miss the other week. Safety Landon Collins continues to prove he is the best in the country with yet another interception on the season. Arkansas really had to earn every yard that they racked up, but they shot themselves in the foot by missing a point after touchdown which was the deciding factor in this game. Alabama's defensive line and linebackers look like they have meshed as they limited an explosive rush attack to just 89 yards on 39 carries. But the secondary continues to look like a weakness as they gave up a few big plays through the air. Alabama has the talent to win some tough games coming up, but it doesn't seem like they'll be winning too many in a convincing fashion.
10) Oregon Ducks
Week 7 Result: Beat No. 18 UCLA Bruins 42-30 in Los Angeles
Last Week's Ranking: Outside Top Ten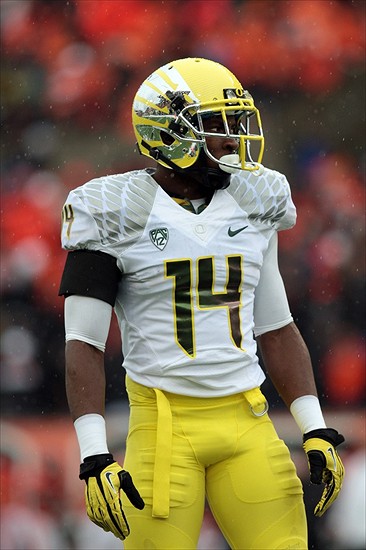 Oregon cornerback Ifo Ekpre-Olomu
I'm vaulting the Ducks over the Sooners this week because Oklahoma has looked terrible the last two weeks while Oregon has continued to improve since their crushing loss to Arizona. This game was also pretty indicative of UCLA, who had very high hopes at the beginning of the season but has really fallen off after an early season loss to Utah. Oregon looked very impressive in this game as they were up 35-10 by the start of the fourth quarter and really just allowed garbage time points when their starters weren't even on the field. The Oregon defense played a great game, consistently harassing Brett Hundley into mistakes and never giving him a lot of time to throw. Hundley was able to complete 66% of his passes, but all he netted was 216 which indicates that he was forced to throw underneath frequently. Oregon kept Jordan Payton to just sixty yards on six catches and never allowed him to really get passed the secondary. They did allow more than 300 yards on the ground which is worrisome and has been their bane in recent years, but they made crucial stops and only allowed two touchdowns on 58 rushes, a damn good statistic. As you can tell by the score, the Ducks rolled offensively in this game. Mariota had a very successful day, accounting for 285 yards and four total touchdowns. He did have a fumble, but he actually recovered it himself and ran it into the endzone. Mariota has been able to avoid interceptions all season, but he is fumble prone and that could really cost him against a more aggressive defense. The biggest surprise has to be freshman running back Royce Freeman who has gotten the bulk of carries this season. Freeman ran for 121 yards and a pair of touchdowns on only 18 carries. The depth at running back is truly remarkable. Oregon only has one real challenge left in Stanford. If they can get passed them, they will have a great shot at the playoffs.