Holy shit. I've never seen a weekend like this. I don't think anyone has for that matter. Six teams ranked in the AP Top 10 lost, and out of the AP Top 25, eleven lost. It was an absolutely incredible week that has really shuffled up the rankings. This week will look quite a bit different than what you've been seeing over the last month or so.
1) Florida State Seminoles
Week 6 Result: Beat Wake Forest Deacon Demons 43-3 at home
Last Week's Ranking: 1
Florida State cornerback PJ Williams
This won't change, but there is definitely a chance that it could after next week. Florida State only led by ten at half time, but exploded in the second half to score 30 points and really put this game away. What really surprised me about this game is that Jameis did not have a passing touchdown until there was five minutes left in the game. He had a rushing touchdown and threw an interception early, but it took him 55 minutes to get his first passing touchdown of the day. He played well otherwise, passing for 300 yards and distributing the ball very evenly to his group of talented receivers, but you just get the feeling he isn't the same quarterback from last season. The most impressive part of this game was the defense allowing Wake Forest to only gain 126 yards of total offense. Wake Forest isn't an offensive juggernaut by any stretch of the imagination, but to dominate a game in that fashion for a full sixty minutes is very impressive by the Seminoles. Wake Forest averaged only one yard a carry while their combination of quarterbacks only threw for 86 yards on 22 attempts. If they can get that kind of production week in and week out like they did last season, they'll be able to breathe more comfortably.
2) Auburn Tigers
Week 6 Result: Beat No. 15 LSU Tigers 41-7 at home
Last Week's Ranking: 6
Auburn receiver Sammie Coates
Let me first say this: LSU is not a top 25 team. This is the weakest LSU squad I've seen under Les Miles. That being said, this game was over by the end of the first quarter for LSU. Auburn came out of the gate and just sucker punched the Bayou Bengals. LSU is young and inexperienced and it really showed out there when Auburn was able to complete scoring drives in under three minutes. Nick Marshall had one of his best games at Auburn, combining through the air and on the ground for 326 yards and four total touchdowns. He just continued to do as he pleased against a defense that just looked lost. LSU is typically a very strong defense against the run, but Auburn had their way with them this game. Led by Cameron Artis-Payne, the Tigers ran for 298 yards at over six yards a carry. Sammie Coates was able to display his big play ability by averaging 36 yards per reception over four catches that included a touchdown. Like Florida State, the most impressive part about this game was how the defense just utterly dominated LSU. LSU was playing true freshman at quarterback, running back, and wide receiver. It showed with just how much each of them struggled in this game. Brandon Harris went 4 of 13 before being benched for Anthony Jennings, Malachi Dupree caught only one pass, and Leonard Fournette could only muster 42 yards on ten carries. Auburn has really improved in every game that they've played in so far and the case can easily be made for them being the top team in the country. If they can beat Mississippi State at home next week, I expect them to vault over the Seminoles.
3) Ole Miss Rebels
Week 6 Result: Beat No. 3 Alabama Crimson Tide 23-17 at home
Last Week's Ranking: Outside Top Ten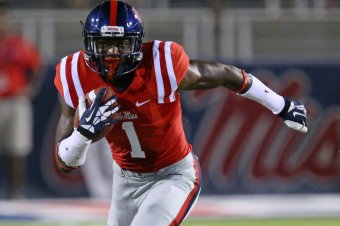 Ole Miss receiver Laquon Treadwell
There is debate over which Mississippi team had the more impressive weekend, but I think taking out the No. 3 team in the country and the perennial powerhouse of the SEC is more impressive. Ole Miss is for real this year. Their defense is superb, on par with Alabama to be honest. They have a great secondary, lead by safety Cody Prewitt who did a great job of bracketing Amari Cooper and keeping him from making any game changing plays. Ole Miss also possesses a lot of big and athletic linebackers that are able to run with tight ends like OJ Howard or clog up running lanes. Their defensive line is incredibly disruptive, lead by defensive tackle Robert Nkemdiche who was in Blake Sims face all day. Sims never looked that comfortable in the pocket and did not have the room to take off with the ball during this game. In all honesty, this game shouldn't have actually been this close either. Alabama was gifted with a touchdown right before halftime when their gunner on special teams clearly face masked the return man for the Rebels, causing a fumble which was returned for a touchdown. But you have to give Ole Miss's offense credit for being able to fight back to tie the game and take the lead in the last five minutes of the game. Bo Wallace is one of the better quarterbacks in the conference who played much more consistently during this game and made some spectacular throws to pull off the upset. He has two great weapons in tight end/H back Evan Engram and wide receiver Laquon Treadwell, both sophomores who play at a very high level. They have a great chance to prove that they really do belong in the top five when they travel to Kyle Field to play a Texas A&M squad looking for redemption next week.
4) Mississippi State Bulldogs
Week 6 Result: Beat No. 6 Texas A&M Aggies 48-31 at home
Last Week's Ranking: Outside Top 10
Mississippi State quarterback Dak Prescott
The game wasn't even that close either. Mississippi State was winning 48-17 before the Aggies scored two touchdowns in the last few minutes of the game to make it look somewhat competitive. I don't think that there was a time when both Mississippi schools were this good. The Aggies finally met their match when they couldn't simply outscore a team and was forced to play some defense. For the Bulldogs, it all starts with their quarterback Dak Prescott. Prescott is a dual threat quarterback who has more build than mobility to him, but also has shown a lot of improvement as a passer in the last few seasons. On the year, he has 13 touchdown passes against only two interceptions while adding another six on the ground, three of which came against the Aggies. He isn't like Braxton Miller who can take a 70 yard run to the house, but he reads his blockers very well and makes the plays that he has to. Honestly, I really haven't seen too much of this team play yet so I don't know too many players outside of Prescott. All I know is that the defense made life hell for an Aggies offense that can get rolling in a heart beat. Kenny Hill was intercepted three times and the Aggies had only a single play of over thirty yards when they are one of the most explosive, big play teams in the nation. The Bulldogs are going to need that kind of production on defense next week when they travel to Auburn.
5) Baylor Bears
Week 6 Result: Beat Texas Longhorns 28-7 in Austin
Last Week's Ranking: 8 Baylor running back Shock Linwood
Baylor looks like they could have a clean path straight to the playoffs with Oklahoma laying a dud against TCU. Despite very poor play from Bryce Petty (7-22, 2 TD), Baylor rushed for almost 280 yards on an unheard of 60 carries. Texas's defense was honed in on stopping Petty from carving them up through the air, but they had no answer for the Bears on the ground who were again lead by Shock Linwood who got 28 carries going for five yards a pop. This game was very much out of the norm for how Baylor has played in recent years, but it shows that they can adapt to a situation and win in almost any way. They do have to be concerned about how Petty is playing however. He is a pretty good quarterback who mastered their system last year, but since suffering a back injury this year he just hasn't been the same player. Yet equally as impressive as the rush attack in this game was how the defense played. They allowed close to 200 yards on the ground, but Texas has had some very good running backs over the years who were looking for a break out game which they finally got. But the secondary was lights out in this game, holding Tyrone Swoopes to under 50% completion and picking him off twice. It is pretty surprising that Charlie Strong had him throw the ball 34 times considering how much of a struggle it was. Baylor will have a good test next week when they play a TCU squad that is on fire after beating No. 4 Oklahoma this past weekend.
6) Michigan State Spartans
Week 6 Result: Beat No. 19 Nebraska Cornhuskers 27-22 at home
Last Week's Ranking: 7
Michigan State corner back Trae Waynes
Michigan State had a tremendous lead in this game and then allowed three touchdowns in the fourth quarter that brought to game to within five points, but they were able to intercept Nebraska on their last drive and hold on for the victory. A lot of people will be pissed that Nebraska almost pulled off the comeback, but they are a very good team this year that showed resiliency when they were dead in the water. This was a very good victory for the Spartans who needed a true test after their last one went poorly. Connor Cook did not have the best game of his career, completing only 11 of his 29 passes for 234 yards, and a touchdown and interception each. Cook seems to struggle when the conditions are not ideal for him, but he was still able to get the ball down field a few times to put his team in good positions to score. Even the ground game struggled a bit in this contest. Jeremy Langford ran for over 100 yards, but his average was below four yards a carry with only a few big runs in between. This game was a testament to how good their front seven is on defense. They held Heisman hopeful Ameer Abdullah to only 45 yards on a grueling 24 carries while keeping his longest rush to a paltry nine yards. They were also able to apply a ton of pressure to Nebraska quarterback Tommy Armstrong, who threw for almost 300 yards but completed just twenty passes and threw a pair of costly interceptions. The secondary was tested in this game but that was to be expected. Michigan State was focused on not let Abdullah beat them, so they committed more players to the run and left some favorable match ups on the outside. Michigan State hasn't always looked the best when playing ranked opponents this year. With an easy slate coming up over the next three weeks, they'll have some time to get things figured out before their showdown against a surging Ohio State.
7) Notre Dame Fighting Irish
Week 6 Result: Beat No. 14 Stanford Cardinal 17-14 at home
Last Week's Ranking: 9
Notre Dame linebacker Jaylon Smith
It was sloppy conditions with the down pour, but Notre Dame pulled out a stunning last second victory. This was a great victory for the Irish who could end up running the table and use this victory on their resume for a bid at the college playoffs. Everret Golson had a tougher outing in this game, but most of that can be attributed to the awful conditions on the field. Golson completed less than 50% of his passes and threw a pick, but also threw for 240 yards and two touchdowns, including the last one on fourth down with less than two minutes left. Golson has matured beyond belief since their run to the championship game two years ago. The running game was also clicking very well for the Irish. Notre Dame has been using a run by approach committee this season with great efficiency. They use it to go with the hot hand and not become stagnant which has worked well in their favor to this point in the season. Almost as impressive as Everret Golson has been the defense which was not as great last season as the year prior. They continue to be able to reload along the defensive line to get consistent pressure on the quarterback. They hassled Cardinal quarterback Kevin Hogan all day long, forcing a couple of interceptions and keeping his completion percentage to 50%. Their linebacking core is also incredibly athletic, led by true sophomore Jaylon Smith. In two weeks Notre Dame travels to Tallahassee to take on Florida State. If they win that game, they might be an almost certain lock for the playoffs.
8) Georgia Bulldogs
Week 6 Result: Beat Vanderbilt Commodores 44-17 at home
Last Week's Ranking: 10
You really can't take that much away from this game considering that Vandy isn't as good as they've been during the last two or three season. Georgia has way too much talent for Vanderbilt to be able to compete with, and Mark Richt is a much better coach than Derek Mason. This game was simply fun to watch because Todd Gurley is a man among boys in the college ranks. He ran for 160 yards and two touchdowns in this game, and also completed one pass attempt for fifty yards. Despite Georgia having a loss, I think that Gurley has to be the leading Heisman candidate this season.
9) Alabama Crimson Tide
Week 6 Result: Lost 17-23 to No. 11 Ole Miss Rebels in Oxford
Last Week's Ranking: 4
Alabama tight end OJ Howard
Alabama knew from the start that this was going to be a tough game, but as I mentioned in the Ole Miss section, the game shouldn't have been that close as Alabama was gifted with a touchdown right before halftime. In the past several years, the Alabama defense has been able to keep them in every game despite the struggles of the offense. That is not the case this year as the defense is young and inexperienced and has not meshed as quickly as Saban would have liked. Their secondary was exposed by a quarterback who can be wildly inconsistent. The front seven, however, is much more physical and aggressive and held Ole Miss to only 76 rushing yards. The pass rush is going to have to pick up in order for the secondary to get some relief from being consistently targeted. This was also evident in the West Virginia game. Offensively, it seems Blake Sims's game against Florida was the fluke game. Sims has really not played that well in any other game besides that, and this was arguably his worst yet. He couldn't complete many passes in which he didn't have a wide open receiver, and threw the game sealing pick while trying to lead the winning drive in the last few minutes of the game. The problem for Alabama is that they really only have one true threat at receiver with Amari Cooper. OJ Howard finally made an appearance, but that has more to do with the shitty play calling by Lane Kiffin to not get him involved in the passing game. Alabama is very fortunate that they will be catching Mississippi State and Auburn at home this year, but even that might not be enough.
10) Oklahoma Sooners
Week 6 Result: Lost to No. 25 TCU Horned Frogs 33-37 in Fort Worth
Last Week's Ranking: 3 Oklahoma receiver Sterling Shepard
This wasn't really that bad of a loss in the grand scheme of things. TCU is a much better team than they were last year and is going to be a tough game for any BIG 12 opponent. The offensive output of this game is very puzzling for Oklahoma. Trevor Knight has not turned into the quarterback that we all expected to see after his dazzling Sugar Bowl performance last year. While he managed to throw for 309 yards in this game, he completed only 14 of his 35 passes and tossed a couple of interceptions as well, the last one being returned for the decisive score. I do think that one of the biggest obstacles that is holding him back is the lack of true receiving threats. He really has only become comfortable throwing to Sterling Shepard, although that connection paid huge dividends in this game. Shepard hauled in 7 passes for a touchdown and 215 yards. He has some explosive play ability, but isn't always consistent in it. Knight has also been able to rely on the ground game to be able to take some pressure off of him, but TCU did a fantastic job of bottling up Samaje Perine. This is a tough loss to TCU as Oklahoma is now going to be on the outside looking in for the playoffs. They still have to play Baylor while TCU is also undefeated in conference play at the moment.