1) Florida State Seminoles
Week 5 Result: Beat NC State Wolfpack 56-41 in Raleigh
Last Week's Ranking: 1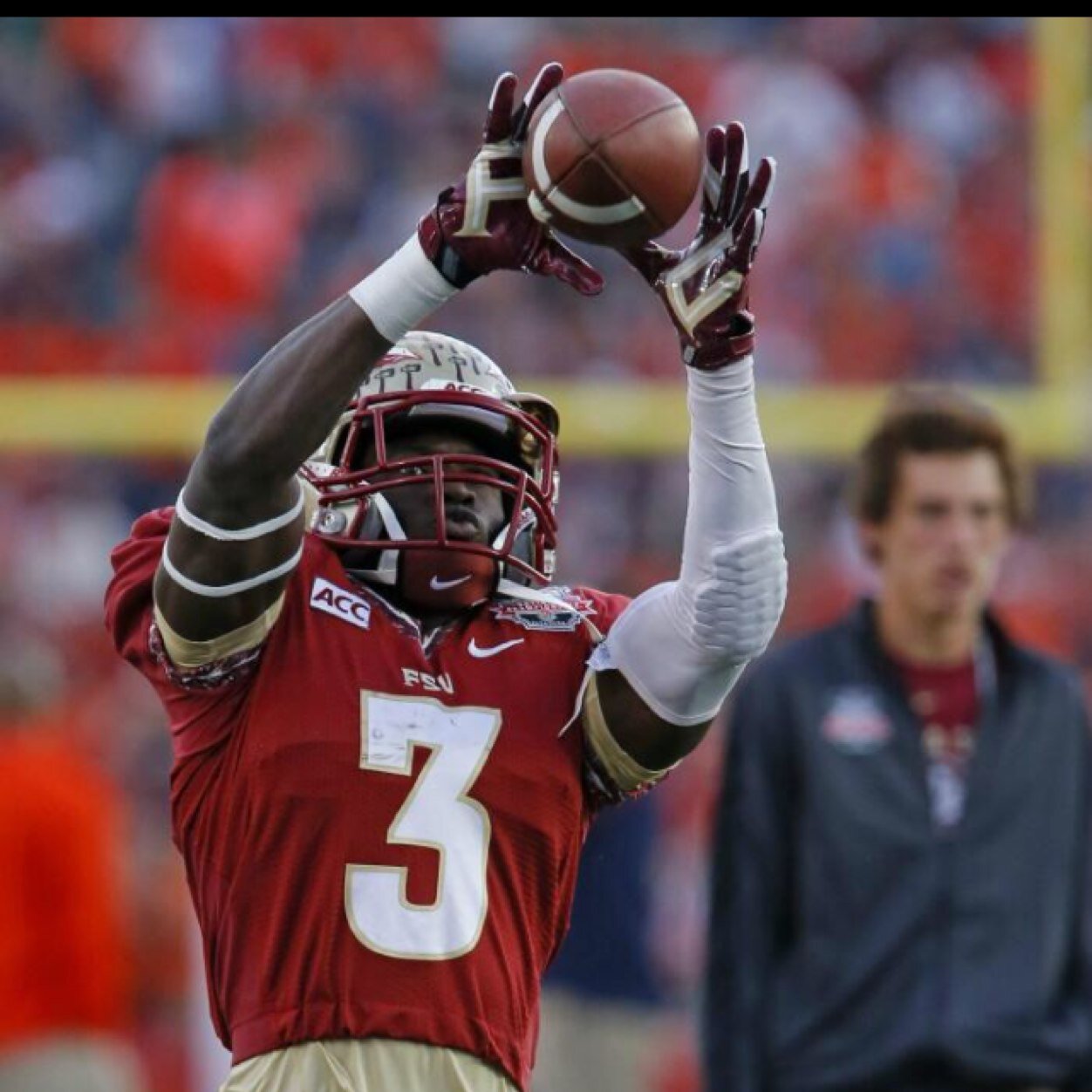 Jesus Wilson
Again, I'm tempted to drop the Seminoles a spot or two but with none of the next few ranked teams having a game, I can't. NC State has typically been a trap game for Florida State and it looked like they were going to do it again during the first half of this game. I'm really shocked at how the poorly the defense has played for the Seminoles all season. On paper, they have one of the best defensive lines and secondaries in the country. And yet they have just been shredded whenever they come up against a decent offense. NC State was undefeated coming into this game, but giving up 41 points and 520 total yards of offense is simply unacceptable for a team that is looking to repeat as national champs. In the end, they were able to make the stops necessary to take the lead and put the game out of reach, but they desperately need to shore up. Offensively, it is surprising to see Jameis Winston consistently making the wrong decision. He chucked four touchdowns, but his two interceptions were pretty atrocious. I think he is missing Kelvin Benjamin more than we thought he would. Rashad Greene is still a dependable receiver, and freshman Jesus Wilson looks like he is going to live up to the hype, but its clear that Winston misses having a big bodied target that can dominate the middle of the field. The running game finally clicked however, as Karlos Williams ran for 126 yards and 3 touchdowns on 21 carries. This team has all the potential in the world, but they've looked very sloppy and might be in danger of missing the playoffs in they continue to have unimpressive performances.
2) Oregon Ducks
Week 5 Result: Bye Week
Last Week's Ranking: 2
3) Oklahoma Sooners
Week 5 Result: Bye Week
Last Week's Ranking: 3
4) Alabama Crimson Tide
Week 5 Result: Bye Week
Last Week's Ranking: 4
5) Auburn Tigers
Nick Marshall
Week 5 Result: Beat Louisiana Tech Bulldogs 45-17 at home
Last Week's Ranking: 5
This was another tune up game for the Tigers before they begin their SEC slate. Nick Marshall had a great game, completing only 10 passes but with three of them going for a touchdown. He also ran the ball effectively, adding over 100 yards on the ground. Its a bit disappointing that Auburn doesn't throw the ball too much considering they do have some great play makers. I've heard that if Sammie Coates were able to showcase his ability more, he would be in consideration for a first round selection given his height and speed. D'haquille Williams has proven to be a go to target for Marshall, adding three catches and a touchdown to the effort. It is becoming obvious that Auburn doesn't have a running back on their roster quite like what they had with Tre Mason last season. Cameron Artis-Payne is capable, but he doesn't have the same "it" factor that Mason brought. He's made some good plays throughout the beginning of the season, but it looks like Malzahn will go with a by committee approach this season rather than leaning on a single back. This team played well defensively also, but that was to be expected. They allowed just over 300 total yards and the two touchdowns they allowed were in the second half when the game was out of reach. Next week against LSU will provide a better litmus test for where this team stands.
6) Texas A&M Aggies
Week 5 Result: Beat Arkansas Razorbacks 35-28 in OT in Arlington, TX
Last Week's Ranking: 6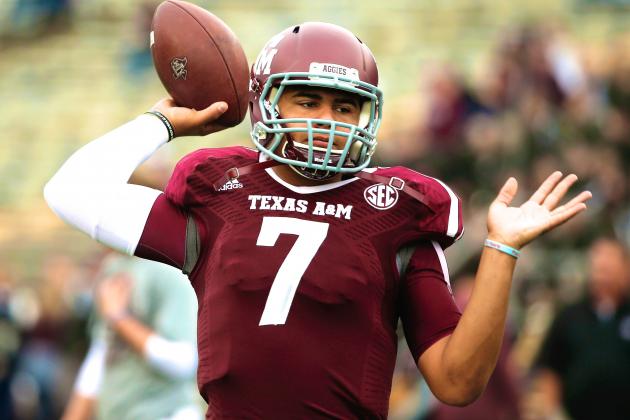 Kenny Hill
The Aggies looked dead in the water heading into the fourth quarter, but two touchdown passes by Kenny Hill, both over 50 yards, brought them back to life to force the game into overtime. While he threw for almost 400 yards and four touchdowns, he did struggle at times, completing just over 50% of his passes on the day and adding an interception into the mix. Yet when his team need him the most, he produced some spectacular throws. He doesn't lack for targets, as almost any receiver on his team can step up and take over a game. Malcome Kennedy is the leader of the group by seniority, and he made some good plays including the game winning touchdown in overtime. The Aggies had some mixed results on the ground, running for 137 yards but never getting into a rhythm to keep Arkansas off balance until the final fifteen minutes. While the Aggies secondary played well against the pass, they were gashed on the ground up front. A&M has a tremendous talent at defensive tackle in Myles Garrett who was able to get a lot of disruption in the timing of Arkansas's passing game. But Arkansas was able to run at will, save for the last play. They were gashed for 285 yards at six yards a carry and three touchdowns on the ground. This was a bit revealing for both teams, but A&M hung tough and will have another chance to prove themselves next week at Mississippi State.
7) Michigan State Spartans
Week 5 Result: Beat Wyoming Cowboys 56-14 at home
Last Week's Ranking: 8
Jeremy Langford
Jesus, is Michigan State going to start playing anyone soon? Besides their game out at Oregon, they really haven't played anyone of consequence this season. Wyoming isn't terrible, but there was no way that they were going to be able to walk into East Lansing and pose any sort of real risk to the Spartans. The best thing that you can take away from this game is just how much depth they have at running back. As a team, they rushed for 338 yards and five touchdowns at six yards a carry. Langford leads the pack, but they have some other guys who add a bit more flash than the downhill style that he brings. Even though it is against inferior competition, it has been interesting to see the maturation of Connor Cook recently. He is starting to garner some first round consideration with his solid arm strength, good field vision, and accuracy. His receivers have also matured, especially Tony Lippet with whom he probably has the best connection. The Spartans will have their hands full next week with Nebraska and their Heisman hopeful, Ameer Abdullah. If they can put up an impressive victory against the Huskers, Michigan State could be right back in contention for a playoff spot this season.
8) Baylor Bears
Week 5 Result: Beat Iowa State Cyclones 49-28 in Ames
Last Week's Ranking: 7
Shawn Oakman
This game showed a bit more of a different dimension to the offense than what we are used to seeing from Baylor. Bryce Petty still had a good evening, but only threw one touchdown in an offense that makes its living through the air. Instead, the ground game combined to gash Iowa State for 244 yards and six touchdowns. After playing second fiddle to Lache Seastrunk last year, sophomore running back Shock Linwood has completely taken a hold of the starting position at running back and made the most of his opportunities. A smaller back, he is so difficult to find behind the line and works wonders in space. He had only 82 yards, but tacked on an additional three touchdowns which propelled the Bears in this game. Despite giving up four touchdowns, the defense still played pretty well. They limited a solid Cyclones offense to only 340 yards and gave up three touchdowns in the second half when they were already up by four touchdowns. They have a beast at defensive end in Shawn Oakman, who stands at 6'9 and has the ability to cause disruption on every single down. He had four tackles and a sack in this game and played better than his stat line would indicate. Baylor has a few easier games until they travel to Morgantown, where West Virginia gave the Sooners a tough fight for four quarters.
9) Notre Dame Fighting Irish
Week 5 Result: Beat Syracuse Orange 31-15 at Metlife Stadium, NJ
Last Week's Ranking: 9
Everett Golson
It was a bit of a mixed outing for Everett Golson as he threw for four touchdowns but also threw two interceptions. Yet a few years ago when the Irish went on their great run, Golson was not trusted to air it out as much as he does now. Him reaching a dozen pass attempts was a sight to behold. Now, Brian Kelly as the utmost faith in him throwing the ball 30-40 times a game. He isn't running the ball as efficiently as he did that year, but he really doesn't need to with how well he is throwing it. Notre Dame has several running backs that they like to rotate which has worked out well so far. Each gets around ten carries a game, but they aren't finding the endzone as frequently. Golson's favorite target is Will Fuller who has 25 catches and five touchdowns through four games. He is a solid route runner with reliable hands which has earned him the number one position among the receivers. The defense has been absolutely stellar this year. They're allowing only 11.5 points per game and shut out Michigan a few weeks ago for the first time in almost thirty years. Michigan blows this year, so take it with a grain of salt, but they've still only allowed an average of 15 points in their other three contests. Next week will provide them with a true test to see where they stand when Stanford comes to South Bend.
10) Georgia Bulldogs
Week 5 Result: Beat Tennessee Volunteers 35-32 at home
Last Week's Ranking: 10
Todd Gurley
If Mark Richt can get this defense to play to the level that they are capable of, Georgia would easily be the favorite to win the SEC East. Instead, this team continues to just give up a lot of big plays which will eventually be their undoing (it already was against the Gamecocks). They are pretty solid against the run, but injuries to the secondary make them awful against the pass. Tennessee quarterback Justin Worley is a solid quarterback, but he looked like Peyton Manning out there against the Bulldogs secondary. He threw for three touchdowns against Georgia, all to bring Tennessee back to within four points of the Bulldogs. Georgia also has to mold their game plan with Huston Mason as he has proven to be little more than a game manager thus far into the season. He consistently under-throws passes, as was evidenced by his two interceptions in this game. Georgia has talent at receiver, but Mason didn't even crack 150 yards in the air. The reason Georgia is able to crack the top ten is because they have on of the most explosive backfields I've ever seen. Todd Gurley should honestly be at the top of the Heisman race as he is easily the best player in the country regardless of position. Gurley ran for over 200 yards and two touchdowns, including one of 51 yards when to really give the Bulldogs a commanding lead. They received a bit of bad news when freshman sensation Sony Michel was injured after three carries and is expected to miss a few weeks. But as long as they give Gurley the ball 20 times a game, they should be able to compete in any game.