It was only the first week, but there was a lot revealed by teams both inside and outside of the top ten. I typically don't move teams down if they haven't lost, but after the first week this is more of a revising of the top ten from my preseason rankings.
1)Florida State Seminoles
Week 1 Result: Beat Oklahoma State Cowboys 37-31 in Houston, Texas
Last Week's Ranking: 1
This was a bit of an ugly game for the Seminoles who learned just how hard it is to go undefeated for a second straight season and repeat as champions. After looking so dominant in every game except for the title game last year, Florida State looked very shaky despite returning a lot of the talent that carried them last year. Jameis Winston had an uncharacteristically bad game, throwing for two interceptions and only one touchdown. He forced some throws and wasn't seeing the whole field like he did consistently last year. I think that he has gotten a little too confident in himself after last year and needs to go back to being more natural with his decision making rather than over-analyzing everything. He still threw for 370 yards and had an incredible 28 yards scramble for a touchdown. Florida State's offensive line didn't help him much either. He was under constant pressure, and few running lanes were open for Karlos Williams and Mario Pender. A receiver other than Rashad Greene is also going to need to step up. He caught 200 of Winston's 370 yards and was one of the only receivers who could get open. The defense looks solid, but also looks like it will need some time to mesh. The pass defense looked good with the Seminoles returning a lot of potential first round talent. The secondary allowed only 200 passing yards and one touchdown, but the front seven is feeling the attrition of last year as they allowed numerous big plays. It wasn't the worst start, but other teams might see the weaknesses in this team and start to exploit it.
2) Alabama Crimson Tide
Week 1 Result: Beat West Virginia Mountaineers 33-23 in Atlanta, Georgia
Last Week's Ranking: 2
Like Florida State, Alabama had a bit of a lackluster game that you could tell they were trying to get the kinks worked out with so many new players at key positions. After three years of stability at quarterback, Saban went with Blake Sims over Jacob Coker, a move that few think made a lot of sense. Sims managed to pass for 250 yards on 24 completions but he also threw a pick and had several errant throws. He also has the ability to take off with the ball, but no one is mistaking him for Johnny Manziel. There's talk that Saban will start Coker this week which I think is the smart move as Coker was pretty universally lauded as better than Sims. Coker is more of a true pocket passer who will be able to take advantage of the Alabama's stacked core of receivers. Until that gets settled, expect Saban to stick with the running game which was firing on all cylinders. TJ Yeldon and Derrick Henry combined for 239 yards and three touchdowns on 40 carries good for 6 yards a pop. The run defense looked superb, limiting the Mountaineers to only 30 yards, but the secondary is going to go through some growing pains with only one starter returning from last year. They gave up a lot of big plays and allowed Clint Trickett to throw for 365 yards on the day. Landon Collins continued to make big plays, but the secondary is going to need to grow up in a hurry to help navigate the SEC schedule.
3) Auburn Tigers
Week 1 Result: Beat Arkansas Razorbacks 45-21 at home
Last Week's Ranking: 4
Auburn looks like a team that picked up right where it left off last year, which bodes both well and poorly for the Tigers. The defense still doesn't seem to be completely set yet as this game was closer than the score would indicate, especially during the first half of play. Only in the second half did they really settle in and dominate the game. The pass defense was pretty solid, but the run defense allowed more than five yards a carry to Arkansas's stable of backs. Auburn has one of the more difficult schedules in the SEC, so the defense will have to improve so that they don't have to win shootouts every game as was the case last year. But as you'd expect out of a Gus Malzahn driven offense, the Tigers' offense was incredibly explosive despite missing Nick Marshall for the beginning of the game. They ran for 300 yards at over 6 yards a carry and had three rushing touchdowns while adding another 300 yards and three touchdowns through the air. Cameron Artis-Payne lead the attack with 177 yards and one touchdown and seems to be in a position to win the primary job since Tre Mason is now in the NFL. Doran Grant also tacked on another 90 yards and a touchdown while we all know that Marshall is a dangerous dual threat runner. As long as the defense continues to improve, Auburn has a terrific shot to repeat as SEC champs.
4) Oregon Ducks
Week 1 Result: Beat South Dakota Coyotes 62-13 at home
Last Week's Ranking: 5
You're not going to learn a lot about Oregon from watching this game. It was pretty much what you would expect out of the Ducks. Mariota threw for 270 yards and three touchdowns through the air while adding another on the ground. The running backs were also very impressive in this game. Oregon has a multitude of high impact runners who can all add and contribute something a bit different in the ground game. Five star recruit Royce Freeman impressed early on, turning ten carries into two touchdowns and 75 yards. It is going to be tough to stop Oregon this year with their numerous running threats. They will be able to consistently run the ball at their up tempo pace without losing much of a step considering the talent. And with a potential Heisman candidate in Mariota, its going to take a complete team with an equally dominant running game to take down the Ducks. With how much UCLA struggled this week, I really don't think that anyone in the PAC-12 is beating Oregon.
5) Oklahoma Sooners
Week 1 Result: Beat Louisiana Tech Bulldogs 48-16 at home
Last Week's Ranking: 8
Oklahoma had more question marks than most teams inside of the top ten, and I think that they showed enough to ease some of the doubts about this season. Now, obviously, playing against Louisiana Tech isn't the best isn't the best indicator of how the season is going to turn out, but it showed that they can still operate even with the question marks and uncertainty at positions. Trevor Knight had a good game which should give Bob Stoops confidence moving forward with him instead of constantly playing two quarterbacks during a game. I think the bigger question mark will be at receiver. Guys like Sterling Shepard are experienced and are very solid players, but there isn't a true game changer at receiver. The running game should be a great compliment to Knight as well. Keith Ford and Samaje Perine both averaged over five yards a carry and combined for three touchdowns in their limited carries. The combination of them is going to have to carry them through the loss of Joe Mixon, but they look like they should be able to. As you would expect, the defense completely overwhelmed the Bulldogs. The secondary allowed less than two hundred yards through the air while the front four got good pressure. But like numerous other teams in the top ten, we will need to see how the defense handles some of the tougher teams like Baylor this season before reaching a verdict.
6) Michigan State Spartans
Week 1 Result: Beat Jacksonville State Gamecocks 45-7 at home
Last Week's Ranking: 6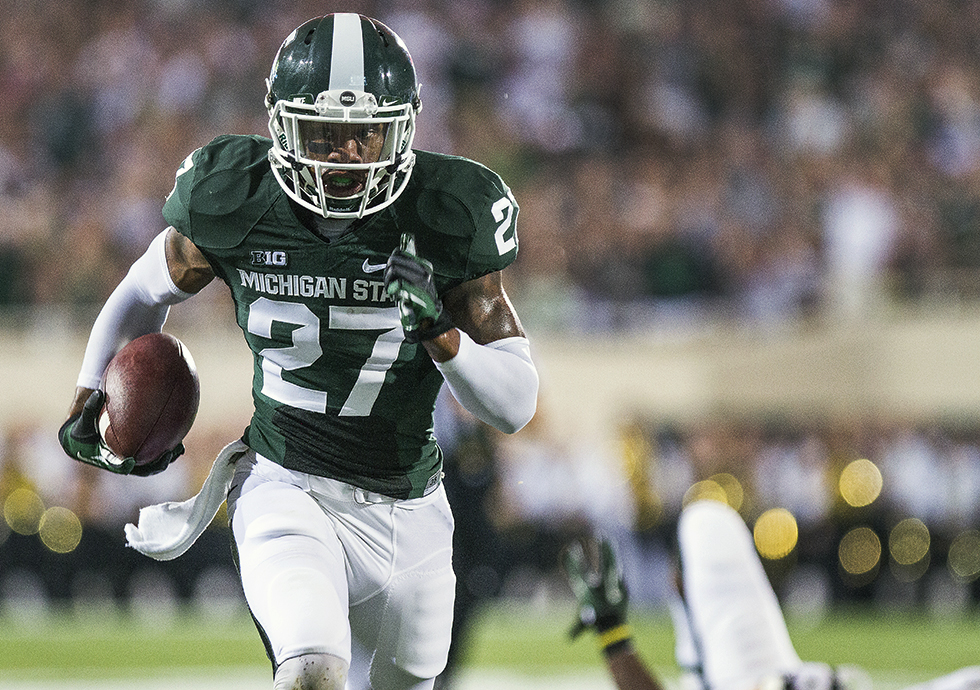 Like Oklahoma, Michigan State's defense played incredibly but that was to be expected. They intercepted Jacksonville State three teams, all by different players in the secondary, that showcases why they were the best in the country last year. The run defense was also tremendous, allowing only 22 yards on the ground. The Spartans will have a much tougher match next week when they play in Autzen Stadium against Oregon, but this game was definitely a nice warm up for them. I'm more interested to see how the offense performs against Oregon next week. The formula for beating Oregon isn't very complicated, but it is obviously a lot more difficult to implement the that formula in the face of action. Connor Cook was unbelievable from the pocket, completing 12 of 13 passes for three touchdowns and 285 yards. Senior receiver Tony Lippett took control of the game, turning four receptions into 170 yards and two touchdowns. But as I mentioned, there is a formula to beating Oregon and that is a strong running game that can churn out first downs and eat up the clock. Jeremy Langford returns as their running back after a huge season, but he was only given 13 of a total 50 carries on Saturday. The offensive line still allowed them to rush for 4.2 yards a carry, but a better push is going to be needed to beat Oregon. Next week is going to determine a lot in the playoff race this year with Michigan State and Oregon meeting up.
7) Georgia Bulldogs
Week 1 Result: Beat No. 16 Clemson Tigers 45-21 at home
Last Week's Ranking: Not in Top 10
If Mark Richt were a smart man (he's not) he would only throw the ball 15 times a contest and allow the running backs to do all the work offensively. Its not that Huston Mason is a bad quarterback. He's not Aaron Murray or Matt Stafford, but he is at least capable of winning games. He also has a solid receiver in Michael Bennett who he can rely on to be open and make the plays when the ball comes his way. Yet as I mentioned, the real strength of this team lies with the running backs. There is a total of four players who were five start recruits trying to make a case for more snaps. But it will be hard for them to beat out Todd Gurley, an absolute monster of a runner who put himself in Heisman contention with this performance. Gurley ran for 198 yards and three touchdowns on only
15
carries while adding a 100 yard kickoff return for a touchdown. He has a ridiculous blend of size, power, and speed as evidenced by his multiple touchdown runs. He had a big year last year but played through some injuries. If he is completely healthy this year, Georgia will be in a prime position to win the SEC East. The defense played well after settling down in the second half, but despite their talent they don't always play up to their potential. Clemson was running and throwing with ease in the first half despite having new players at all key positions. If they don't get more consistent play out of the defense, this team will once again find itself right on the edge of breaking through without quite making it.
8) Ohio State Buckeyes
Week 1 Result: Beat Navy Midshipmen 34-17 in Annapolis
Last Week's Ranking: 3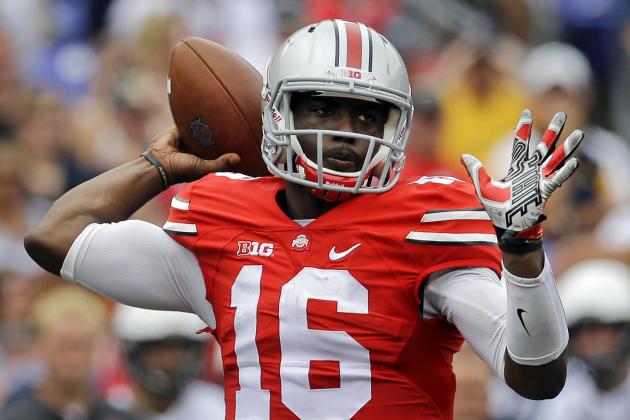 As I mentioned, this list is also a bit of revised list. The preseason top ten that I had written was published two days before it was revealed that Braxton Miller would be out for the season. As such, I had to drop Ohio State down on the list due to the injury and also seeing how the team performed in their first game without Braxton. Redshirt freshman JT Barrett actually had a pretty impressive debut. He throw a terrible pick in the red zone, but completed 12 of 15 passes for 230 and two touchdowns, one an 80 yard bomb to Devin Smith that helped put Ohio State in control of the game. The most glaring weakness to this team was offensive line that was starting four new players. They allowed Navy to get pressure on Barrett and didn't open the running lanes that they should have. Ezekiel Elliot got the bulk of the carries in this game but was very average, although that says more about the offensive line than his ability to carry the load. He will likely have another tough outing against Virginia Tech next week. The defense was also a bit of a disappointment in this game as well. Ohio State allowed 370 rushing yards against Navy, its most against any foe in almost two decades. Navy is lethal with the triple option, and only picked up 20 yards through the air, but there were some serious lapses that kept this game a bit too close for comfort. The defensive line did cause some good disruption, and Joey Bosa continues to develop off of a phenomenal 7.5 sack freshman year, but we need to see more from the linebackers. Curtis Grant had a good game and seems to finally be putting it all together, but once again the defense could come back to bite the Buckeyes later in the season.
9) Baylor Bears
Week 1 Result: Beat SMU Mustangs 45-0 at home
Last Week's Ranking: 10
I didn't get a chance to watch this game, so I really can't comment on it that well. It seems that Bryce Petty is close to picking up where he left off last year, but there were a few overthrows that would have been touchdowns. It may have been nothing more than working out the kinks in the first game, but this will be enhanced by the fact that he is recovering from a back injury now that has placed him week to week. Art Briles has developed a true "next man up" system at Baylor on offense, so hopefully for them they can keep their offensive production up should Petty be forced to miss some time.
10) UCLA Bruins
Week 1 Result: Beat Virginia Cavaliers 28-20 in Charlottesville
Last Week's Ranking: 7
Out of all the top ten teams to play this week, the Bruins were the least impressive, and it wasn't even close. Virginia is coming off of a two win season and looked like they were actually going to pull off the upset until a few key plays towards the end put it out of their reach. The Bruins are going to have to improve in a hurry if they want any chance to make it to the playoffs. The most glaring weakness to this team was easily the offensive line. They were absolutely terrible. They didn't get much of a push on the ground while Hundley never had any time to throw the ball. He got the snap and had to get rid of it immediately. He wasn't able to throw any touchdowns, but also didn't help himself with some poor reads. But again, he also had little help from his receivers as they easily dropped five passes on the day. Hundley wasn't always consistent with his ball placement, but there were some that hit the receivers right in the numbers that they didn't catch. The defense is really what saved this game. The secondary returned two passes to the house and looks to be a real strength for the first time in recent memory. There was some success against them, but neither quarterback was able to get into a rhythm against them. The front seven also has to become more physical. They have the talent there but it needs to develop quickly. The Bruins have a very tough schedule in the PAC-12 and having a non-conference game against Texas. If they don't fix their issues pronto, they will be out of the playoff race before they know what him them.