This was definitely a game that he would like to forget. McCarron completed only 48% of his passes for a laughably bad 110 yards. He did throw an touchdown, but also threw an interception. He looked a bit confused at times, which is also testament to Tech's coaching staff doing their homework and developing a good game plan. Yet for a kid whose won two straight national titles, you'd expect him to fare better against an unranked team. I think this game validated the suspicions I've had of McCarron since last year.
McCarron became the full time starter in 2011, his sophomore year. His stat line was pretty much what you'd expect out of a young, first year starter: 2634 Yards, 66.8% Completion, 16 TD, 5 INT. Not a bad start to a career, especially when it is capped off by a national title victory over one of your biggest rivals. Last year saw a massive spike in his stats: 2933 Yards, 67.2% Completion, 30 TD, 3 INT. The last two numbers are important here. That is what you'd expect Aaron Rogers or Tom Brady to be achieving in the NFL. But while these numbers are indeed impressive, they are somewhat skewed and misleading.
I hate this cliche, but football is a team sport. The nature of the quarterback position leads them to either receiving a tremendous amount of credit or getting crushed by media and fans. After the improvement he made last year and hoisting another crystal football, McCarron began receiving a lot of praise. In fact, too much praise. He was listed as a Heisman favorite at the beginning of this year, but I don't think people are looking at him in the same like as last year after this first game. McCarron has benefited greatly from the other recruits that Saban has brought in about from about 2009 on.
We'll start on the defensive side of the ball. In 2011, his first year as a starter, Alabama sported one of the greatest statistical defenses in decades. They led the country in total defense (190 YPG) and scoring defense (8 PPG). Good God. While they did allow some more yards and points in 2012, they again finished at the top of those two categories. As the saying goes, defense wins championships and that was never more evident for the last two years of Crimson Tide football. These teams barely had to play offense in order to win games. Saban could have just started challenging other opponents with the opportunity to only play offense and he still would've found ways to win with his defense. It isn't that difficult to be a successful quarterback when your defense only allows an opponent to score more than 14 offensive points 7 times over 27 games. Between the 2012 and 2013 NFL Draft, Alabama sent 9 defensive players to the pros and it is likely guys from this year's squad like CJ Mosley and Ha'Sean Clinton-Dix will be first rounders. McCarron has always had the luxury of a defense than can flat out dominate an offense and give him great field position. And in the one game where the defense gave up their most points last year, Alabama lost and McCarron threw two of his three picks of the season trying to make something happen.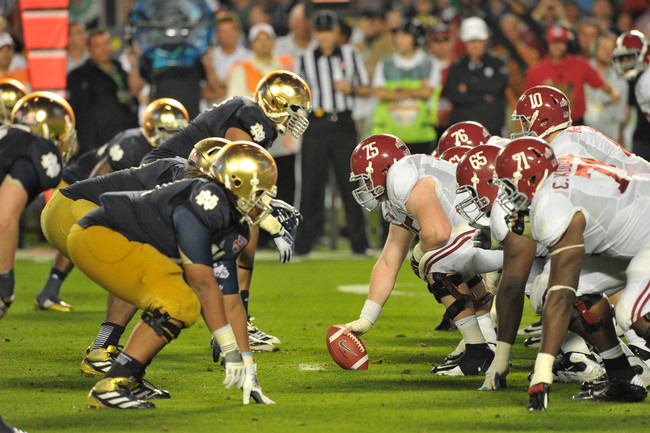 On offense, McCarron has again not been asked to shoulder much of the burden. Alabama has always had exceptional talent on offense while he has been the starter, and it all starts up front with the linemen. He has always had exceptional players to block for him and open up lanes for the running backs. Since 2011, McCarron has been blocked by Barrett Jones (4th round pick in 2013), DJ Fluker and Chance Warmack (1st rounders in 2013), and Anthony Steen and Cyrus Kouandjio (both projected 1-3 round picks this year). That's insane. He basically has never been touched by an opposing player. I mean really, he barely has a defensive lineman within three yards of him. Any quarterback can operate with five seconds to make a read and throw on every single play. Against Tech, it was clear that his line still hasn't meshed yet and he struggled behind them. The passing game has never been the focus of this offense either. Nick Saban has always preferred to have a strong rush attack with a modest passing game to keep defenses from stacking the box. The three main running backs during McCarron's tenure have been: Trent Richardson (5* prospect, drafted 3rd overall), Eddie Lacy (4*, 61st overall), and now TJ Yeldon (5*, projected first round). In 2011, McCarron only threw for 9 more yards than the team rushed for; in 2012, Alabama rushed for 130 more yards than he threw for. The running backs take all pressure off of him. Put him behind a totally different line, and I guarantee he struggles.
Now, people would defend McCarron by bringing up two games last year in which they won in the final minute or so of play. The first was in Death Valley where they trailed 17-14. McCarron went 4-5 including the game winning touchdown on Alabama's final drive. While that might seem very impressive, you need to take a look at what was unfolding. LSU didn't want to give up the big play that could lead to a touchdown, so they were giving the receivers about a 5-10 yard cushion, giving him tons of room to get the ball to his receivers. On the touchdown, the credit goes more to Saban for recognizing that Les Miles was coming with an all out blitz and calling a screen play. McCarron was able to dump the ball off to Yeldon who ran practically unopposed into the endzone. The second game people would bring up is the SEC Championship game in which he completed the game winning touchdown to Amari Cooper. Again, the play is a bit deceiving if you don't watch the actual tape. It was a nice pass and right on the money, but Cooper had blown by the corner for about 3-5 yards of separation. You're expected to complete that playing at a powerhouse SEC school.
This is not meant to say that McCarron sucks. You don't play for Saban if you suck. There are dozens of quarterbacks who don't have the abilities that he does. This is just meant to show how much he has benefited from exceptional talent around him. My issue is that writers and analysts continue to gush about him like he is Andrew Luck. If Luck was on those teams instead of McCarron, there would be no question if Alabama was going to three peat this year. Despite his veteran experience, he may actually be considered a weak link in the team this year. He's not going to be going up against the Fuller brothers from Tech each week, but if there is a team that is able to disrupt at the line of scrimmage, he could be forced into mistakes. He'll definitely have a big test coming up in two weeks at College Station against the team he had his worst outing against last year.