1) A'Shawn Robinson, Alabama Crimson Tide
Career Stats: 133 Total Tackles, 22 TFL, 9 Sacks, 0 INT, 1 Forced Fumble
Height: 6'3 Weight: 307 lbs.
Bench: 22 Reps
Yes, that is a 300 pound lineman hurdling to block a FG.
An absolute monster in the middle, Robinson's inconsistent play cost him a chance of being a top five pick. Looking just at his size and how he is put together, it is hard to not be reminded a little bit of Ndamukong Suh. Suh is much more of a pass rushing threat in the middle of the defense, but I think they grade out rather similarly when it comes to stuffing the run. His presence and ability made him a significant contributor to the Tide as a true freshman, a rare feat on a team loaded with NFL talent along the line. Robinson is capable of playing nearly any spot on the line in most defensive formations. He can line up directly over the center, on the inside or outside shoulder of the guard, and even as a five-technique on a three man front. He shows a great burst off of the ball and plays with excellent pad level to push his man back. He is nearly impossible to move in the run game and his immense bull rush can collapse the pocket from the middle and force quarterbacks to throw off their axis. For a man his size, he also moves very well on his feet which allows him to keep his balance when multiple blockers come at him. Eating up multiple blockers is a huge reason why the Tide had one of their best pass rushing units under Nick Saban this year. His presence in the middle is often too much for one man to handle. But as mentioned, he can be rather inconsistent at times. On one play he will force the quarterback out of the pocket, but on the next play he will look content to just engage his man. Additionally, Robinson isn't a true pass rusher like some of the other guys on this list. After recording five as a freshman, he logged only four total over this last two years. This is due to a combination of inconsistency and not developing other pass rushing moves besides a bull rush. If he can improve in these two areas, Robinson could be a dominant force in the middle.
2) Robert Nkemdiche, Ole Miss Rebels
Career Stats: 81 Total Tackles, 16 TFL, 6 Sacks, 0 INT, 0 Forced Fumbles
Height: 6'3 Weight: 293 lbs.
Bench: 28 Reps
As Justin put it, have we seen wasted talent or simply untapped talent? The top rated player at any position coming out of high school, Nkemdiche has the athletic talent to be the first overall pick. When you first start watching him, what immediately stands out is his lightning quickness. He has one of the best bursts off the line I have ever seen. No one his size should be able to move that quickly. Having a first step like that gives him the edge over practically every offensive lineman he faced in college and will serve well in the pros. When he shoots the gap, he is able to close in on quarterbacks or running backs before they even know what hit them. Too often would a guard go to engage Nkemdiche only to find that he is already past him. He doesn't just show great speed however. He has natural power and also translates his speed into power incredibly well. It is rare that you are going to see him get completely dominated in the run game. However, one thing that I have noticed is that he does not follow the runs very well. You will see him looking around wildly as the running back goes right past him. This happens more than you really want to see, but when he does follow it he shows a natural ability to shed blocks and make the tackles. Nkemdiche has the potential to be a top tier interior pass rusher. He has a lightning quick swim move that he sets up well which allows him to invade the backfield. He also has a spin move isn't quite as developed but which he can still hit on. So why isn't he ranked first? Well as I mentioned earlier in the paragraph, there are some serious red flags attached to his resume. Looking just at the numbers, you can see he clearly hasn't been as productive as some of his classmates. Even though he is a disruptive force, he doesn't finish the play nearly enough. He also looks really disinterested in playing at times. I don't know if that is because he just wasn't challenged or what, but he will need to find a coach who can properly motivate him. On top of that, he has been suspended multiple times for a variety of stupid reasons, mostly for getting caught smoking pot. The truest definition of high risk/high reward, Nkemdiche could either rewrite the record books or be out of the league in a matter of years.
3) Sheldon Rankins, Louisville Cardinals
Career Stats: 133 Total Tackles, 31.5 TFL, 18 Sacks, 2 INT, 2 Forced Fumbles
Height: 6'1 Weight: 299 lbs.
Bench: 28 Reps
Rankins has been climbing his way up everyone's big boards after people really began to take a look at his tape. It is not hard to see why teams are now high on him, especially when you look at the numbers he put up by invading opponent's backfield. Rankins has by far the best numbers of any of the interior lineman in this class (unless you want to count Buckner as an interior lineman). He shows a good burst off of the line which he is able to generate into power as well as anyone in the class. Even when his initial momentum gets stopped, he still possesses natural strength that allows him to continue to work towards the play. Rankins wasn't just used as a defensive tackle. He was moved around quite a bit and was even asked to rush as a five technique. He showed enough athleticism to be able to bend around the edge but also could stand up and come in through the middle on stunts. This kind of athleticism and versatility could push up into the early teens depending on how the top ten shakes out. Rankins isn't just an interior pass rusher. He is a very good defender against the run with is ability to shed tackles and wrap up the running back. You don't see a lot of smaller defensive tackles who are able to disengage and make a tackle due to them being overwhelmed by the guards. If there are any weaknesses to his game, they are not anything that is too drastic that will cause teams to really pass on him. One is that is doesn't always use his hands as well as he should. Despite his good numbers, they could easily be higher if he was more consistent and relentless. And despite his ability to pressure and get to the quarterback, he didn't really do that by using a lot of moves. However, these are two things that can be fixed through coaching. Being able to grab a guy who can pass rush from the interior is crucial in today's game.
4) Andrew Billings, Baylor Bears
Career Stats: 107 Total Tacks, 30 TFL, 8 Sacks, 0 INT, 2 Forced Fumbles
Height: 6'0 Weight: 311 lbs.
Bench: 31 Reps
Another mammoth in the middle, Billings is arguably the top run stuffer in this draft class. Watching guards and centers trying to push him back against the run is an exercise in futility. Although a bit on the short side, Billings uses every inch of his body and his powerful base to hold his position at the line of scrimmage. One of the most powerful draft prospects out of any position, Billings is simply a massive presence on the interior of a defensive line. Offensive coordinators often had to scheme away from running directly at him. He has the ability to take on multiple blockers at the line of scrimmage and plug up running lanes. His strength allows him to stand his ground no matter where the blockers are coming from. On top of that, Billings is able to work off of blockers in order to make the tackle on the running back. He is obviously less so effective in doing this against the double team, but when he is going one on one he is going to make the tackle more often than not. Despite being a massive interior presence, Billings doesn't have the look of a mere two down player. He isn't the greatest pass rusher on the planet, but I think that he is better than he is typically getting credit for. He isn't going to blow past people with speed or show a lot in the way of actual pass rushing moves, but his tremendous power and leverage allow him push the pocket from the interior. In terms of weaknesses, Billings isn't exactly the quickest defensive lineman in the draft. He doesn't have a great burst of the snap and can be beat by quicker guards (you saw a good amount of this in the Oklahoma game). This could hamper his ability to become a more effective pass rusher in the NFL and would force him to become a two down player. Additionally, Billings can look awkward on his feet at times. It sometimes looks like he isn't used to carrying around all of the weight. This can cause him to get out of position when he isn't able to beat his man to the spot. All in all, I think that Billings is an intriguing prospect who would be a perfect fit for a team looking for a nose tackle (Green Bay stands out the most).
5) Vernon Butler, Louisiana Tech Bulldogs
Career Stats: 168 Total Tackles, 28.5 TFL, 5 Sacks, 0 INT, 1 Forced Fumble
Height: 6'3 Weight: 323 lbs.
Bench: 26 Reps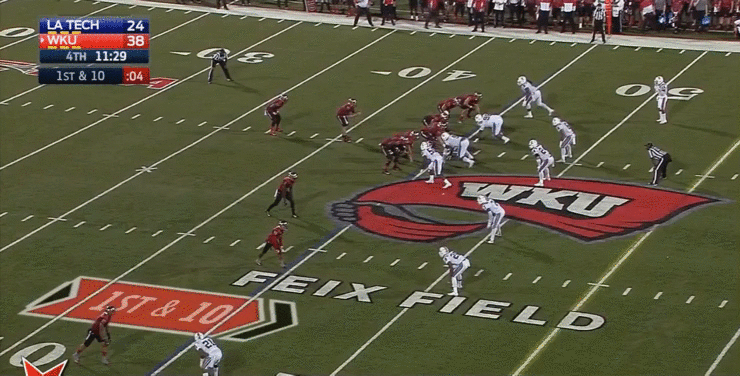 One of the more intriguing defensive line prospects in this draft, there doesn't really seem to be a consensus on where Butler will be going in the draft. I've seen him going as high as the mid teens and going as low as the middle of the second round. Butler is a massive human being who possesses rare quickness for someone his size. He actually kind of reminds me of a heavier Gerald McCoy from Tampa Bay. He has a tremendous burst off of the line, possibly second best in this group just after Nkemdiche. His burst helps him get the advantage over his man right away. When combined with his impressive and violent use of hands, Butler is a difficult assignment for any offensive lineman. Butler shows the ability to really dig his hands into the chest pads of his man and drive them back. When he is playing with the right leverage, he will consistently keep his man backpedaling all game long. But here in lies part of the problem to Butler's game. He is too inconsistent with playing with the proper pad level. When he gets too high on his stance, it opens him up getting beat. This is why he struggled playing the run against better competition in college. A lot of times he got too high and lost the advantage on his man and wasn't able to recover. Despite this weakness, I think that this is something that can be corrected with proper coaching which is something you hope that a player gets from professional coaches. There is no denying that when he maintains leverage, he can be a devastating force along the line. Butler also is incredibly light on his feet for someone who is north of 320 pounds. Watching some of his games, it wasn't uncommon to see him push at the line and then drop into coverage or line up on the edge only to come back around to the middle on a stunt. He moves like a guy who was sixty or seventy pounds less than him. Despite these abilities, it is kind of strange that he doesn't have a higher sack total (although his tackles for loss are impressive). He doesn't always finish the play after penetrating through the line. I honestly have no idea how to explain it, but it is likely a good reason why mocks have him all over the place.