1) Joey Bosa, Ohio State Buckeyes
Career Stats: 148 Total Tackles, 51 TFL, 26 Sacks, 1 INT, 5 Forced Fumbles
Height: 6'5 Weight: 269 lbs.
Arm Length: 34 Inches
Bench Press: 24 Reps
Once thought to be a lock for the first overall pick, Bosa has been grounded a bit during the Combine where he has been dinged for not having elite athleticism like Jalen Ramsey or Laremy Tunsil. However, there is a consensus that he is still a top five pick due to his combination of strength, athleticism, and technique. As good as he is as a pass rusher, Bosa is even better as a run defender. He regularly shows tremendous power to knock his man back and not get pushed back on first contact. Winning at that initial punch is so important as it sets up the success for the rest of the play. He has very violent hands that continuously keep his man off balance. This helps as much against the pass as it does in the run as it keeps him man from being able to square up and block. He also does not give up on the run. While he sheds blocks better than almost every other defensive line prospect in this draft, he is relentless in pursuit. Plays that seem to have gone by him or that end up on the other side of the field often have him performing clean up duty. All of these features make him a nightmare against the run and someone that you have to scheme away from. As a sophomore and junior, he was practically living behind the line of scrimmage racking up tackles for loss. As a pass rusher, Bosa succeeds for a lot of the same reasons that were mentioned above playing against the run. His initial burst, strength, and use of hands makes him a nightmare for offensive tackles to deal with. When he beats his man, he has the ideal speed needed to close the gap on the quarterback and end the play with a sack. On top of that, teams are going to fall in love with his versatility. Bosa was lined up at defensive tackle numerous times per game to take advantage of mismatches along the line. Some believe that he could even add some weight and play end in a 3-4 or lose some weight and play outside linebacker in the same system. So why is he not the consensus overall pick? Well, there are questions about whether or not Bosa has peaked at this point in his career. As mentioned, Bosa doesn't have the elite athleticism like Clowney or Myles Garrett at Texas A&M. Because he is already so technically sound, people have been wondering just how much better he can get. While it is possible that he won't be a truly elite talent, I think that Bosa is a guy who can consistently get a team 10-12 sacks a year, which I also think practically any team would gladly take.
2) Shaq Lawson, Clemson Tigers
Career Stats: 123 Total Tackles, 45 TFL, 20 Sacks, 0 INT, 1 Forced Fumble
Height: 6'2 Weight: 269 lbs.
Arm Length: 32 & 3/4 Inches
Bench Press: DNP
After Bosa, there seems to be a bit of debate as to who the next best defensive end is. Some really like Deforest Buckner because of his ideal length, but I think that Lawson is the better player with just as much athletic upside. Out of all the defensive ends, Lawson had the fastest release off of the line and has some blazing speed around the corner. Coupled with his ability to bend, Lawson can regularly get the drop on an offensive tackle using just speed. Finding an edge rusher with that kind of speed is huge in today's NFL where tackles are becoming leaner and faster with each passing year. On top of his speed, Lawson has some of the best rushing moves in this draft. His favorite move his to get his man moving backwards before hitting a spin to the inside. He has shown a penchant for hitting this move often with some devastating results. More than just being able to execute the move, Lawson sets up his man very well so that they are in the most inopportune position to be able to counter it. Lawson also possesses natural athleticism that defensive coordinators will love to take advantage of. Clemson's defensive coordinator brought Lawson in as a pass rusher on a variety of stunts and would also drop him into coverage on early downs. When he is able to get a clear line of sight of the quarterback, he has a great closing speed to finish the play. It wouldn't surprise me to see a team draft him with the intent of the playing outside linebacker. But while he is a very good pass rusher, Lawson will need to work on defending the run. Too often he was taken out of a lot of plays where he got engaged and wasn't able to shed the block or set the edge. This carries over into pass rushing as bigger tackles who were able to get him locked in were usually able to win most of the battles. Lawson will need to add some strength to truly break through at the next level. However, right now he is one of the top pass rushers in the draft and that is pushing him into top ten consideration.
3) DeForest Buckner, Oregon Ducks
Career Stats: 232 Total Tackles, 36 TFL, 18 Sacks, 0 INT, 2 Forced Fumbles
Height: 6'7 Weight: 291 lbs.
Arm Length: 34 & 3/8 Inches
Bench Press: DNP
One of the more intriguing prospects in the draft, there is a decent chance that a team falls in love with Buckner and takes him in the top five or so picks. Buckner has a very intriguing size and skill set. He is one of the tallest defensive ends in the draft and his natural size and length will make him too good to pass up. Having the arm length and height that he possesses allows him to initiate contact with the tackle and keep them off balance. You are not going to find a lot of offensive tackles in the NFL who will be able to match up with his sheer size. Buckner doesn't just have wiry length but has some good strength that makes him a real asset defending the run. He is incredibly tough to move off of the line and showed that he can take on double teams and still set the edge. Buckner has also played all over the defensive line, sometimes lining up at tackle to create mismatches. Buckner causes a lot more disruption behind the line than his numbers show for. While he doesn't have a whole lot of pass rushing moves, he rushes the passer playing with good leverage and utilizing all of his strength. Some areas that Buckner will need to improve is adding some pass rushing moves and developing more consistency. In same games, he looks like a different player from quarter to quarter. And just being able to bull rush won't be quite as effective in the NFL. Buckner should also work on his quickness off of the line. Out of the rest of the defensive ends on this list, his burst is not the most impressive. Being able to improve on just that aspect could be huge in his development if he can couple that with his strength while adding some pass rushing moves. He may not be the most polished end in this draft, but his upside would be too much to pass up if he starts falling into the teens.
4) Emmanuel Ogbah, Oklahoma State Cowboys
Career Stats: 133 Total Tackles, 35.5 TFL, 26.5 Sacks, 0 INT, 5 Forced Fumbles
Height: 6'4 Weight: 273 lbs.
Arm Length: 35 & 1/2 Inches
Bench Press: 20 Reps
Ogbah made himself some pretty good money at the Combine by having an outstanding work out that showed off his raw athleticism. I don't put a lot of stock into the forty for defensive lineman, but his was one of the fastest while also testing well in the vertical and broad jump. Ogbah is very quick off of the line and shows a lot of natural bend to get around the edge. Ogbah racked up sacks this past year making a living on beat tackles around the corner. He also sets up his man well before making a quick burst to the inside. As mentioned, his speed is rather impressive for a man his size. I really like his ability to get around his man and close the gap to the quarterback. In a league where passes are coming out of the quarterback's hands quicker and quicker, it simply isn't enough to be able to beat the tackle. Closing the gap quick enough to either sack the quarterback or make them hurry their throw is just as important. Ogbah hits a second gear when he gets his sight on the quarterback. Although his bench press total wasn't overly impressive, Ogbah has also shown a good ability to set the edge against the run and force the backs to the inside. However, his lack of strength does become a problem at times in the run game. He doesn't show that he can consistently shed blocks and come off his man to make the tackle. This also does become a problem when rushing the quarterback as he can be taken out of plays if he gets engaged by a more powerful tackle. Ogbah also doesn't really use his hands as well as he should. When you see watch someone like Bosa, you see a man who knows how to use his hands to keep their opponent off balance. Ogbah looks content to just jam his hands into his man's chest and try to drive back rather than use his long arms to his full advantage. Ogbah also doesn't have a ton of pass rushing moves outside of a rip. While he did have success with it in college, he should continue to develop in order to maximize his potential in the pros. It is also possible that Ogbah can stand up and play outside linebacker in a 3-4 front. His speed would make him so dangerous, and coaches will fall in love with his knack to create big plays (five forced fumbles in college). With the premium put on pass rushers, expect Ogbah to go in the late teens or early twenties.
5) Kevin Dodd, Clemson Tigers
Career Stats: 82 Total Tackles, 26.5 TFL, 12.5 Sacks, 0 INT, 1 Forced Fumble
Height: 6'5 Weight: 277
Arm Length: 34 Inches
Bench Press: DNP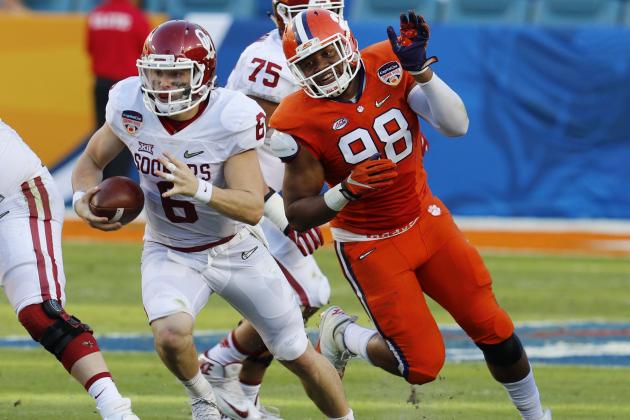 Picking the last defensive end was not an easy selection as I really rotated between Dodd, Calhoun from Michigan State, and Johnathon Bullard out of Florida. Ultimately, I went with Dodd due to his final season performance at Clemson. During that time, However, teams will have to be wary to see if he is a one hit wonder. Dodd recorded all of his sacks and 24 of his 26.5 tackles for loss in his redshirt junior season. Prior to that, he did not see the field that often. The ACC is also the weakest of the power five conferences, so it isn't like Dodd went up against the best week in and week out. However, I have seen some mocks out there that have Dodd projected above Lawson. Dodd has the ideal length and size to play a defensive end. He is also incredibly light on his feet and shows the ability to bend around the edge to beat his man. Speed rushers who can get by the far shoulder of a tackle are always going to find a place in the NFL. Dodd's speed translates to a nice burst off of the line of scrimmage as well. Although he wasn't a multi-year starter for Clemson, he regularly showed an thorough understanding of the offensive line's blocking schemes and used that to his advantage. He shot through gaps all the time and was reflected in his numbers as he averaged two tackles for a loss a game. Dodd also shows some intriguing athleticism as he was used in a very similar way to Lawson by Brent Venables. Dodd was frequently asked to drop into coverage and to come in on delayed blitzes, showing that he was capable of doing both. He may be a tad oversized for an outside linebacker, but it is something that a good defensive coordinator will have to look into. In terms of other areas that he can improve, it would be mostly just adding strength and power. Like Lawson, Dodd can be taken out of run plays by more powerful offensive tackles who are able to lock him in. He also can get knocked off balance quite a bit. While there has been debate over where he goes, a team drafting in the early second round would be thrilled for him to fall to them.