1) Oregon Ducks
Week 12 Result: Bye Week
Last Week's Ranking: 2
2) Alabama Crimson Tide
Week 12 Result: Beat No. 1 Mississippi State Bulldogs 25-20 at home
Last Week's Ranking: 3
Alabama wide receiver DeAndrew White
Alabama played a tough game and came out with a solid victory at home over the top ranked team, but it is a bit unsettling how this team can't always be consistent. They had a 19 point lead at one point but allowed the Bulldogs to come back and never really put the game away. Consistent quarterback play is what continues to keep them from truly excelling. Blake Sims completed 19 of 31 passes for 211 yards and a touchdown, but also left some plays on the field. He also hasn't been running quite as effectively in recent weeks as he was in the beginning of the season. However, his life is made much easier by Amari Cooper. Cooper has had a few drops over the last couple of weeks, but he still shows week in and week out that he is capable of making big plays when called upon. Him and DeAndrew White combined for 12 catches and 128 yards and were able to find soft spots in the defense all day. It was tough running for TJ Yeldon and Derrick Henry all day, but they got the job done by rushing for over 100 yards and two touchdowns combined on the afternoon. Yeldon looked to have regained his explosiveness after suffering a leg injury against LSU last week and was really the catalyst for the offense. Defensively, Alabama played a great game but also benefited from poor concentration by the Bulldogs receivers. They didn't allow Dak Prescott a lot of running room, containing him 82 yards on 22 carries and completely blanketed his receivers. The defensive backs had arguably the best game of the year, providing tight coverage and getting their hands on a bunch of passes. They picked off Prescott three times on the day, including two in the redzone when the Bulldogs were trying to get some momentum going. Their defensive line was equally impressive, clogging running lanes and firing into the backfield. Mississippi State ran for 138 yards, but they did it at 3.5 yards per carry and could not rely on it to get them first downs in third and short situations. With how poor Auburn has been playing, I think Alabama is a lock to make the playoffs.
3) Florida State Seminoles
Week 12 Result: Beat Miami Hurricanes 30-26 in Miami
Last Week's Ranking: 5
America's reaction to another Noles comeback
The AP Poll has the Noles ranked first this week, but I still am not completely sold. I have to give a lot of credit to Jimbo who is a genius at half time adjustments, but I just get the feeling that one of these games they will dig themselves into a hole too big to climb out of. You also have to wonder if they would have won this game if Miami had stuck with their strategy from the first half, which was to feed Duke Johnson the football. The Noles defensive front got bullied around in the first half as Johnson had a touchdown and over 100 yards, but only got a few carries in the second half. Johnson was simply untouched as he reached the linebackers on most carries. Their secondary was also tested very early in the game as they had to commit more men to the box and the corners were put in one on one situations. Freshman Brad Kaaya had a lot of success and receivers were able to get good separation from the corners. Phillip Dorsett and tight end Clive Walford both found a lot of room and made tough catches, but when Miami was driving Jalen Ramsey sealed the game with a pick with tight coverage. Offensively, Florida State had a rough start to the game as they really weren't able to get into any sort of rhythm. Jameis seemed off with his receivers, but a 44 yard touchdown run by Dalvin Cook opened up the scoring and gave them some momentum. Cook also had the go ahead touchdown run with just a few minutes left in the game. Jameis completed 25 of his 42 passes on the day, but again was just really unspectacular. He was credited for a touchdown pass on a fluke play where the ball was tipped at the line of scrimmage and caught by his running back near the goal line who was able to just walk in. He also threw a pick on the night, his twelfth of the season. He was able to get more receivers than just Rashad Greene involved, but the big plays just weren't available. It was a good win after being down by 13 points, but this team needs to start getting off to faster starts.
4) Texas Christian Horned Frogs
Week 12 Result: Beat Kansas Jayhawks 34-30 in Lawrence
Last Week's Ranking: 4
TCU quarterback
Trevone Boykin
This was not a pretty game for TCU as they were almost upset in embarrassing fashion by a Kansas team that just won their first conference game last week in almost four years. It was a sloppy game offensively by TCU that allowed the Jayhawks to grab a big lead on them and keep it going until a punt return put the Horned Frogs on top. TCU fumbled the ball twice early in the game that allowed Kansas to jump out 13-10 lead at half time that they continued to build into a 27-17 lead. They still managed to rack up over 450 yards of total offense, but you would think they could put up some more points with that kind of yardage. Trevone Boykin had a bit of a rough game. He still completed 72% of his passes for 330 yards, but he threw only one touchdown pass and also threw an interception to give them three turnovers on the day. He also ran the ball 11 times for only two yards. Kansas did a great job of closing off lanes when he began to take off. It was like that for the running backs too as they only manged 3.6 yards per carry in this game after having a ton of success in their previous games against much tougher defenses. It was also a bit shocking to see the pass defense play this poorly for TCU. Their run defense was phenomenal as they allowed just over two yards a carry, but they allowed a ton of big plays to Kansas's receivers. Two receivers, Jimmay Mundine and Nigel King, each had over 100 yards and a touchdown on the night. Kansas quarterback Michael Cummings turned a mere 19 completions into 332 yards and two touchdowns. We've seen TCU give up serious chunks of yards and points to high octane offenses before, but Kansas is pretty much the exact opposite of that description. This game could cost them in the playoff rankings as the committee could really question how good they are.
5) Baylor Bears
Week 12 Result: Bye Week
Last Week's Ranking: 6
6) Ohio State Buckeyes
Week 12 Result: Beat No. 25 Minnesota Golden Gophers 31-24 in Minneapolis
Last Week's Ranking: 7
Ohio State running back Ezekiel Elliot
The Buckeyes met a good amount of adversity in this game (much of it self inflicted) but they managed to pull out a victory in what was unanimously coined a trap game. In frigid conditions, Ohio State accounted for 489 yards of total offense on another ridiculous day for JT Barrett. Barrett got the day started with an 86 yard touchdown run on an option and that set the tone for him on the ground. Barrett is the fastest or most elusive player, but he ran the ball 17 times at an average of eleven yards. He was able to pick up crucial first downs with his feet, but struggled throwing the ball a bit in the cold weather. He had some overthrows, one of which lead to a pick, but also put the ball into some tight windows. Sophomore running back Ezekiel Elliot has improved pretty much every week this season and was really the work horse for the offense. He ran for 91 yards on 18 carries but was held out of the endzone. This game was frustrating because of the mental errors that lead directly to Minnesota points. After Jalin Marshall caught a bullet pass and ran in for a 57 yard touchdown, he fumbled the ball at the one yard line on a sweep play. Marshall also had a fumble on a muffed punt that allowed the Gophers to cut the lead to 10 halfway through the fourth quarter. Again, the cold had a lot to do with it and really affected other players. Michael Thomas dropped a pass in the endzone that would have put Ohio State up by seven going into halftime, but they ended up having the settle for the field goal. Defensively, Ohio State had a bit of a mixed outing. David Cobb is one of the best running backs in the country and ran the ball very effectively. His shiftiness got him out of situations in which he was dead to rights. He had some plays where his offensive line didn't give him any room, but overall he ran for 145 yards and three touchdowns on 5.4 yards a carry. The secondary had a much better day, picking off Mitch Leidner twice and allowing him to complete a mere seven passes for 84 yards. The Buckeyes should be able to win out the rest of the season, but if their run defense can't tighten up they will be in for a tough day against the presumable BIG West champs, Wisconsin.
7) Mississippi State Bulldogs
Week 12 Result: Lost to No. 5 Alabama Crimson Tide 20-25 in Tuscaloosa
Last Week's Ranking: 1
Mississippi State linebacker Benardrick McKinney
Is it fair to drop this team six spots after losing to the number five ranked team in the country on the road? Probably not, but the fact of the matter is that the game wasn't even as close as the score indicates. Dak Prescott had a below average day, not being able to find any running lanes and made some terrible throws. With his team trailing and needing anything to get some momentum, he overthrow a wide open receiver in the endzone by about ten yards. He barely manged to complete half of his passes and threw two touchdowns, one coming in garbage time. It doesn't help that his receivers could not make some routine catches either. I'd estimate that his receivers dropped at least six passes on the day, most of them that would have given them first downs and gotten them into at least field goal range. Their offensive line really didn't show up either as they simply could not get any push in the game. Prescott and Josh Robinson had absolutely no room to run and it really stagnated their offense. Their defense played a bit better than their offense did, but it still wasn't enough to overcome the offenses shortcomings. Alabama had only 335 yards of total offense, but they got several explosive plays that put them in a position to score touchdowns. Mississippi State only dropped to number four in the polls which I obviously disagree with as shown by my rankings. I don't know if they should be seven as mine is admittedly harsh, but only dropping a few spots is a bit ridiculous. At this point, who is their signature win? At the time, their wins were impressive because of the rankings but those teams each now have at least three losses. They went into Baton Rouge and beat No. 8 LSU, but the Tigers have now lost four games and were just shut out by Arkansas who hadn't won an SEC game in their previous 16 attempts. Texas A&M was No. 6, but they seem incapable of playing defense and continue to be maddeningly inconsistent. Now, Auburn has lost three games and was annihilated by Georgia. Their resume isn't as impressive as many people think.
8) Michigan State Spartans
Week 12 Result: Beat Maryland Terrapins 37-15 in College Park
Last Week's Ranking: 10 Michigan State quarterback Connor Cook
Michigan State had a good rebound after getting shellacked by Ohio State last week, but it could be a bit too late for them. If Ohio State wins against Indiana next week, they will play in the BIG 10 Championship game. Once again, Connor Cook was very underwhelming in this game. He only completed 14 of his 31 passes for 240 yards and no touchdowns. It doesn't help that he really doesn't have any reliable targets outside of Tony Lippett, but he has garnered some high praise by NFL scouts and doesn't seem to always be putting together his intelligence and physical tools. Lippett had another quit night, catching four passes for 46 yards. Senior receiver Keith Mumphrey lead the way with two catches for 78 yards, 62 of them coming on one pass. No one seems to be able to get separation on a down to down basis for the Spartans which has to be agonizing to Spartan fans who have a very good quarterback. The running backs were the cog in this game and were again lead by Jeremy Langford who ran for 138 yards and two touchdowns at over five yards a pop. His touchdown run right before half time gave them a nine point cushion that was never relinquished and gave them a lot of momentum going into the locker room. Until that point, they had settled for field goals and let Maryland hang around for the most part. Defensively, the Spartans rebounded very well after getting embarrassed at home. I don't know why, but Maryland thought that completely ignoring the run and throwing the ball 43 times would be the key to victory in this contest. CJ Brown had a rough night as he only managed to complete 20 of those passes and had three interceptions to go along with two touchdown passes. It was very obvious that he was not as comfortable in the pocket with Michigan State's relentless pass rush and the absence of Stefon Diggs. When Maryland did try to run the ball, they were bottled up quickly as the Spartans linebackers got to their gap and closed all lanes. Sparty needs a lot of help if they want to get into a top tier bowl game this season.
9) Georgia Bulldogs
Week 12 Result: Beat No. 9 Auburn Tigers 34-7 at home
Last Week's Ranking: Outside Top Ten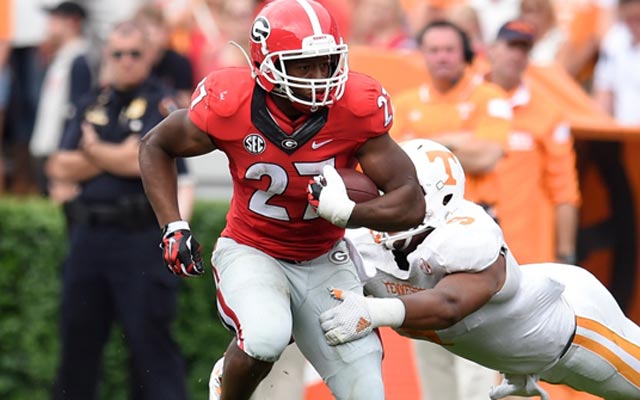 Georgia running back Nick Chubb
The last few rankings here are kind of a crap shoot as you have to rank teams that are just a bit above average. This is a perfect example as the loss to Florida still looms large for Georgia and Auburn is a reeling team. But it is insanely impressive what the defense did in this game after getting completely gashed on the ground by the Gators. Auburn's defense is anywhere between bad and pitiful, but their offense can play with the best of them and was completely neutralized in this game. They were held to only 292 yards of total offense 150 yards on the ground after averaging more than 200 in previous games. Georgia's defensive line and linebackers played a very impressive game. They got a lot of movement up front and were able to close lanes and force the running backs right to the linebackers. Their defense also did a fantastic job of containing Nick Marshall who only managed to gain 41 yards on nine rushes. The secondary also shut down the big plays that guys like Sammie Coates are capable of. Auburn only had 142 passing yards on the day and could never really exploit a secondary that is prone to lapses. It was a very good day offensively for Georgia but they received terrible news Sunday when they learned that Todd Gurley had torn his ACL after returning from suspension. It is a real shame since Gurley is a true difference maker and a terrific athlete, but they have to be comforted by how freshman Nick Chubb has played in his absense. Chubb ran for 144 yards and two touchdowns on the evening and has given Mark Richt a lot of confidence he can be the offense. Chubb doesn't have the explosiveness that Gurley does, but he is a big and powerful back with deceptive speed. The offensive line has done a great job all year of opening running lanes and opening holes to the outside. I just don't know if this team will be able to overcome their two conference losses as Mizzou still holds first place in the SEC East. Even if they do somehow make it to the championship game, I can't see them beating Alabama. Hutson Mason just does not inspire any hope that he could lead a team to victory if called upon. He just has no confidence throwing the ball further than ten yards down the field. Any team that can stop the run has a great chance of beating Georgia.
10) Wisconsin Badgers
Week 12 Result: Beat No. 16 Nebraska Cornhuskers 59-24 at home
Last Week's Ranking: Outside Top Ten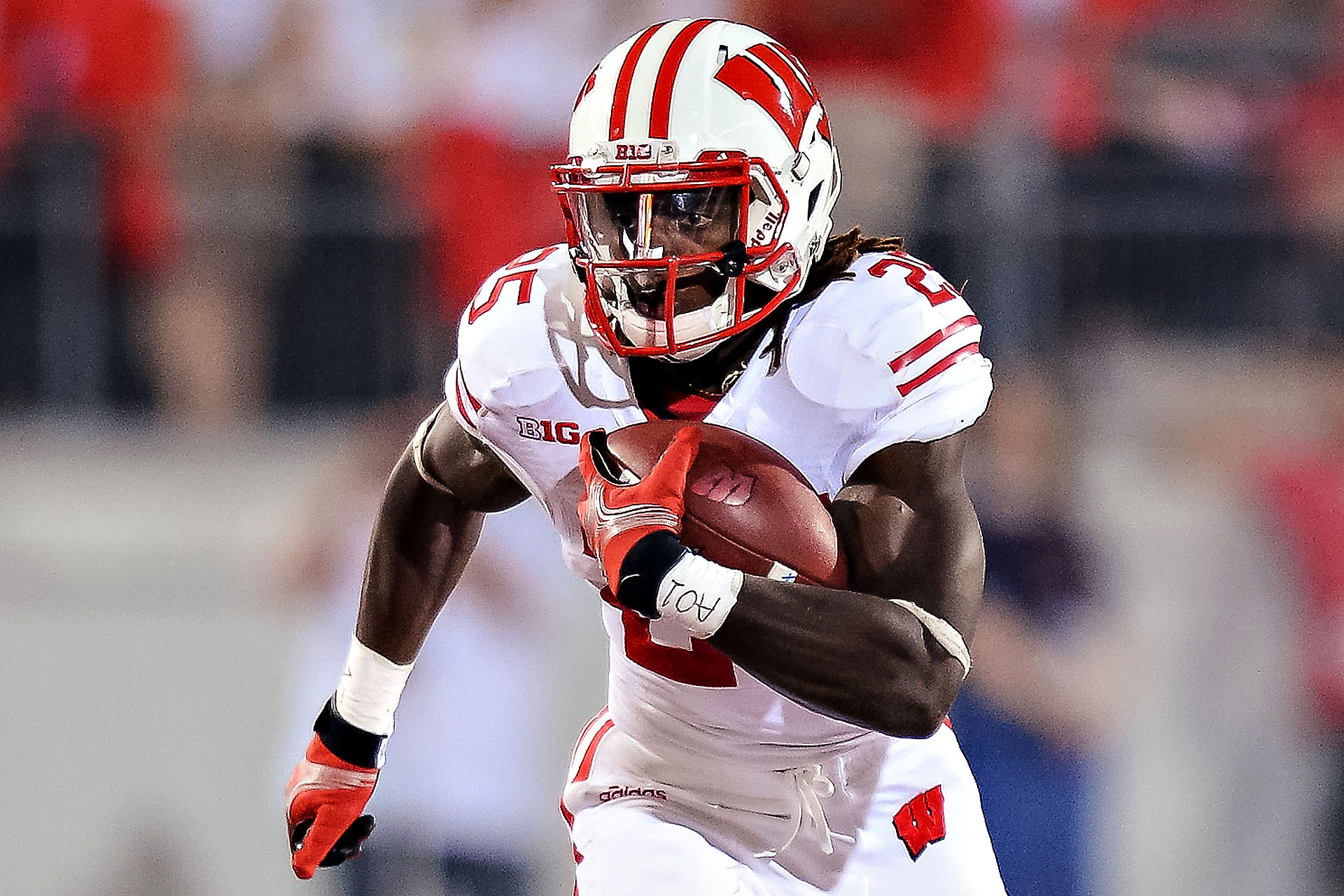 Wisconsin running back Melvin Gordon
This is definitely a bit ambitious, but when you have the best player in the country on your team that can mask other offensive issues, you can be a top ten team. However, I first want to address the defense which does not get credit enough when Wisconsin is mentioned. Nebraska has been explosive this year, thanks primarily to running back Ameer Abdullah. Abdullah had been averaging close to seven yards a carry, yet in this game he was held to a mere 69 yards on 18 carries. The Badgers defense was very aggressive in this game as well as they forced him to cough up the ball a few times on the night. Quarterback Tommy Armstrong also had a rough night, completing 33% of his passes for 68 yards, a touchdown and a pick. He also had absolutely no success running the ball. It was an impressive defensive performance by Wisconsin to limit the Huskers to 180 yards on the night. Now, about the offense. I don't think I've ever seen a more impressive performance by a single player than what Melvin Gordon did. Gordon broke the single game record that had been set by Ladainian Tomlinson almost two decades ago. Tomlinson ran for 406 yards on 43 carries while Gordon ran for 408 yards on only 25 carries, a jaw dropping average of 16.3 yards per carry. Gordon has elite acceleration and his breakaway speed is something else. Oh yeah, and he did all of that in only three quarters before being pulled to give him some well deserved rest. He had six runs of more than thirty yards and two of more than fifty yards to go along with four touchdowns on the day. Again, he did this all in only three quarters. It wasn't a perfect day as he had a couple of fumbles, but his production more than made up for it. With the flux at the quarterback position, teams constantly gear up to stop the run and just can't do anything about it. I hate to say it, but I don't think he's going be a true threat to win the Heisman since that award is now reserved for quarterbacks. However, if any player can break the streak, there is no doubt it will be Gordon. If you didn't get a chance to watch this game, please find the highlights somewhere. You owe it to yourself as a football fan.