Offensive Tackles
1) Jake Matthews, Texas A&M Aggies
Height: 6'5
Weight: 308 lbs.
Bench Press: 24 Reps
Obviously you can't portray how talented an offensive tackle is by throwing up a bunch of good looking stats. However, tape will show that Matthews is an absolute rock on the edge who will be the next starting tackle for some fortunate team over the next decade. Matthews has a great combination of size and athleticism that is reminding scouts of Joe Thomas and Chris Long. In pass protection, he is about as consistent as you can get while going up a wide range of prospects on the left and right side. He has the quickness to drop back with rushers going around the edge, but is strong enough to hold off bull rushers at the point of attack. He maintains good balance by keeping his foot moving constantly before contact and uses his hands very well. While Matthews isn't weak by any stretch of the imagination, he could stand to use a bit more strength for the next level. Bull rushes can cause him to take a few steps back upon contact and put some pressure on his quarterback, but as I've mentioned he maintains very good balance during these. The strength will come and should elevate his play to the next level. It would also help him out in the running game to blast open holes. Matthews excels in the running game due to his quickness, often beating opponents at the whistle and driving them back. His quickness also makes him ideal on traps and pulls as he can reach his blocking assignments with ease. Out of the top tackles in this draft, Matthews is the safest pick to be a franchise tackle for a long time to come.
2) Greg Robinson, Auburn Tigers
Height: 6'5
Weight: 332 lbs.
Bench Press: 32 Reps
Greg Robinson's performance at the end of the season and during the Combine has vaulted him up everyone's draft boards, with some having him going as high as second overall. He certainly seems worthy, as he is an incredible athlete for a man his size. He has a massive frame that yields tremendous strength, allowing him to handle bull rushes and take on multiple defenders at the line. He gets tremendous push in the rushing game as he utilizes his powerful legs and great balance better than any other run blocker in this class. Robinson also has incredible speed for a man his size, evidenced by him sharing a Combine best 4.84 40 yard dash among all offensive lineman. This allows him to get to the next level of the defense after his first assignment. Robinson also possesses powerful hands that don't disengage once he has made contact. There really aren't a lot of holes in Robinson's game at this juncture. The only thing that stands out is that he hasn't had a terrible amount of experience in pass protection. Auburn only threw the ball about 16 times a game, so it isn't like he's had a lot of practice. That said, he has shown a lot in those limited snaps. Against speed rushers, he can have a tendency to step back instead of sliding to mirror the rusher. However, he does have good footwork to mirror a rusher and is rarely overpowered by a bull rush. Robinson has the most upside of any tackle in this class.
3) Taylor Lewan, Michigan Wolverines
Height: 6'7
Weight: 309 lbs.
Bench Press: 29 Reps
Like Robinson, Lewan has very good athleticism for someone that size. He has a big frame and moves very well for someone carrying that much weight (4.87 40). He is very good as a run blocker, maintaining good leverage and driving through his defender. Lewan has very strong hands that make it very difficult to shed blocks once he has initiated contact. This can work against him however, as it leads to more holding penalties than a team will desire. Yet his combination of strong hands and a powerful upper body allows him to hold up well when going head on against the rush. He rarely gets off balance in those situations and can throw a rusher off their course. He is also very quick to get to the next level and continue to blast open holes for the running back. One of the only areas where Lewan tends to struggle is against speed rushers, especially ones coming off the edge as opposed to shooting to the inside. Lewan has a massive frame, but against the smaller rushers who are quick to the outside shoulder, he doesn't slide his feet quickly enough to mirror them. Lewan has above average athleticism to go along with his frame, so it is very possible that he can be coached into a premier pass protector at the next level.
4) Antonio Richardson, Tennessee Volunteers
Height: 6'6
Weight: 332 lbs.
Bench Press: 25 Reps
The gap in talent between Lewan and Richardson would be less prominent if Richardson hadn't had knee surgery after his sophomore year. As is the theme with talented tackles, Richardson has good athleticism for a man in that frame. Yet the knee surgery took its toll on him this year as he looked about a half step slower against edge rushers. This was most evidenced in the game this year against Florida, who utilizes a lot of smaller speed rushers and consistently got pressure on the Volunteers' quarterbacks. Richardson is better against the power rushers, but there are a few times when he doesn't maintain his balance. He doesn't always use his hands to the best of his abilities either. However, as a run blocker, Richardson maintains good leverage and uses his powerful lower body to open up lanes. He, too, has the quickness to get off of his first assignment and reach the second or third level of the defense. Richardson has a good amount of upside as long as he can stay healthy. He had good performances against some of the toughest defensive players in the country. He held his own against Clowney in both of their meetings, and didn't give up much pressure against Kony Ealy of Missouri either. If healthy, Richardson could develop into a solid left tackle. At the worst, he could be a very good right tackle.
5) Cyrus Kouandjio, Alabama Crimson Tide
Height: 6'6
Weight: 322 lbs.
Bench Press: 21 Reps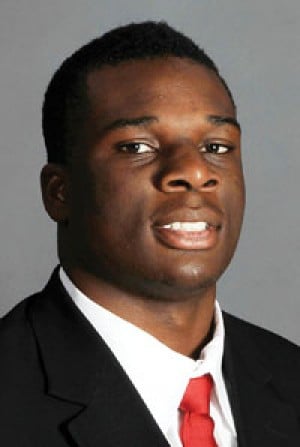 Kouandjio (kwan-joe) is the most intriguing tackle prospect in his class. After taking over as a true freshman on a line loaded with talent and improving drastically over his sophomore year, Kouandjio showed some very dramatic highs and lows this year. As a run blocker, he makes a case for top spot in the class with his strength and his burst off of the line. He was a key component to and offensive line that paved the way for Alabama's running backs to accumulate over 200 yards a game. He is a driving blocker who can also get to the next level. This is where I reiterate that this is why he is the most intriguing tackle prospect. His game tape doesn't quite match up with his Combine numbers. His bench press was rather unimpressive and he didn't have anything close to the 40 time that he was projected to have. However, Kouandjio's biggest issue to work on at the next level is going to be pass protection against the speed rushes. He can handle the bull rushes very well, maintaining good balance and leverage throughout engagement. Yet against the speed rushes, his footwork gets sloppy and he doesn't get into position quickly enough. This was most evidenced by the Sugar Bowl game against Oklahoma, where Eric Striker manhandled him to the tune of three sacks. Kouandjio was also revealed to have had a knee injury which could help explain his disastrous game, but the film also shows that he is going to need to improve in pass protection to make it as a left tackle at the next level.