The season is over, and now so is the Combine. The Combine is meant to give some more tangible evidence to the draftibility of a prospect when scouts need more than video evidence. Some players may look good on tape, but when they get to the Combine and are open to high scrutiny, it is revealed that player was the beneficiary of a system. Yet not every drill is particularly meaningful to all the positions across the board. For example, the 40 time of a defensive lineman isn't terribly important, but what is good to know is the ten yard split time from that 40 (to measure explosiveness off the line). So after the viewing all the Combine results, here is my current top prospects by position. I'll be doing another one of these after the individual and school Pro Days.
Quarterbacks
1) Teddy Bridgewater, Louisville Cardinals
Career Stats: 9817 Yards, 72 TDs, 24 INTs, 68% Completion
Height: 6'2
Weight: 214 lbs.
Teddy Bridgewater is head and shoulders above the rest when it comes to readiness. He could be plugged into an offense and make an impact from day 1. He has an incredible amount of talent to go along with a high football IQ. Bridgewater has been observed to be almost obsessed with getting better and understands the intricacies of the game more than any other quarterback prospect in this draft. That alone makes him the top prospect at his position this year. He is capable of making all of the throws and has a good grasp on anticipation, often throwing before his receiver has come out of their break. His arm strength is not the greatest which might hurt when throwing deep in the NFL, but he also possesses very good mechanics that keep him accurate. The biggest knock that I have heard against Bridgewater is that his frame is very slender. There were rumors circulating that he might even come into the Combine weighing less than 200 pounds. He proved that wasn't the case during the weigh-ins, but that doesn't change the fact that he does look rather frail and could be injury prone at the next level. That was really the same knock against Tom Brady when he was coming out of Michigan, that he wouldn't be able to withstand the punishment of the NFL. Well Bridgewater can thank Brady for the rules that have softened the NFL and given him a chance to have a long career.
2) Blake Bortles, Central Florida Knights
Career Stats: 7598 Yards, 56 TDs, 19 INTs, 66.3% Completion
Height: 6'5
Weight: 232 lbs.
Bortles is the name that has been shooting up the draft boards since the last third of the college season. He consistently put up strong numbers in a pro style offense and lead the Knights to a couple of marquee victories this year, including Baylor in the Fiesta Bowl and one over Teddy Bridgewater in Louisville. Bortles has a big frame that guys like Mel Kiper drool over, which is in my opinion the biggest reason for him being so high on the draft boards. Don't get my wrong, I think that Bortles has talent and could develop into an above average quarterback during his career, but I wouldn't be able to caution the Texans enough to not take him first overall. His mechanics aren't always the greatest, and he has a tendency to throw off of his back foot which causes passes to sail. His football intelligence is also pretty high, but there were times where he made a pass that left you wondering. He made two such throws in the Fiesta Bowl. Bortles is still a good prospect because he has the size and the arm to go along with a few years experience in a pro style system. If he lands with the right quarterback coach and offensive system, he could be a good quarterback for the next decade.
3) Johnny Manziel, Texas A&M Aggies
Career Stats: 7820 Yards, 63 TDs, 22 INTs, 69% Completion
Rushing Stats: 2169 Yards, 30 TDs,
Height: 5'11
Weight: 207 lbs.
If Manziel was four inches taller, he'd be the top quarterback prospect, hands down. But alas, Manziel didn't even check in at six feet tall and that has some coaches and scouts worried. I love the talent and tenacity that Manziel is going to bring to whomever drafts him, but it is clear that he is going to need to be drafted by a team with a well established offensive line so that he doesn't get obliterated. Manziel has strange mechanics, but they have produced some pretty eye opening results. He has the ability to put the ball on the money with a lot of difficult throws, but the consistency isn't always there in his mechanics and it causes his accuracy to suffer as a result. He wasn't asked to run as often off of design plays this year, and all of his passing statistics improved as a result which is an encouraging sign. However, it was also clear that Manziel really does his best work outside of the pocket which is also not going to fly in the NFL unless his coach and O coordinator are able to adapt the play book. Russell Wilson really has provided the mold for smaller quarterbacks to succeed, and it comes from a combination of great blocking up front and a lot of roll outs. Manziel has a lot of unique talent, and he also has the ability to scramble and pick up a lot of yards. He is definitely going to be the most interesting quarterback in this draft.
4) Derek Carr, Fresno State Bulldogs
Career Stats: 12,842 Yards, 113 TDs, 24 INTs, 67.5% Completion
Height: 6'2
Weight: 214 lbs.
Derek Carr has the most prolific stats of any of the top prospects on the boards since he took over the starting job as a sophomore but saw spot duty as a freshman. Carr also has the strongest arm and the fastest release of the other prospects in his class. He has a cannon for an arm and doesn't require a huge build up to get the ball downfield. This gives him the ability to hit pretty much every throw one could ask of an NFL quarterback. He excels at throwing to receivers down the sideline and driving to them on slants and intermediate routes. Carr is also good at going through his progressions and hitting the second or third option in a play. Carr's arm may have all the talent in the world, but if he wants to really make an impact at the next level, he is going to have to become more consistent with his footwork. He has a tendency to not completely square his body and step into his throws which can cause his passes to go wide of the target. This is exacerbated by the fact that he doesn't always remain calm under pressure. Speed rushers flustered him in games, and that was when his footwork suffered the most. Carr saw his brother implode in the NFL and knows what he has to do in order to avoid that. He may slip into the second round, but I doubt he would last long if he made it there.
5) Zach Mettenberger, Louisiana State Tigers
Career Stats: 5783 Yards, 35 TDs, 15 INTs, 65.5% Completion
Height: 6'5
Weight: 224 lbs.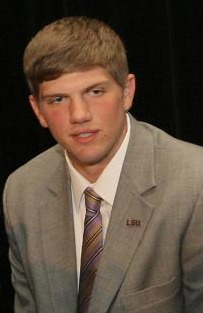 If Mettenberger hadn't torn his ACL towards the end of the season, I would probably have him rated higher than Carr. Mettenberger is an interesting prospect because he has the coveted "NFL size" and also has a rocket for an arm. Similar to Carr, this allows him to make a lot of tough throws along the sideline and down the field. He is also very confident with his placement in the middle of the field. He was a bit of a development in college as he was kicked out of Georgia, had to spend a year at JuCo, then had a coordinator change before his senior year. After pro coordinator Cam Cameron got to Baton Rouge, Mettenberger drastically improved his play. His mechanics became more refined, his footwork was better, and he was seeing the field better. He still needs some work however. He's usually only had two reads before dumping it off the the running back or just getting rid of it, so he is going to have to continue to work on understanding the defenses and playbook better. He also operated a lot out of the shotgun, so his coaches are going to have to work on speeding up his drop backs a bit. All in all, Mettenberger is a prospect who will probably fall into the third round or maybe the late second. However, if a team wants to take a chance on him and develop over a couple of years (Patriots, Cardinals, Houston?), he could become a solid quarterback at the next level.