Like I said in my preseason predictions, this has become almost impossible to predict. The last three years alone (Cam Newton, RG3, Johnny Manziel) has shown it is about who can capture the attention of fans around the country most. This year was no different. Of the six finalists announced, I only had one on my own preseason watch list with Manziel. It's so difficult to explain why this has become the trend in recent years. I mean, those guys all did have such fantastic seasons, but there was nobody giving them any hype in the preseason. It has become a very crazy phenomena, but at least it makes for an even better season.
1) Jameis Winston, Redshirt Freshman Quarterback, Florida State Seminoles
Winston was on very few people's radar before the season started. But when he started off his first game against Pitt throwing for four touchdowns and completing 25 of 27 passes, he began to achieve fame at an even faster rate than Manziel did last year. A redshirt freshman, two sport phenom (
watch his arm from right field
) from Alabama, Winston won the starting job and Jimbo Fisher has never had to look back as Winston has put up the most Heisman worthy season of the finalists. Including the game against Duke, he has thrown for 3820 yards and 38 touchdowns against 10 interceptions while rushing for 193 yards and four touchdowns. He is very athletic, but is absolutely lethal as a pocket passer and prefers to deliver from the pocket. Florida State has a fantastic line that gives him a lot of protection to make his throws, but he is also very capable of getting off passes in the face of pressure. Winston has also benefited from some great talent at receiver and running back, but he has been able to make something out of nothing routinely. He developed a rapport with Kelvin Benjamin that became just unstoppable from the middle of the season on. Winston can make almost any throw, which is shown in his distribution among his receivers. Four have at least six touchdown catches while three have at least fifty catches on the year as well.
Winston had his Heisman moment in the sixth game of the season when the Seminoles went to Clemson and absolutely annihilated the Tigers in front of their home crowd. Winston simply torched the Clemson secondary at will to the tune of three touchdowns and 444 passing yards as well as another rushing touchdown to make it 41-7 at one point and let the home crowd know they were free to leave. He has made his mistakes here and there, but he is only a freshman and broke the record for most passing touchdowns and yards by a freshman in a season. He is leading the second ranked scoring offense with 53 points per game and has been behind the juggernaut that is beating their opponents by an average of 42 points this year. Given how quickly the Seminoles have risen to number one in the country, he has gotten the most amount of coverage too. The fact that he was implicated in a sexual assault case could sway some voters. Heisman winners and the Heisman Trust tends to like their image to be clean and the winners to have integrity, so some might be worried by the allegations even though he was cleared. I think that given the significance of what he has accomplished as a freshman and that he is also playing for a national championship, it seems like the Heisman is Winston's to lose.
2) Tre Mason, Junior Running Back, Auburn Tigers
Just as Jameis has assumed to role of leader for Florida State, Mason has put the team on his back throughout most of the season. About a month ago in one of my weekly roundup blogs, I wrote that Mason had to be considered for All-SEC, which has turned out to be the biggest understatement I've made all year. The country really got introduced to him in the Iron Bowl against Alabama where he gashed the Tide defensive front. In that game, he carried the ball 29 times for 164 yards and a touchdown and keeping the ball out of the hands of AJ McCarron and TJ Yeldon. With Auburn in the SEC championship game against Missouri, Mason was given another platform to shine and registered his best game of the season and the best game by a running back in the SECCG. He carried the ball 46 times for 304 yards and four touchdowns against a Missouri defense that had only given up a couple of 100 yard rushing performances. Mason has come through for his team when it has mattered most and has excelled in the two biggest games of the season. It sucks that voting for the Heisman happens before the national title game, because the matchup of him against Winston in one final preview would drive up already high ratings.
Mason does make a pretty good case for the Heisman and is probably the most worthy running back to have a chance to win it since Reggie Bush. He has 1621 rushing yards this year at an average of 5.7 yards per carry and has 22 rushing touchdowns to compliment that. Starting after the easy early non-conference games, Mason became the focal point of the offense and scored at least one rushing touchdown in the last 10 games. In Auburn's only loss to LSU, he still ran for over 130 yards and two touchdowns. Prior to the Iron Bowl, Mason's Heisman moment was the 178 yard, one touchdown effort in College Station against then #7 ranked Texas A&M to lead to the Tigers to the win. Mason has been making a late push for the Heisman, but I'm not sure if he will be able to overcome the voters' admiration of Famous Jameis. If his name had been thrown around at midseason, this would probably be a much closer race.
3) Johnny Manziel, Redshirt Sophomore Quarterback, Texas A&M Aggies
Too bad Manziel can't play defense, because his team's lack of one has probably cost him a chance at repeating as the Heisman winner. His year hasn't been as great as it was last year, but Kevin Sumlin did not give Manziel as many designed runs this year. Manziel improved as a passer this year however, throwing for seven more touchdowns for a total of 33 while bumping his completion percentage to 69.1. Manziel also has 686 yards and 8 touchdowns on the ground which gives him a total of 41 touchdowns (1 behind Winston) and 4,418 yards (405 more than Winston). He had some terrific performances in games this year, throwing for more than three touchdowns in seven games and rushing for two touchdowns three times. He again had the most successful day against Alabama's vaunted defense that anybody has had this year. Manziel converted 28 completions into 464 yards and five touchdowns while rushing for another 98 yards. In the four losses that A&M suffered this year, Manziel still accounted for 12 touchdowns.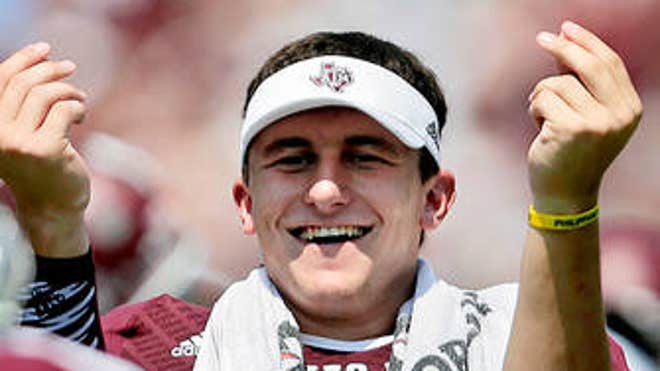 There are a couple factors that are working against Manziel that will keep him from winning the Heisman. The first is that his numbers have dipped off a bit this year. His has accounted for 700 less total yards and scored six fewer touchdowns this year. It was an impossible feat going into the season for him to replicate the kind of numbers he put up last year as defenses would have a better chance to study him. He set the bar too high for himself last year. The second is the losses. A&M lost three of their four games by one touchdown, with one blowout loss coming against LSU. It does honestly suck that the Heisman really does place value on the player's win/loss. He did everything possible in the games that the Aggies lost, but a non-existent defense caused them to lose four games this year, twice as many as they lost last year. The third factor is the fact that their are actual contenders this year besides him. Manziel beat out Colin Klein of Kansas Stat and Manti Te'o who got catfished, so its not like Manziel won it over Adrian Peterson and Vince Young. Jameis is a better quarterback than Manziel has been this year and Tre Mason's popularity has surged in the past few weeks. I don't think Manziel has any chance to repeat.
4) AJ McCarron, Redshirt Senior Quarterback, Alabama Crimson Tide
McCarron's numbers aren't eye popping, but when you're the leader of a team looking for its third straight national championship, you are going to be glorified. McCarron threw for 2,676 yards and 26 touchdowns with only five interceptions on the year. There were a couple of games where he looked rather pedestrian, but in some of the biggest games of the season McCarron really stepped up and made crucial plays. He kept pace with Manziel and threw for 4 touchdowns against A&M, tossed another three against LSU, and had another three against Auburn. His final in the Iron Bowl was a 99 yard touchdown to Amari Cooper that he made from his own endzone and would have probably given him a better shot at the Heisman if Alabama had been able to win. He's never been the kind of quarterback to go out there and throw it all over the field, but his efficiency is very lethal and he is often unflappable. However, that is also kind of the reason why he is in the bottom half of these rankings. He isn't the most outstanding player in the country because he is just sort of average. His biggest advantage in the Heisman race was leading the number one team in the country, but the Iron Bowl loss pretty much killed his chances.
5) Andre Williams, Senior Running Back, Boston College Eagles
Williams is to Boston College what Tre Mason is to Auburn. Williams has been a workhorse all year long, carrying the ball an average of 27 times a game while maintaining an average of 6.4 yards per carry. Williams in the first running back to run for over 2000 yards (2102 total) since UConn running back Donald Brown did it several years ago. His numbers are very impressive despite the fact that he plays average competition. He posted a yards per rush average of over 8 yards in four separate games, went over 200 yards in a game five times including once going over 300, and scored five touchdowns in a game against Army. Williams is a big, powerful running back who has gained national attention for his ability to knock defenders backwards. Yet like I said, its hard to envision him winning because of the teams he has faced and the lack of prestige surrounding BC this season. While they are playing for a bowl game, they still have five losses on the season and didn't beat a ranked team during the season. If he was playing for a powerhouse school, he'd be higher on this list.
6) Jordan Lynch, Redshirt Senior Quarterback, Northern Illinois Huskies
He really does have no chance. Any one that he did have was dashed when NIU lost to Bowling Green in their conference championship game. He has some very good numbers and even set the record for rushing yards by a quarterback in a season, but his competition is average at best.