ACC
No. 1 Florida State Seminoles vs. No. 20 Duke (8:00 PM on ABC)
Why is it that Ohio State has gotten ripped for playing a weak schedule when Florida State has a worse strength of schedule than the Buckeyes? I guess it's true what they say: there's no such thing as bad publicity. Florida State has gotten a lot of media attention in the last six weeks for both good and bad reasons. Star quarterback Jameis Winston is a freshman phenom, but he is also at the epicenter of a sexual assault investigation that probably won't actually get started or be concluded until after January 7th. Standing in the way of their first return to a championship game in over a decade is the Duke Blue Devils, a team that showed some promise last year but has completely shocked all of college football this year by beating out teams like Virginia Tech and Miami for the ACC Coastal Division. Duke's coach David Cutcliffe should be the front runner for coach of the year (although Gus Malzahn may have something to say about that), but I don't see any possible scenario short of Florida State's bus crashing where Duke comes out of this game with a berth to the Orange Bowl in hand. A 10 win season for Duke football is a rarity, but it is not like they have dominated teams this year in the ACC. They lost at home to Georgia Tech and a mediocre Pitt team, while having close games against Troy, Wake Forest, and UNC.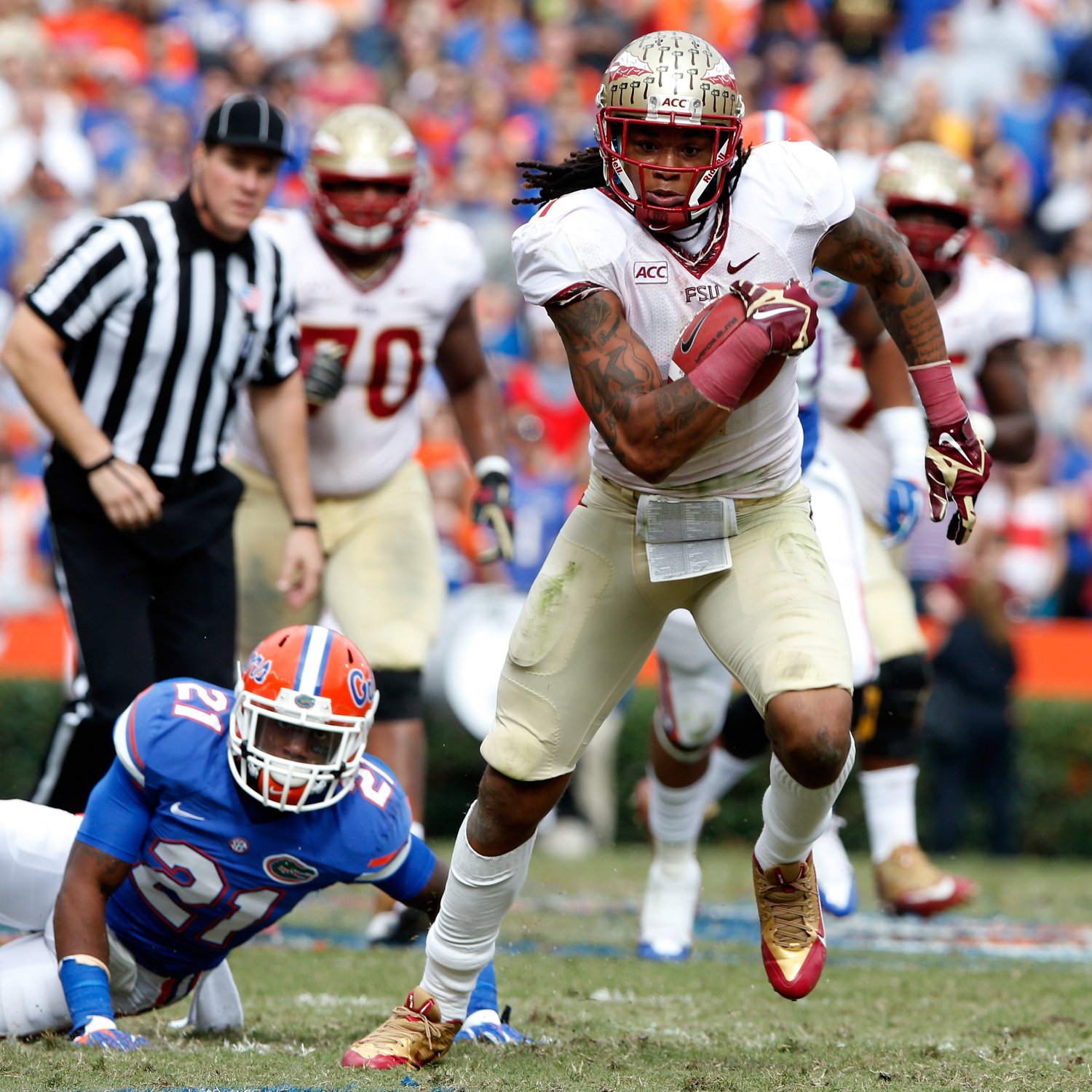 Kelvin Benjamin
Offensively, they are a pretty balanced team but they have yet to face a defense that is as potent and devastating as the Seminoles. The Seminoles have a defense that is bursting at the seams with NFL talent, and they are going to make life miserable all day for Duke's quarterbacks with their relentless pass rush. FSU also has a very talented group of defensive backs who are going to provide much smaller windows to throw into than Duke is used to working with. When the Noles have the ball, they will probably be able to score on every possession. Duke has only given up an average of 23 points per game, but as I've said they haven't seen a team quite as dangerous as the one that Florida State fields. Kelvin Benjamin was a force against Florida's ridiculous trio of cornerbacks and he should absolutely feast on the Duke secondary. Florida State probably doesn't even have to pass more than twenty times this game since they also have a great set of running backs who can compliment Winston or take over a game depending on how the game has gone. I think the Seminoles win this game big, 45-17.
B1G
No. 2 Ohio State Buckeyes vs. No. 10 Michigan State Spartans (8:17 PM on FOX)
Darqueze Dennard
The winners of their respective divisions won their final games in completely opposite fashion last week, with Ohio State surviving a shootout against Michigan while the Spartans dominated Minnesota with defense. Just as they have done all year long, Michigan State beat the Gophers with a relentless defensive effort, holding Minnesota to just 249 yards of offense. They boast the fourth ranked scoring defense in the country, holding opponents to just 11.8 points per game. More impressively, they have only allowed foes to accumulate more than 100 yards rushing just twice this season, once against Minnesota and the other against Nebraska. In all other games, Michigan State only allowed an average of 47 rushing yards per game. They also possess a very athletic group of cornerbacks who are great at attacking the ball in the air and generating turnovers. Yet now they are going against easily the most talented offense that they have seen all year. Michigan State's front seven is going to have the biggest challenge of the day which is stopping the tandem of Carlos Hyde and Braxton Miller. The front seven is going to have to corral them and keep Ohio State out of second and short situations. Offensively, Michigan State is rather difficult to get a reading on. Connor Cook has done a good job of taking care of the football this year, but again he will be going up against arguably the best defense he has seen all year. Ohio State struggled to defend the Wolverines, but Cook doesn't posses the same elusiveness and mobility that made Gardner so frustrating to defend. Running back Jeremy Langford is going to have to establish himself early to take pressure off of Cook. Mesmerizing, isn't it?
I'm not that convinced that Michigan State is going to be able to put up enough points to eventually take this game. Ohio State's defensive line is great at closing the pocket, something they did very well last week but just couldn't capitalize on. As I mentioned, Cook isn't as mobile as Gardner is, so I think he is going to have a shorter window to throw than he is accustomed to. Michigan State also doesn't have the most diverse group of receivers either. No receiver on the team has caught more than 35 passes, so the young players in the Buckeye secondary could have an easier time. Ryan Shazier is also one of the best outside linebackers in the country, and he will have to take command to stop the run against Langford. This game will be determined by whether or not Ohio State can get the better of Sparty's defense. These two teams played a low scoring affair with similar teams last year in East Lansing, with OSU eeking out a 17-16 victory. Ohio State has the best offensive line in the conference, and they are going to have to make a statement early and get a lot of movement. For Ohio State to win this battle, Braxton has to take care of the football and not try and force any passes against this hawking Michigan State secondary. When it all comes down to a final analysis, Ohio State has just too much talent on offense and one of the best coaches in the country who knows how to win big games. This game has put more doubt in my mind than any other this season, but I trust the Buckeyes to win this one 27-21.
PAC-12
No. 7 Stanford Cardinal @ No. 11 Arizona State Sun Devils (7:45 on ESPN)
Taylor Kelly to Jaelen Strong
A quick correction to a mistake in my previous blog: this game will be played in Tempe, not Palo Alto. Arizona State's second loss was a loss to Notre Dame, so they only have one conference loss while Stanford has two, Utah and USC. That will make a pretty big difference in this game because these two teams met in September in Stanford with the Cardinal winning 42-28. Arizona has a very good offense that is lead by Taylor Kelly, who has thrown for 3300 yards and 27 touchdowns to only 11 interceptions. His favorite target is sophomore wide out Jaelen Strong, a huge target who has hauled in 69 passes for 1067 yards and 7 touchdowns. Strong had his best game this season against Stanford, where he caught 12 passes for one touchdown and 168 yards. He is a match up nightmare and should be able to replicate that kind of production in this game. Kelly also utilizes his running backs a lot on screens and dump offs. Marion Grice and DJ Foster have combined for 104 catches and almost 1000 yards coming out of the backfield which is going to pose a lot of challenges for the Cardinal linebackers. Arizona ranks in the top ten in points per game at 43.3, but they have just a mediocre defense that has given up a fair amount of points against some of the better teams they've played. They have given up more than 30 points five times this year. They do have some great players on the defensive line however, such as defensive tackle Will Sutton. Sutton is going to be tasked with stuffing the Stanford running backs at the point of attack and bottling up the big play opportunities. Stanford was able to run for 240 yards and three touchdowns against the Sun Devils in the first meeting. Stanford runs it relentlessly, so it may be up to players in the secondary to force a turnover for some quick points.
Trent Murphy
Stanford is going to have to win this game the way that they have all season: with relentless defensive efforts and success with the run. The Cardinal ran the ball 49 times in the first contest for a total of 240 yards. Their commitment to the run game is hard to overcome because of how successful they are with it and how it lets them control the game. The running backs are lead by Tyler Gaffney, who has rushed for 1485 yards and 17 touchdowns on the season. He had a bit of a subpar game against Arizona State, but he gets a lot of the burden taken off by Anthony Wilkerson and the running ability of quarterback Kevin Hogan. Hogan is probably going to be asked to step it up a bit in this game. He is a bit of a game manager, but he has shown the ability to make some tough throws and does take care of the football pretty well. He's thrown 9 of his 19 touchdown passes to Ty Montgomery who continues to be the security blanket for Hogan. Head Coach David Shaw will utilize his tenacious defense more than ever in this game. Defensive end Trent Murphy has been an unstoppable force this year, racking up 13 sacks and 19.5 tackles for loss. Linebacker Shane Skov is equally disruptive, amassing 4.5 sacks and another ten tackles for a loss. They are going to have to apply a lot of pressure to Kelly who is fantastic when he has time to throw. Kelly was forced into two interceptions in the first game, and I don't think that he is going to see any less pressure this time around. Expect this game to be a lot closer than the first one, but I still think that Stanford's defense and rush attack will be able to dictate this game. The Cardinal will punch their second straight trip to the Rose Bowl with a 33-24 victory.
SEC
No. 5 Missouri Tigers vs. No. 3 Auburn Tigers (4:00 PM on CBS)
Alabama tears are the sweetest tears.
I can't believe how many people are already talking about Auburn jumping Ohio State despite the fact they have a game against a very talented Missouri squad this Saturday. Auburn is probably going to be riding the emotional high from last week's Iron Bowl which could work either in their favor or against them depending on how focused Gus Malzahn has his squad. Auburn will have to get similar production out of Nick Marshall and Tre Mason, who combined for 260 yards against Alabama, almost three times what Alabama had been giving up per game. The offensive linemen will need to keep up the terrific job of opening up wide running lanes for Mason and Marshall to work with. Marshall isn't a great passer, but he took care of the football against the Tide and accounted for two more touchdowns in the air. One of the receivers is going to have to step up in this game and help out Marshall. No receiver caught more than two passes against Alabama, so expect Missouri to sell out to stop the run and force Marshall to throw. Defensively, I think Auburn could be in for a bit of a long day. It isn't like they were able to dominate the Tide; the defense simply made enough plays to limit Alabama to 28 points. McCarron looked like Joe Namath out there, throwing for three touchdowns including a ridiculous 99 yard touchdown pass to Amari Cooper. TJ Yeldon also averaged 5.4 yards per carry on the ground. Auburn's defensive effort is going to have to be better than what they produced against Alabama if they want to win this game.
Dorial Green-Beckham
Missouri is a team that has really flown under the radar this year but they now have a great chance at making a statement in only their second season in the SEC. Missouri has averaged 39 points per game this season, including 31 against five ranked teams they have played while Auburn has been giving up around 22 points per game, but almost 33 against ranked opponents. Mizzou's quarterback James Franklin is back on track after a midseason injury, but it is evident that he is not at 100%. Freshman Maty Mauk performed well beyond what was expected of him as a replacement, so it will be interesting to see if Missouri coach Gary Pinkel uses both of them to keep Auburn off balance. Wide receiver Dorial Green-Beckham could have a day similar to what Amari Cooper had against Auburn. DGB is a huge target at 6'6 who has great speed to gain a ton of yards after the catch, and he should match up very well against an underwhelming Auburn secondary. Missouri also posses a very underrated and athletic defense that knows how to attack the quarterback and close up running lanes before they open. Defensive linemen Markus Golden and Michael Sam have combined for 17 sacks and 31 tackles for loss, and their productivity in this game is going to account for a lot. Missouri also has some very rangy linebackers who will be called upon to make sideline to sideline plays. All in all, I think that Missouri has enough firepower on both sides of the ball to overcome the Auburn Tigers. Given how closely these teams are ranked, I don't think that Missouri will dominate this game, but I think they still win the SEC championship game 38-35.