If any Gators fans are reading this, please step away from the ledge. You have so much to live for. I promise it will get better. I mean really, how can it honestly get any worse? Florida lost this weekend to Georgia Southern and has dropped their seventh game of the season, ensuring the first losing season for Florida since 1979. Georgia Southern is currently an FCS team that is about to move into the Sun Belt, and they were the first FCS team to ever win in the Swamp. As if that wasn't bad enough, Georgia Southern completed a whopping
ZERO
passes but racked up over 400 yards rushing. Their coach, Jeff Monken, was an understudy to Georgia Tech's Paul Johnson who runs the triple option with frightening efficiency. The triple option can be insanely maddening and difficult to defend, and it isn't like Florida had to prepare to defend it against anyone else on their schedule. Still, the pure amount of athletic ability that Florida garners on a yearly basis should be more than enough to overcome a unique offensive system piloted by FCS players.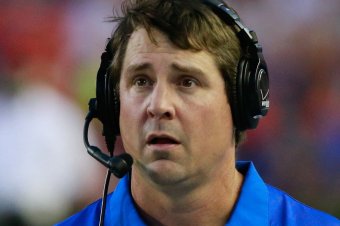 The look of being 4-7 and being one week away from
playing the #2 team in the country.
Clearly, changes need to be made to this team.
As of today
, it appears as though the offensive coordinator and the offensive line coach will be fired at the end of the season while Muschamp will remain as the head coach. It's very obvious that this team needs an overhaul on offense, but the big issue is going to be who can they get that will be more effective than Brent Pease. Whoever they hire must be someone who can give immediate hope to the Gators fans as Will Muschamp has shown that he is completely ineffective as an offensive playcaller. Pease was the offensive coordinator for Boise State during their several years of fantastic runs and imaginative play calling, but none of that has transferred to a team with exponentially more talent. So now the Gators are stuck trying to find a new coordinator while still being attached to the ball-and-chain that is Muschamp. Don't get me wrong, Muschamp is one hell of a defensive coordinator, but his deficiencies in the offensive statistics are blindingly obvious. I honestly don't know what is going to happen in terms of this team hiring an offensive coordinator. This kind of position at a major powerhouse like Florida is certainly going to them their pick from a long line of potential coordinators. But as I've mentioned, who is going to be a guy who is up to Florida's standards? It seems like Florida might have to take a real leap of faith with their next hiring.
One thing to keep in mind with this season is the ridiculous rash of injuries that Florida has suffered on both sides of the ball. A total of 26 players have missed time this year because of an injury, 10 of which were season ending. This includes their starting quarterback Jeff Driskel; starting running back Matt Jones; starting defensive lineman Dominique Easley; and starting wide receiver Andre Debose. Almost to add insult to injury, promising redshirt sophomore quarterback Tyler Murphy has also missed a decent amount of time, forcing Muschamp to resort to true freshman Skyler Mornhenwig. Those three offensive players that I mentioned are obviously the source of a lot of the lack of production on offense. But for the past few years, Driskel has been nothing more than a game manager while Debose never lived up to the hype coming out of college.
Don't panic Florida faithful....
just don't make him a head
coach either.
Chad Morris
If there is one advantage that Muschamp has moving forward, its that he gets to recruit from one of the most talent-laden states in the Union. He has continued the trend of poaching some of the best talent, but it seems that he is starting to lose some ground to Jimbo Fisher and Al Golden as their respective programs being their own resurgence. Given his track record as a terrific defensive coordinator, he should have no problem getting recruits on that side of the ball. However, he is going to need to find an offensive coordinator that can inspire hope in future offense prospects. Florida has yet to land that player who can remind fans of the days of Tebow, Percy Harvin, or, hell, even Chris Leak. Its never a good sign when you can't keep a
kid like this
in state, especially when he goes all the way across the country. In my non-professional opinion, I think that there are two people who should be on Florida's radar for the offensive coordinator position. The first, sadly for Gators faithful, is Lane Kiffin. Kiffin, who was fired earlier this season from USC, has much more potential as a coordinator than he does as a head coach. He is an understudy of Pete Carrol and knows how to recruit fantastic offensive talent (he is the guy who got Nelson Agholor to leave Florida for USC). I honestly get the feeling that if he were given a chance as an offensive coordinator and had his responsibilities limited, he could do incredibly well at Florida. The other name that I've heard floating around is Clemson offensive coordinator Chad Morris, who has been able to bring in tons of star talent (he brought in Sammy Watkins from the state of Florida) and has done a great job developing Tajh Boyd. The only issue is that he is seems ready to take a head coaching position. He interviewed with Texas Tech a year ago, but the job was given to Kliff Kingsbury. Maybe he sees that the OC position at Florida would better set him up for a shot as a head coach, but there is also the possibility that he takes a slightly less prestigious head coaching position instead.
All in all, it looks like it could be a rough couple of years for the Gators if they can't make a big splash this offseason when heads start to roll. They are already a bit behind the 8-ball, ranking "only" 15th in the Rivals Recruiting for next year while other SEC East teams like Georgia, Tennessee, and KENTUCKY(?!) are ahead of them. Miami and FSU are also both ahead of Florida and are convincing a lot of prospects to head their way instead of to Gainesville. With guys like Marcus Roberson, Louichez Purifoy, Easley, Driskel, and Debose moving on, next year could be considered more of a rebuilding year than this one. Good luck Gators, you're really gunna need it.