After the first third of the season is done, do we have a true Heisman front runner? In the past, there have really been two categories for deciding who is in the lead for the Heisman. The more traditional approach is to look at the best player on the best team (think Troy Smith for OSU or Sam Bradford for Oklahoma). The other approach is to look at the most explosive player who puts up insane numbers (RG3 at Baylor, Manziel last year). Sometimes, it can be a mix of both (Cam Newton). I think the more recent trend is to give it to the guy who is really has that "wow" factor. Fans and voters alike love to see the explosive play, the 80 yard run that makes you jump off of your feet and scream "Did you see THAT?!". With that in mind, I think because there is no clear cut player who is head and shoulders above the rest, this year will follow that pattern. So with still plenty of season left to be played, here are my current Heisman front runners.
1) Marcus Mariota, QB, Oregon Ducks
Mariota is by far the best quarterback that the Ducks have had in last half dozen years. He may not have the mobility of someone like Dennis Dixon or Darron Thomas, but his athleticism should not be underestimated. This year, Mariota already has more than 300 yards and seven touchdowns with a long of 71 yards. His coach Mark Helfrich hasn't given him as many designed runs as Chip Kelly did last year, but Mariota has a great understanding of when to take off when nothing is there. His agility isn't phenomenal, but his straight line speed has to be respected. But what really separates himself from previous Oregon quarterbacks in this system is his throwing ability. His numbers aren't incredibly gaudy, but he is efficiently lethal. Despite completing only 57% of his passes, he has a rating of 162 which factors in a quarterbacks influence on the game. So basically, despite slipping with his accuracy a bit this year, Mariota makes enough big plays through the air that it more than makes up for his mediocre accuracy. It isn't like he has been terrible either. He has over 1300 yards and 14 touchdowns through the first third of their schedule and is on pace to pass his passing yards last year but fall just short of his passing touchdowns. Considering the fact that he is also the quarterback of the number two team in the country, Mariota should have a safe lead for the Heisman right now. If he takes this team into Palo Alto and avenges their only loss from last year, I don't see how he doesn't get the Heisman.
2) Tajh Boyd, QB, Clemson Tigers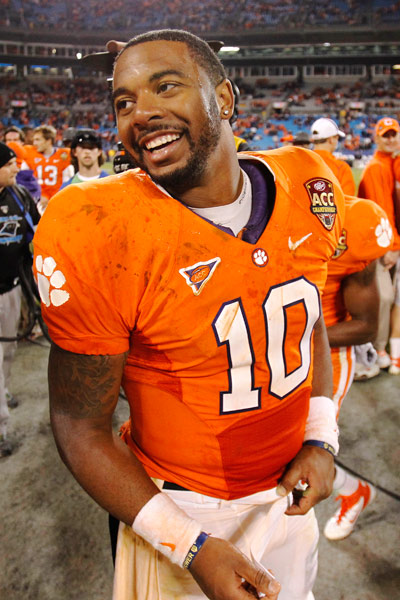 Boyd is going to be at the top of the Heisman contenders so long as he and his team avoid "Clemsoning", losing a game they have no business of losing and dropping out of the title race. Boyd has set a steady course and the unquestioned leader of the team. He lead the team to a signature early season victory against Georgia, and has since been outstanding almost to the point of perfection. The Tigers's most recent game against Syracuse was the first game in which Boyd has thrown an interception (2 actually). On the year, Boyd has thrown for 14 touchdowns and almost 1500 yards on an impressive 66% completion rating and has been able to deliver clutch plays when his team needs it. Clemson has only faced two challenges, but Boyd played his best games at home against a rabid Georgia team and pulled out a solid road victory against an NC State team that has a penchant for upsets. Boyd isn't as graceful a runner as Mariota, but he has good size and a good knowledge of when he should take off. He is definitely more reliant on his arm, which isn't a bad thing, but Dabo trusts him enough with goal line and short yardage situations. What is helping his cause is that he has Clemson in a serious chance to win a national title. Voters will take note of that fact if Clemson is undefeated towards the end because of the quality of their wins. They would have defeated Georgia, Florida State and South Carolina before the ACC Championship game against Miami. If that is the case, there is a good chance Boyd gets a call to New York.
3) Mike Evans, WR, Texas A&M Aggies
Before the season started, I had Sammy Watkins pegged as the most likely wide receiver to get the call. Watkins has had a great season so far, but Evans might have separated himself from the rest of the pack. Last year as a freshman, Evans overtook senior Ryan Swope as the number one receiver and has since been a monster in the pass game. He stands at 6-5, 225 pounds and has great 4.45 speed. For his size and skill set, he has been compared to NFL wide out Vincent Jackson. Evans has the range to go up and attack the ball at its highest point, regularly beating out even the best cornerbacks for contested passes. He has solid straight line speed but is also very controlled coming out of his routes with very good concentration. So far this year, Evans has 28 catches for 691 yards and has matched his season total touchdowns from last year with five. He had his best game of the brief season against Alabama, turning seven catches into a staggering 279 yards and two touchdowns against the vaunted Tide defense. He is a constant mismatch against corner backs and commands double coverage which he is still learning how to beat. With Manziel throwing to him off of designed passes and broken plays, Evans is a big play in the making. A&M is going to be playing some pretty meh competition soon (Miss. St., UTEP, Auburn) so he should continue to have a Heisman worthy season.
Notable Omissions:
Braxton Miller, QB, Ohio State Buckeyes
He missed a couple of weeks which have hurt how his stats appear on paper. For perspective, Kenny Guiton has 14 total touchdowns from two weeks of starting while Braxton has 6. He will continue to play at a high level, but I don't know if he will be able to make up for lost time.
Johnny Manziel, QB, Texas A&M Aggies
The loss to Alabama kind of simmered things down about for Manziel. His numbers are still good, but he isn't having the kinds of days with his feet that made highlight reels last year. If A&M is able to get back into the title chase, I think Manziel could have a better chance of moving back into the race.
Jadaveon Clowney, DE, South Carolina Gamecocks
This hype died after the first week. He apparently has conditioning problems that caused him to take noticeable plays off. He only has two sacks and sat out this past week against Kentucky. I don't see how he makes it to back into the discussion barring some sort of super human campaign the rest of the year.
Aaron Murray, QB, Georgia Bulldogs
I think that Murray has the best chance of breaking the top three. Since a shaky first game loss to Clemson, Murray has thrown 14 touchdowns and only 2 picks in marquee wins over South Carolina and LSU. He still has Florida to make a statement against and then some average SEC teams to pad his stats against.