CROSSOVER! This is mostly a college football blog because I love college more than the NFL. However, obviously a lot of college players are working towards their dreams of eventually playing in the NFL. Although the NFL is still early in the season, it is pretty clear who the worst teams are. Right now, three teams in the NFL have not won a game: New York Giants, Tampa Bay Buccaneers, and the Jacksonville Jaguars. Each scenario below is who would draft whom out of the college ranks if they obtain the first pick this draft.
With the first pick of the 2014 NFL draft, the New York Giants select Jadeveon Clowney, defensive end, South Carolina.
As a Giants fan, I kind of struggled with this. There is no doubt that Clowney is the best pass rusher in the draft and one of the best prospects in years, but the Giants also need help protecting Eli who has really regressed this year. So it is really between Clowney or whichever offensive tackle the Giants give a better grade. But considering General Manager Jerry Reese's covetous nature towards pass rushers, the Giants would almost certainly take Clowney. The Giants won two Super Bowls in large part because their defensive line was able to pressure the quarterbacks with just four rushers. Not to sound like John Madden, but anytime you can cover three or four targets with seven guys and still get pressure, you're going to win. The Giants have not been able to get back into that winning formula and are suffering because of it.
Does he really look like he needs to pack on more mass?
Enter Jadeveon Clowney, who could end up saving jobs if he is able to make the immediate impact he is truly capable of. If you've been following my blog or college football, you know who he is and you know what he is capable of. From the moment he stepped on the field as a freshman, Clowney has dominated SEC linemen who are now in the NFL. He was named the SEC defensive freshman of the year, high praise for a player usually going up against the best that the offensive line could throw at him. Clowney has an insane combination of athleticism and technique that allows him to consistently pressure the quarterback. Take a look at some of his tangibles. He is 6'6, 270 pounds, and yet I've heard a few scouts mention that he could improve his strength. This is your typical size for a 4-3 defensive lineman in the NFL. But here is what begins to separate Clowney from anyone else in college and most people in the pros, or anyone in the pros for that matter. It was reported that Clowney ran the 40 yard dash in 4.5 seconds at a team practice this offseason. Before you make up your mind what that means, keep it in the back of your mind for a second while I bring up some notable NFL players and their size and speed coming out of college:
AJ Green, WR, Georgia: 6'4, 207 lbs, 4.50 40-yard dash
Adrian Peterson, RB, Oklahoma: 6'2, 220 lbs, 4.40 40-yard dash
Patrick Willis, ILB, Ole Miss: 6'1, 242 lbs, 4.51 40-yard dash
Jason Pierre-Paul, DE, South Florida: 6'5, 270 lbs, 4.71 40-yard dash
Remember what these three were able to do?
I hope that this illustrates to you just how athletically imposing Clowney is. He's as fast as All-Pro player AJ Green, despite being 60 pounds heavier. He beats out JPP in terms of speed by .2 seconds, a huge amount in the NFL, despite playing the same position and being slightly bigger. His athletic ability has given him a huge leg up since high school and he will STILL be able to use the same God given gifts to beat out offensive linemen the moment he makes the jump to the NFL. His attitude has recently called into question his commitment to football, but I personally think that is him being bored with college competition and his desire to not have a serious injury before signing a contract. A no nonsense coach like Coughlin could work wonders with Clowney. He'd know how to break him into proper conditioning and would not be afraid to bench him if his attitude did get in the way. But I think that it would work out well because of how the Giants have developed pass rushers in the last half dozen years. Clowney, JPP, and rookie Damontre Moore could form one of the most lethal defensive end trios in years.
With the first pick in the 2014 NFL draft, the Jacksonville Jaguars select Teddy Bridgewater, quarterback, Louisville.
Clowney will garner the higher grade from scouts and general managers, but Bridgewater probably won't be that far behind him. The logic here is that a franchise quarterback is much more valuable than a franchise defensive end in today's NFL. If you don't have a competent quarterback, you'd better be praying that your defense and running backs can handle the burden. None of these three have come to pass in Jacksonville recently.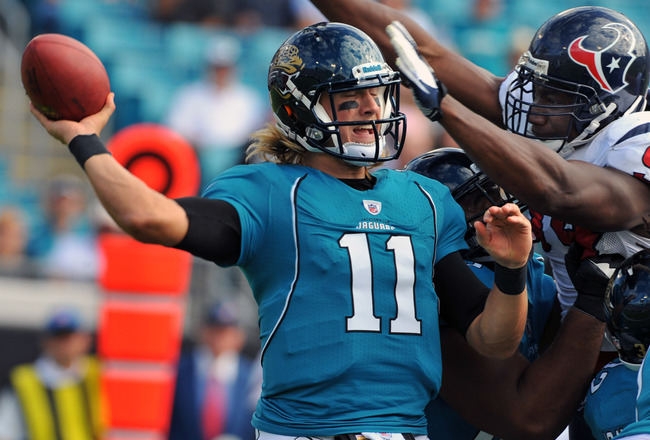 There is no way, and I must stress the "no" part, that Jacksonville can go into next season with either Blaine Gabbert or Chad Henne as their starting quarterback. They are already struggling to put meat in the seats of their stadium, let alone be competitive in their own division. Through three years, Gabbert has posted incredibly mediocre numbers for being the 11th pick in 2011 (career numbers: 53% completion, 4357 yards, 22 TDs, 24 INTs). To put that into perspective, Cam Newton threw for 4051 yards and 21 TDs on 60% completion IN HIS ROOKIE SEASON. And it isn't as if Chad Henne is that much better. He's been given numerous chances with the Dolphins and with Jacksonville and hasn't been able to separate himself from the competition in those two destinations (numbers with JAX: 55.3% completion, 2988 yards, 13 TDs, 15 INTs). Now THAT is a telling statement. Neither of these quarterbacks is going to get Jacksonville over the hump in their division. The Texans are a good quarterback away from being a Super Bowl team, Tennessee was showing a lot of life with Jake Locker this year, and the Colts already have their new franchise quarterback for the next dozen years in Andrew Luck. Henne and Gabbert's combined abilities and stats don't even match what someone like Luck can bring to the table.
The Jaguars made the right move in the last draft by deciding against picking a quarterback. No matter who they drafted and where, it would not have even come close to the value that they will get from Bridgewater if he is taken first. If he had the eligibility to enter this past spring's draft, he would have easily been taken first by the Chiefs. Bridgewater has been the starter since his freshman year and, despite some struggles that year, has excelled in every area of quarterback play. Between his freshman and sophomore campaigns, Bridgewater's statistical line is as follows:
66.5% Completion, 5847 Yards, 41 TDs, and 20 INTs
Oh yeah, and he has 18 TDs and only 2 INTs this year so far. Everything that you want out of a quarterback, Bridgewater has. He has fantastic mechanics which allows him to maintain such a high accuracy rating. Pressure doesn't phase him and cause his mechanics to slip either. He also has a cannon for an arm while being able to put touch on the short to intermediate routes. But what has impressed me about him so much is his football intelligence. Last year he went against the ferocious Gator's defense in the Sugar Bowl and tore them apart. A defense swarming with NFL talent just looked helpless against Bridgewater who ended the game with 266 yards, 2 touchdowns and one pick on a tipped pass. He has the ability to read defenses like Aaron Rodgers and consistently makes the right decision based on what the defense is showing him. He knows exactly where his receiver is going to go and deliver an accurate pass before the receiver has come out of his break. Back shoulder throws, fade and comeback routes, whatever you name he can do it.
The knock against Bridgewater is the competition that he's faced, or lack of. Playing in the Big East and now whatever they are calling that Frankenstein of a conference has inflated his numbers, skeptics say. I can understand where the sentiment lies, but I have to disagree with this point. That could affect his chances of winning the Heisman, but won't impact how he performs in the NFL. His mechanics wouldn't have changed if he had gone to Miami or South Carolina instead of Louisville. He's gone up against the competition on the schedule and handled them with relative ease. Look at it this way: since his freshman year, Bridgewater has only played two ranked opponents but beaten both of them. Russell Wilson only faced two ranked opponents before going to Wisconsin and beat them both. RG3 was a dismal 2-12 against ranked opponents during his 3 full seasons as a starter. And I'll tell you this right now; Bridgewater's victory over Florida in the Sugar Bowl was infinitely more impressive than either of Wilson or Griffin's victories. If Jacksonville can develop Bridgewater to his full potential, he will quickly make the case to be in the same category of young, promising quarterbacks along with Luck, Griffin, and Wilson.
With the first pick in the 2014 NFL draft, the Tampa Bay Buccaneers select.....
Well I'm not sure. Ok I am, but it has to do with whether or not Greg Schiano will be coaching this team next year or not. The same could be said with the Tom Coughlin or Gus Bradley of the Jags, but I think that Schiano is on a shorter leash than the other two and is really the only one who could (and should) be canned at the end of this year. So because this pick I would say is much more contingent on the head coaching situation after this season.
If Schiano is retained: .....select Jadeveon Clowney, defensive end, South Carolina.
You mean I get to keep my job AND get Clowney?!
Hot DAMN!!
Schiano is a defensive minded coach, so this is a pretty obvious selection. As I talked about above, Clowney is a freakish prospect who will instantly upgrade whatever line he is plugged into. It is kind of ridiculous to think that this team needs help at the ends, but that is the truth. Adrian Clayborn and Da'Quan Bowers were both very promising when they were drafted, but injuries have hampered their ability to get acclimated, develop, and make an impact in the NFL. Thus, the Bucs need some serious help at the ends of their defensive line. In a division where Drew Brees, Matt Ryan, and Cam Newton make up six games out of sixteen, a game changing defensive end is a necessity.
If Schiano is fired: ....select Teddy Bridgewater, quarterback, Louisville.
Personally, I hope Schiano doesn't get another job in the NFL for a decade for how he treated Josh Freeman. Anyway, if Schiano is fired then you have to figure that general manager Mark Dominik will also be gone since GMs and coaches are usually hired and fired hand in hand. Schiano sabotaged Freeman's career so he could draft a stoned version of Napoleon Dynamite and eventually implement him as the starter. Although Mike Glennon (the aforementioned stoned Napoleon Dynamite) has only started two games this season, he hasn't given decision makers in the front office much hope considering the weapons he has on offense. If Schiano is back in the college ranks to satisfy his ego by lording over 18 year old kids from Hillsborough, NJ, you can guarantee that this team is going to draft Bridgewater.
Your stoned Napoleon Dynamite.