It has become almost near impossible to determine who will be winning the Heisman these days. If you say you had either Cam Newton or Johnny Manziel on your radar before the season started, you're a liar. No one could have predicted those. In the prior two years, most people pegged Tebow as the first to win the trophy twice in thirty years. Yet Sam Bradford and Mark Ingram, who had been afterthoughts, put up great numbers and stole it from Tebow. But here it is, my stab at who will be the winner of the Heisman after the 2013 season is almost over. Just for fun, I'll post in descending order and do one a day.
1. Braxton Miller, Jr. QB, Ohio State
This is the age of quarterbacks winning the Heisman, yet every quarterback to win the Heisman since Sam Bradford in 2008 has been a duel threat quarterback. Miller is just that. He was impressive in his first season under Urban Meyer's spread offense, throwing for 15 touchdowns against 6 interceptions and completing 58% of his passes and rushing for a whopping 13 touchdowns and racking up over 100 yards per game on the ground. Miller should take massive steps forward this year in Meyer's second year at Ohio State who was able to work miracles with Tim Tebow and Chris Leak while at Florida and winning two national championships. With Miller's two primary receivers coming back this year, Corey "Philly" Brown and Devin Smith, returning, Miller should be more confident throwing the ball. The field should also open up more thanks to the return of power running back Carlos Hyde can take some of the pressure off of Braxton. Braxton was leading Ohio State to almost 37 PPG, so this year could really be something special for the Ohio State offense. Factoring in the possibility of Ohio State running the table against the embarrassingly down Big 10 (now with 14 teams!), Miller could be vaulted to the top of the pack by mid-season.
2. Tajh Boyd, Sr. QB, Clemson
I find it hard to believe that Boyd was not one of the finalists last year for the Heisman. He tossed 36 touchdowns and almost 4000 yards while adding another 10 and 500 on the ground. However, Boyd should be considered an early favorite for college's most coveted trophy. Despite losing DeAndre Hopkins to this past year's draft, Boyd will still be throwing to stud wide receiver Sammy Watkins who has the ability to score on any play when the ball is in his hands. Boyd should be able to rack up more impressive numbers this year playing in the weakened ACC, but this could also work against him as voters may see his stats as inflated due to inferior competition. An impressive outing in Week 1 against Georgia would definitely grab voters' attention. No real threats from the ACC will challenge Clemson, save maybe a visit from Florida State on October 19th, but the regular season will end for Clemson as it usually does against South Carolina. If Boyd can travel to Columbia, have a solid game, and end South Carolina's 4 game win streak against the Tigers, it will be impossible for voters to ignore him for a second straight season.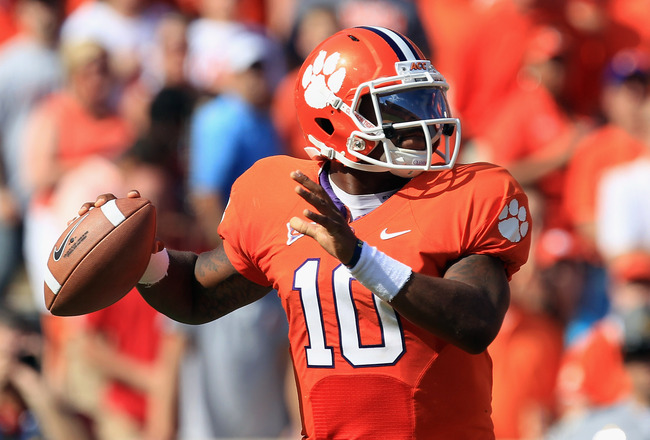 3. Johnny "Football" Manziel, So. QB, Texas A&M
Many readers and talking heads will argue that Manziel shouldn't be lower than 2, but consider this: No one has won the Heisman Trophy twice since Archie Griffin did in 1974 and 1975. Many thought that Tim Tebow would be the one to break that streak, but he only finished third and fifth in his last two years at Florida. Matt Leinart lost out to Reggie Bush and Vince Young in 2005. My point is, voters have an inclination to pass on handing out the trophy to a player twice. Yet Manziel could be the first two time winner since Griffin. It will be incredibly hard, maybe even impossible, for him to duplicate the numbers he put up last year (3706 Passing; 1410 Rushing; 5116 Total) which broke Cam Newton's SEC record (2854 Passing; 1473 Rushing; 4327 Total). Any player that can put up numbers like that and dominate the SEC like he did, as a redshirt freshman, has to be a favorite. While he did lose veteran wide receiver Ryan Swope to the NFL draft, Manziel has the skill set and poise to put up more big numbers through the air while everybody knows that he has the athleticism to make huge plays with his legs. If A&M can survive the arrival of Alabama on a quest for vengeance in the third week of the season, they stand a good chance of running the table until a November 23 visit to Death Valley to take on LSU. If A&M can survive the SEC gauntlet relatively unscathed and he is putting up the numbers he is capable of, Johnny Football will be taking another trip to New York.
4. Jadeveon Clowney, Jr. DE, South Carolina
Has anyone not seen the hit that Clowney put on Michigan RB Vincent Smith that sent Smith's helmet into orbit around Earth? Clowney is an absolute freak of nature who was known throughout the college football world well before arriving in Columbia three years ago. He has dominated the SEC over the past two years, racking up 21 sacks and 90 tackles. While everyone remembers his decapitation of Smith, Clowney had arguably his best performance against Clemson when he sacked QB Tajh Boyd 4.5 times in the game. While several scouts have stated that he can improve his strength, there is no denying that he has an unprecedented blend of size, speed, and technique. He is impossible to block one on one and is the stuff of nightmares for quarterbacks and offensive line coaches. The biggest factor working against Clowney is the position that he plays. No defensive player has brought home the trophy since Michigan's Charles Woodson in 1997. Woodson also was a fantastic returner which helped him gain the favor of voters. Still, if Clowney can continue to look like a man amongst boys and South Carolina makes a push towards a BSC Bowl or even the National Championship game, expect to see him sitting with the plethora of quarterbacks in the Big Apple.
5.

Sammy Watkins, Jr. WR, Clemson
Personally, I don't think that Watkins is the best receiver in college. That would go to USC receiver Marquise Lee. However, Watkins has something that Lee doesn't have: a competent, proven quarterback who can get him the ball. Tajh Boyd will be able to put the ball into Watkins hands often, but that could hurt Watkins chances as he may be overlooked for Boyd. Still, there is no denying the electric play making abilities that he possesses. Watkins made an immediate impact as a freshman in 2011 when he caught 82 passes, 1217 yards, and an astounding 12 touchdowns. He is capable of lining up as a tailback and has the speed and elusiveness to score anytime the ball is in his hand. A suspension at the beginning of the 2012 season cost him several games and injuries during the remainder of the season limited his effectiveness. He should benefit from regaining his status as the number one receiver, which was handed over to DeAndre Hopkins last year. If Watkins can return to the same level he played at freshman year and Clemson is in the title hunt, expect to see him receiving a lot of hype.