Certain programs are more tolerant of mediocrity than others. Others demand results every single year. All it can take is two bad seasons and a reputable coach can be canned. A program like Florida or Michigan is not willing to suffer several years of average records and bowl appearances. Below are the coaches that I think will be fired after this year if they don't show signs of improvement. I'll be posting one a day.
Lane Kiffin, Southern California
Holy Hell, did USC's hopes and dreams implode last year or what? With all the weapons on offense, a fourth year starting quarterback, and a solid defense on paper, it was championship or bust for the Trojans. Last year wasn't just a bust, it was pathetic. They started off 6-1, but had really only beaten Utah and Colorado to start the season. They then dropped five of their last six games, including a laughable 21-7 loss to Georgia Tech in their bowl game. USC has been hampered by the NCAA sanctions which Kiffin can thank Pete Carroll for, but Kiffin hasn't been able to get the Trojans back into the national spotlight despite recruiting very well (since 2010: eight 5* recruits; eighteen 4*). So USC has been able to bring in talent, but has not been able to put it all together and that falls on the head coach. There really is no excuse as to why they weren't at least in the PAC-12 Championship last year with the amount of pure talent they had. Kiffin is in a tough situation this year with Barkley graduating and Robert Woods leaving for the draft. While they do retain several key playmakers, they will be breaking in a new quarterback and will probably be relying on quite a few underclassmen to play early and often. This year's schedule isn't much easier , so USC will probably be around .500 by the time it's over. Kiffin isn't the most likeable guy anyways, so I wouldn't be surprised if the Trojans dumped the pint sized Daniel Tosh if they have another average season.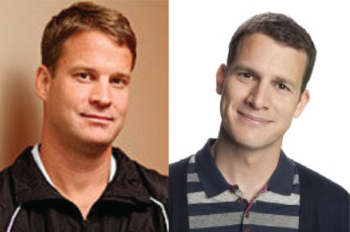 Can you tell who is who?









Mack Brown, Texas
Things haven't been the same in Austin since Colt McCoy moved on to a legendary career with the Browns. Since 2009, Brown has started both Case McCoy, Colt's younger brother, and David Ash at quarterback, often replacing one with the other if the first is struggling. No quarterback can operate under that kind of strain but Brown seems to have chosen Ash to move forward. Brown continues to recruit well in state, but his teams have not had the ability to get back to the national stage. SEC schools like LSU, Arkansas, and now Texas A&M have been able to lure some of the better recruits away from Austin due to the higher level of competition. Much like Lane Kiffin at USC, Brown has been able to bring in talent but hasn't been able to put it all together like he used to. The program is only 22-16 since getting blown out of the water by Alabama in the 2009 title game. That's an average of only seven wins and five losses per year (compared to 11 wins and 1.5 losses under Vince Young and Colt McCoy). The offense can score, but Brown needs to tighten up the defense which was the cause of their losses last year (gave up 43 PPG in losses). The BIG 12 is not a conference known for defensive prowess, so I think Brown's offense will be able to continue putting up five to six touchdowns a game. Yet he must do something on defense or Texas will be forced to play shootouts all year. Getting to ten wins may help save his job, but if he surrenders 63 points to Bob Stoops again he'll be kicked to the curb.
Leslie Miles, LSU
I must be insane, right? Programs don't exactly just boot one of the most successful coaches in the nation, especially one who was just given an extension two seasons ago. Yet this might not be as farfetched as you initially suspect. Since winning the National Title in 2007, LSU has not had a great amount of success in bowl games. They are a modest 2-3, but that includes an embarrassing loss to Nick Saban and Alabama in the 2011 Championship Game. LSU has gone into slumps after both championship appearances in recent memory, and that is sure to upset Tigers faithful. At a school like LSU that plays in the SEC, winning ten games a year is not enough. They demand that LSU is at the very least representing the SEC West with a shot for the title. As if that wasn't already hard enough with Alabama in conference, now Texas A&M is crashing the party and has the make up to challenge for the West every year while Ole Miss has really begun to rebuild a strong program. Remember, Leslie Miles was killed by local media after their loss to Alabama in the championship game. Miles is 2-3 against Saban since 2009, which would appear great on paper, but always loses when it matters most. Saban is truly Miles's arch nemesis at this point as he shut out LSU in the Championship Game and put a
dagger in their heart
this past year at LSU. LSU looks like it will be in another down year with how much pure talent left for the NFL, and that could spell trouble with their schedule. If LSU wins only 8-9 games this year, expect the torches to be lit and people calling for change in Baton Rouge.
Maybe he should have tried smoking it if he was looking for clairvoyance.
Bo Pelini, Nebraska
Winning an average of ten games a year over the last five years would be enough to satisfy most fans and alumni, but not when it comes to Nebraska. The glory days of Tommy Frazier and the Blackshirts are a distant memory for Huskers fans. Bo Pelini has done a great job since leaving Les Miles's side at LSU, but he has yet to get Nebraska back to the national stage or even a BCS Bowl game. They should have gone to the Fiesta Bowl in '09 but didn't thanks to a bogus call against Texas in the BIG 12 Championship, and had a chance to go to the Rose Bowl last year but decided to leave their defense in Lincoln. Nebraska has made a pretty smooth transition to the BIG 10, but as was the case in the BIG 12, hasn't been able to overcome the upper echelon of conference teams. Pelini has been able to get his team to the edge, but has never been able to take his team over the summit. His contract expires in 2016, but I really am not sure if he will make it to that date. The BIG 10 is down this year, so Pelini will be expected to battle Michigan to represent the Legends again. The players are there who fit in his system and can thrive, but that has been the case in the past. I feel bad for Pelini, who would be getting praise all around if he was this consistent at a different school, but I think that he may be getting the axe after this year if Nebraska can't show definitive signs of improvement.