It is hard to imagine that we are rolling into the conference championships and that the regular season has already passed us by. There have been a ton of upsets all season, and at the moment, my preseason picks for the playoffs is a cool 0 for 4. Vernon Adams couldn't pick up where Mariota left off in Oregon, Auburn struggled a lot with their new quarterback(s) and at times still had lapses in defense, TCU was decimated by injuries to their top two playmakers, and Ohio State played the worst game under Urban Meyer and was taken down by Michigan State in the second to last game. But this is part of the reason that the playoffs have been so exciting. One loss can completely shape the outcome and formatting of the playoffs. Given that we know which teams have one final chance to make their mark, here is my seeding and playoff predictions for this year's chase.
1) Clemson Tigers
Record: 12-0 (8-0 in Conference)
Best Win: 24-22 over No. 6 Notre Dame Fighting Irish Quarterback Deshaun Watson
Out of all of these teams, this is the one who I am most worried about going into their conference championship game. Clemson can score a ton of points, but they have let up quite a few as well. They allowed 41 to NC State, 27 to Syracuse, and 32 to South Carolina. None of those teams can stack up to the offensive firepower that UNC will bring. But the good news is that Clemson has an offense that can put up points with the best of them. Lead by Deshaun Watson, the Tigers have been averaging 37 points per game and have a very balanced attack. Watson is a very dynamic athlete, but he has better skills that he is given credit for. Just a sophomore, he still needs to improve his football IQ as he had several multi-interception games this year. But when he is able to get the offense rolling, it really is a sight to behold. What is crazy is that their best receiver went down in the first game, so they really haven't been at full strength this whole season. If they are able to take care of business against UNC, they could be a very tough out.
2) Alabama Crimson Tide
Record: 11-1 (7-1 in Conference)
Best Win: 30-16 over No. 2 LSU Tigers
Running back Derrick Henry
So much for my prediction that Alabama was in for a down year. The Crimson Tide haven't looked like world beaters during all games, but they definitely seem worthy of a top four selection. We are all still waiting to see if Jake Coker can lead the offense when called upon, but so far it hasn't been as necessary. Saban is winning in his old ways, with a power run game and a stifling defense. Derrick Henry seems to be the front runner for the Heisman now given his regular season total of 1797 yards and 22 touchdowns. He has essentially been asked to carry the offense as Coker has been going through the growing pains of a newish offense and throwing primarily to freshman wide receivers. It will be interesting to see how this team responds if the run game isn't working. But defensively, this could be the best unit under Nick Saban yet which really tells you something. The secondary has had some difficulties with two true freshman playing, but they have really stepped in to their roles and have been playmakers. But the biggest strength is the defensive line which appears to have at least three future first round picks on it. This is the same line that lead the charge in stopping Leonard Fournette and has made runners fight for every single yard they earned this year. This Alabama team has a lot of similarities to the Bama team that won in 2009. Don't be surprised if this team has the same outcome.
3) Oklahoma Sooners
Record: 11-1 (8-1 in Conference)
Best Win: 58-23 over No. 11 Oklahoma State Cowboys
Linebacker Eric Striker
It is a 99% lock that Oklahoma will be in the college playoffs, so it is really just a matter of where they are seeded. I personally think that the Sooners should be no lower than second, but with Alabama getting to show themselves off one more time against Florida, the committee will likely keep the Tide at second. But right now, there is no hotter team in college football than the Sooners. This team has amazing balance on offense, combining a power run game that you will see Urban Meyer use with an air raid offense you see Texas Tech or Mike Leach run. There isn't a team out there right now that has the offensive balance and firepower that the Sooners possess. Between quarterback Baker Mayfield, wide receiver Sterling Shepherd, and the running back combo of Samaje Perine and Joe Mixon, the Sooners can gash a defense any way that they like. How this team lost to Texas is completely beyond me, but that lone game represents the only time the Sooners have scored less than 30 this entire year. The defense has been very solid for this team, allowing an average of less than 21 points per. They have a few head scratching outings, though, like 38 points to Tulsa and almost giving up a huge fourth quarter coming a TCU squad with no Boykin or Doctson. However, this team does have plenty of talent at all levels of the defense. All everything linebacker Eric Striker has been huge every week and can do anything that is asked from him, from blitzing the passer to dropping back in coverage. The attention that he commands has allowed the rest of the team to collect 28 sacks. If the defense can generate turnovers in the playoffs, the Sooners will be the most dangerous team in the field.
4) Michigan State Spartans
Record: 11-1 (7-1 in Conference)
Best Win: 17-14 over No. 3 Ohio State Buckeyes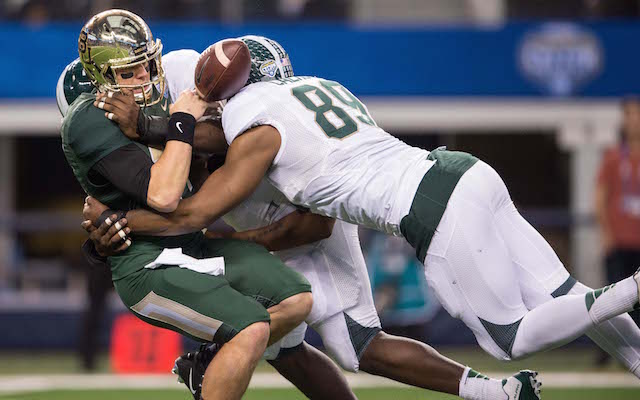 Defensive end Shilique Calhoun
The Spartans are a competent set of officials away from being undefeated and possibly being the second seed in this year's playoff. Even if they were undefeated, they would still have to pass one final test against undefeated Iowa in the Big Ten Championship. They seem to have been having the same type of season that Ohio State was having until their big victory over the Buckeyes in the second to last weekend. They hadn't been spectacular, but they were still winning games. They beat Purdue by three, Rutgers by a touchdown, and were second away from losing to Michigan. The Spartans have talent on both sides of the ball, but is just hadn't always come together in one game until the second half of the season. Now with senior quarterback Connor Cook back to being healthy, Michigan State again has a dynamic offense that can hurt teams on the ground of through the air. He has had a great rapport with receiver Aaron Burbridge, who has collected 75 passes for seven touchdowns and 1158 yards. He was huge in the Spartans win over Ohio State when being thrown at by two first time starters at quarterback. The running game has been by committee for most of the year since they lost Jeremy Langford to the pros. LJ Scott has most of the touchdowns with 10, but has less than 700 yards on the ground. It would be ideal if one guy could break out as Connor Cook can be a bit streaky at times. Defensively, this team hasn't been nearly as formidable as they have been in the past several years. They have only given up 21 points per game on average, but they just seem to give up more points to worse teams and have given up huge chunks of yards. They have impressive players like Shilique Calhoun, but the secondary doesn't deter quarterbacks like it once did. Still, if this team can play up to its potential, they could surprise a few people.