For the inaugural season of the playoff format, here is my attempt to sound smart and pick which teams will make it to the playoffs.
In no particular order..
1) Florida State Seminoles
Predicted record: 13-0
Likely Loss: Florida Gators (but probably not)
Trap Game: At Louisville Cardinals
Florida State has a ridiculously easy path to get to the playoffs. They get a head start considering they are ranked first overall, and there really isn't anyone on the schedule that looks to give the Seminoles the fits. They open the season in Arlington against Oklahoma State, but the Cowboys are a bit of a mystery and don't have nearly as much talent as Florida State does. After that, it is pretty smooth sailing for them as they catch their most difficult opponents at home. Clemson, Notre Dame, and Florida all have to play at Doak. This team simply has too much talent not to make it through the season unscathed and keep trucking right to the championship game. They return 13 total starters from last year and have young play makers looking to take advantage of openings. It would be a huge upset if they didn't make the playoffs this year.
2) Alabama Crimson Tide
Predicted Record: 12-1
Likely Loss: at LSU Tigers
Trap Game: at Ole Miss Rebels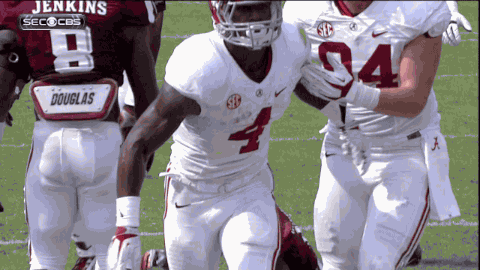 This team is used to losing a lot of talent year after year, but this year is going to be really interesting for Alabama as they have only seven starters returning from last year. However, thanks to almost god-like recruiting from Nick Saban over the last four years, this team is just crawling with talent and guys lining up for their chance to take advantage of vacancies. It might not be pretty, but this team will find ways to win as they often have in the past. They have several tough games this year that they might be asked to win in ugly fashion if their quarterback situation isn't resolved shortly. They get a Florida team looking to breakout at home, and also get a chance to exact revenge on Auburn at Bryant-Denny for the last game of the season. But road games at LSU, Ole Miss, and Tennessee pose some daunting challenges for a relatively young and inexperienced team. Yet with Auburn's defense being a big question mark and the SEC East still a step behind the West, Alabama could be setting themselves up for a convincing run into the playoffs.
3) Michigan State Spartans
Predicted Record: 12-1
Likely Loss: at Oregon Ducks
Trap Game: at Penn State Nittany Lions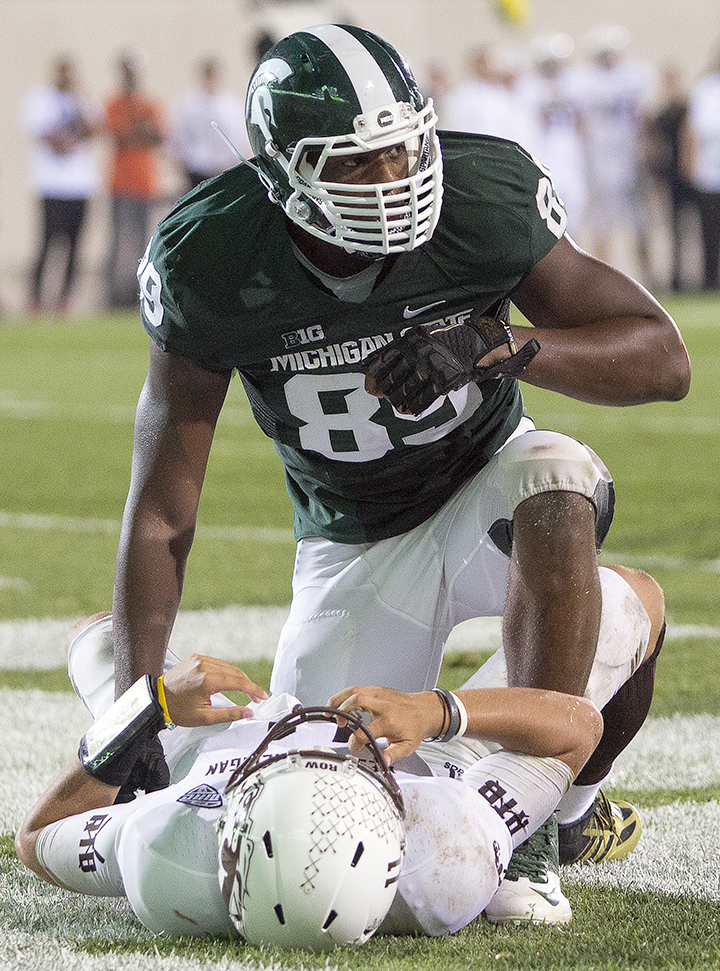 With Ohio State losing Braxton Miller for the season, the Spartans become the undoubted favorite to win the BIG 10 and make it to the playoffs. The Spartans return five players from one of the most suffocating defenses last year which looks to be able to overwhelm opponents again this year. If their quarterback, Connor Cook, can continue his progression, this team will be incredibly dangerous. They have a few difficult games, but the most notable one is in the second week playing at Autzen Stadium. Oregon has been stifled by physical teams (a la Stanford) and Michigan State certainly fits that bill, but that is the only game I can really see Michigan State losing. At this point, it certainly seems more than possible that the Spartans can win that game, but with it being played at Oregon I have to give the Ducks the nod. Catching Nebraska, Michigan, and a Braxton-less Ohio State at home gives them a clear advantage in their toughest games this year. Given the current reputation of the BIG 10, two losses would likely put them out of contention.
4) Oregon Ducks
Predicted Record: 12-1
Likely Loss: at UCLA Bruins
Trap Game: Stanford Cardinal
This was actually really tough pick between Oregon and UCLA, but the Ducks ultimately have an easier schedule and more talent that has played in and won big games. I actually think that Oregon is going to lose when they play at UCLA, but they will ultimately get another crack at them in the PAC-12 Championship Game. Their season is really going to hinge on whether they beat Michigan State at the beginning of the season. Losing to them would put them behind the 8 ball and allow UCLA to really take advantage of the PAC-12 race. After those two games, there really isn't anyone on the schedule who poses much of a threat. Stanford looks like they will be coming back down to earth after a great four year run while no one else is really at the same level as the Ducks. However, out of the four teams on this list, I do feel the least confident about the Ducks. They are in trouble of being replaced by a BIG 12 contender like Oklahoma, a second SEC team such as Auburn or South Carolina, or even UCLA from their own conference.