Defensive Tackles
1) Aaron Donald, Pittsburgh Panthers
Career Stats: 181 Tackles, 66 Tackles for Loss, 29.5 Sacks, 6 Forced Fumbles
Height: 6'1 Weight: 285 lbs.
10 Yard Split: 1.59 Seconds
Bench Press: 35 Reps
Donald is another prospect who would be selected higher if he were a few inches taller. However, Donald makes up for his lack of height with a great skill set as a pass rusher. He is an explosive athlete who consistently launches himself off of the line and through the gap. His first step is just so much faster than the offensive lineman he was going up against in college. Donald has great balance and very nimble feet with his low center of gravity that makes him very difficult to handle. He becomes even more of a nightmare when you factor in his great pass rushing moves. He has a very good swim, rip, and spin move to disengage from blockers. His use of hands is fantastic as well. As evidenced by his total bench reps, Donald possesses a great amount of strength in his compact frame that offers him great versatility as a pass rusher and makes him formidable against the run. He plays with great pad level and can throw blockers off of him when he gets a good burst off the line. The only real weakness about Donald is his height which limits him to only a few true defensive schemes. Still, any team that takes him in the mid first round will be getting a tremendous interior force.
2) Louis Nix III, Notre Dame Fighting Irish
Career Stats: 122 Tackles, 14 Tackles for Loss, 2.5 Sacks, 1 Forced Fumble
Height: 6'2 Weight: 331 lbs.
10 Yard Split: 1.85 Seconds
Bench Press: Did Not Participate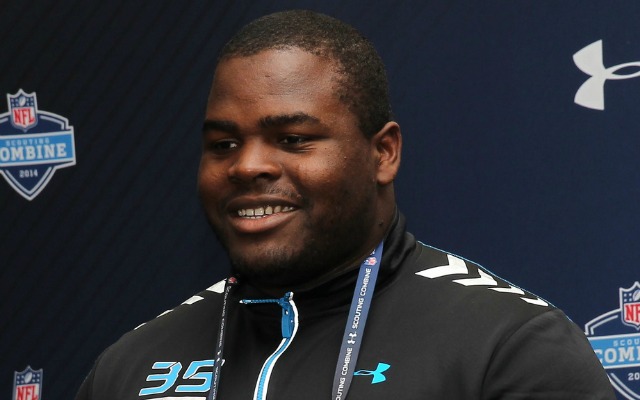 Nix played primarily as a nose tackle in the Irish 3-4, but he would also have the ability to play as a defensive tackle in a 4-3 system like Chicago's that wants bigger tackles. At either position, Nix should make a huge impact, especially in the run game. His massive size and power gives him a great advantage against blockers. He routinely shut off running lanes and forced the back to go to another gap or break it out wide. Nix has surprising speed and athleticism for his size. He can close in on running backs when he gets off of his block and can close in on the quarterback after using his well refined swim move. Nix was not really asked to bring down the quarterback that often at Notre Dame however. Nix has the ability to drive back his blocker with his strength and good pad level. This allows him to consistently close the pocket from the front and force the quarterback to shift laterally. This is one of the most coveted ability after actually getting to the quarterback since flushing the quarterback often leads to big plays on defense. Nix could improve his quickness off of the line, if there is any flaw to his game. He has shown a good amount of quickness, but it isn't there consistently. He could also add another pass rush move if wants to put up solid sack numbers throughout his career.
3) Ra'Shede Hageman, Minnesota Golden Gophers
Career Stats: 91 Tackles, 24 Tackles for Loss, 10 Sacks, 2 Forced Fumbles
Height: 6'6 Weight: 310 lbs.
10 Yard Split: 1.75 Seconds
Bench Press: 32 Reps
Hageman is the one first round prospect that has gotten no recognition in the lead up to this draft. There is a lot of disagreement over where he will land, but I think that he would be perfect in the second half of the first round. One thing that stands out about Hageman is versatility along the line. While he was primarily lined up as a defensive tackle, Minnesota used his great length and athleticism as an edge rusher from time to time. He also looks to have the build and ability to play as a defensive end or nose tackle in a 3-4 defensive scheme. Against the run, Hageman is a monster as his length gives him great leverage and his natural strength allows him drive back his blockers and shut down a running lane. He has also shown some good pass rushing moves and has a good explosion off of the line to really throw his blocker off balance. Like Nix, this allows him to really close the pocket and force the quarterback to throw it away or take off running. One area of weakness that I see in Hageman is that he has only average closing speed. Although he is a converted tight end, it takes him a bit of time to really get a full head of steam going. All of his numbers would be much higher if could improve on this factor. Hageman also needs to be more consistent in his overall play. From playing too upright, to not using his hands enough, Hageman is prone to lapses in production. If he can fix these two problems, he can be a dynamic player along any defensive line.
4) Timmy Jernigan, Florida State Seminoles
Career Stats: 138 Tackles, 25 Tackles for Loss, 8.5 Sacks, 0 Forced Fumbles
Height: 6'2 Weight: 299 lbs.
10 Yard Split: 1.72 Seconds
Bench Press: 27 Reps
Jernigan is an all around very good prospect to play defensive tackle in a 4-3. He is a very physical player at the point of attack, battling his blocker until the end of the play. He is great at closing a running back's lane is getting off of his blocker to make the tackle. His use of his hands to drive back blockers and to keep them from getting a solid grip on him can make him a very frustrating challenge. Jernigan is a very good run stuffer, but he needs some refinement in his pass rushing game. He looks to have all of the makings of a natural pass rusher, but he needs to start more consistent in when he goes to pass rushing moves as opposed to just a bull rush or quick step inside. He has shown that he can be dangerous when he has his timing down, but again that needs to be more of a go-to than a fall back technique. Jernigan could also be a good fit as a defensive end in a 3-4 if he were to trim down just a bit.
5) Stephon Tuitt, Notre Dame Fighting Irish
Career Stats: 126 Tackles, 25 Tackles for Loss, 21.5 Sacks, 4 Forced Fumbles
Height: 6'5 Weight: 304 lbs.
10 Yard Split: Did Not Participate
Bench Press: 31 Reps
Obviously, Tuitt actually played in a 3-4 system along with his teammate Nix. Tuitt played end in that system, but he also has the prototypical build and skill set to play as a three technique. In terms of rushing the passer, Tuitt is a much more natural player than Nix is. He has numerous moves that he can go to to disengage from his blockers and can be relentless with hands to keep a solid grip from forming against him. He could learn to be a bit more consistent with his hands to be even more effective. Tuitt also needs to play with better balance. He's been shown to be pushed off of his path to the quarterback or runner from time to time. Tuitt does possess great power and has a mean bull rush. He also has great close in speed against running backs and get to quarterbacks. What really impresses about Tuitt is that he always seems to get a hit on the quarterback in some way shape or form. He is very disruptive, getting his hands up quickly when he senses a pass or driving his blocker back into the quarterback. Tuitt is a dynamic player who could sneak into the end of the first round.